Common Ground features student research, creative activity
The Media School Graduate Association hosted its annual Common Ground conference last Saturday in Franklin Hall. The 2023 conference's theme was "Fostering Community, Scholarship, and Creativity."
With this year's theme, the conference welcomed submissions that considered media, analyzed its impact on the public sphere, democratization, or individual communities, or told a story about oneself or one's community.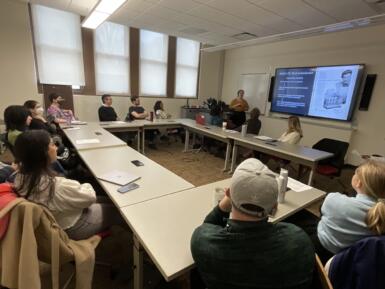 Below is a list of students and their presentations: 
Assistant professor, Lisa Lenoir delivered the keynote address at the beginning of the conference.  Screenings of documentary films with Vlada Lodesk, Bruno Dariva, and Ibrahim Odugbemi, and a roundtable on global film cultures with Vlada Lodesk, Bruno Dariva, Ibrahim Odugbemi, Narmeen Ijaz, and Khurram Sheikh were also held in the afternoon.