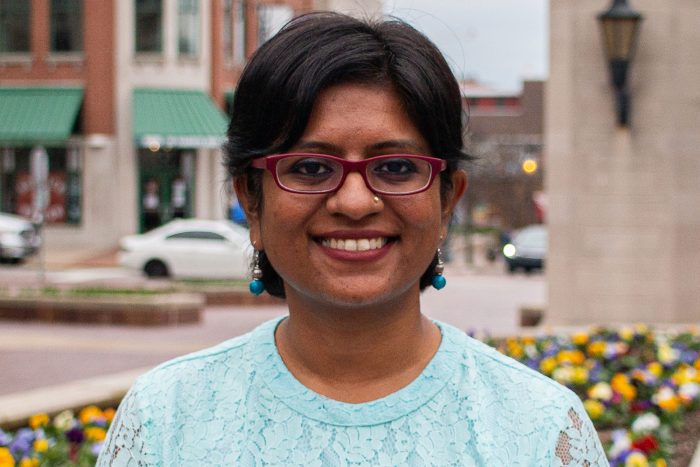 Shobha S V
PhD Student, Associate Instructor
Contact Information
Research and Creative Interests
Journalism

Gender and Media

Effects of Digital Technologies on Journalistic Practice

Digital Media

South Asia

Critical Technology Studies

Internet Studies
Biography
I am a third-year PhD student at the Media School. I am interested in the fast-changing media landscape mediated by technology with a particular focus on journalism, its labor, gender, consumption of media, and its impact on democracy.
Before starting my PhD, I worked in different capacities in the world of media in India. I have had a combined cross-sectoral experience of fifteen years in journalism, research, and digital media for non-profits. As a journalist, I have worked with prominent Indian news publications including the Times group, DNA and Mid-day. I have reported extensively on gender and have also been the recipient of awards and fellowships for the same. Some of my stories about gender were published in the following book: Across the crossfire Women and Conflict in India published by Women Unlimited.  My engagement with gender also had me leading a team at a women's rights organization that worked on digital campaigns aimed at mitigating violence against women using pop culture, media, and technology. I have also worked with the ICFJ's Knight Journalism Fellowship as their program manager in India. My stint at Co Media Lab, a journalism resource non-profit allowed me to interact with working journalists through various digital skill-building workshops, develop educational materials, and teach reporting, fact-checking, and journalistic misinformation at different universities in Bengaluru. As an advocate of open access, I am an active Wikipedia volunteer and have worked on varied projects contributing towards bridging the gender gap on the platform.
I have a Masters's degree in Sociology from Delhi School of Economics, Delhi University, India.
Publications
Khan, Aasim. SV, Shobha. Chamuah, Angelina. "From Objectivity to Openness: A study of digital journalism in Elections 2019." In Economic Political Weekly.
Book chapter
Gajjala, R., Chattopadhyay, S., Nori, S., SV, Shobha. & Purayil Sneha, P. (2019). Dialogue Interlude: 'Ghar and Bahir' In Gajjala, R. Digital Diasporas: Labor, Affect in Gendered Indian Digital Publics (pp. 65-80). UK: Rowman and Littlefield International.
Scholarly Annotations
In Shah, N., Purayil Sneha, P., & Chattapadhyay, S. (2015). Digital activism in Asia reader. Lüneburg: Meson Press.
Annotation for "Wikipedia, Bhanwari Devi and the Need for an Alert Feminist Public," pp. 177-178.
Annotation for "Old and New Media: Converging During the Pakistan Emergency (March 2007 – February 2008), pp. 233-234.
Pilot study
Kovacs, Anja, Padte, Richa K, and S.V., Shobha. (2013). "'Don't Let It Stand!': An Exploratory Study of Women & Verbal Online Abuse in India." New Delhi: Internet Democracy Project. https://internetdemocracy.in/wp-content/uploads/2013/12/Internet-Democracy-Project-Women-and-Online-Abuse.pdf.