Provost names dean search committee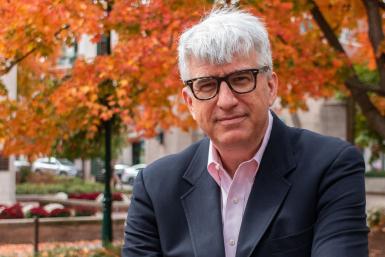 IU Bloomington Provost and Executive Vice President Lauren Robel has appointed a committee to identify candidates for the position of dean for The Media School.
The school's founding dean, James Shanahan, announced in January that he plans to step down July 31 and remain on the faculty. An interim dean will be announced soon.
The dean will administer the school's recruitment and retention plans, research mission, facilities and partnerships, as well as its curriculum, which includes four undergraduate majors with 10 concentrations, an M.S. with five concentrations, an M.A. and a Ph.D.
Over the past six years, Shanahan has overseen the establishment of the Michael I. Arnolt Center for Investigative Journalism; naming gifts for the Ken and Audrey Beckley Studio and Ed Spray Control Room in the newly renovated Franklin Hall; 25 new scholarship funds, including traditional, study abroad and internship support; establishment of the Barbara Restle Press Law Research Fund, which supports research projects and events that raise awareness of laws and issues that threaten a free press; establishment of the Indiana Daily Student Legacy Fund in conjunction with the 150th anniversary of the Indiana Daily Student in 2017; diversity, equity and inclusion efforts, including scholarships for underrepresented students and general support of the IDS Black Voices section; and a partnership with the Luddy School of Informatics, Computing, and Engineering and the Network Science Institute to establish the Observatory on Social Media, which investigates the diffusion of misinformation and trains a new generation of journalists to fulfill the traditional watchdog function of news media.
Peg Faimon, dean of the Eskenazi School of Art, Architecture + Design, will chair the committee.
The search committee includes representatives of faculty, staff and students at IU Bloomington. In addition to Faimon as chair, members are:
Tom Ackerman, BA'97, Dean's Advisory Board
Akin Adesokan, associate professor, Cinema and Media Studies
Edward Castronova, professor, Media Arts and Production
Stephanie DeBoer, associate professor and director of graduate studies, Cinema and Media Studies
Nancy Callaway Fyffe, BA'72, Dean's Advisory Board
Griffin Gonzalez, junior, journalism
Emily Harrison, director of development and alumni relations
Norbert Herber, senior lecturer and director of the Media Arts and Production unit
Nicole Martins, associate professor, Communication Science
Elaine Monaghan, professor of practice, Journalism
Xan Smith, doctoral student and Media School Graduate Association Chair
Rob Potter, professor and director of the Institute for Communication Research, Communication Science
Sung-Un Yang, professor, Journalism
The search will be supported by the Office of the Provost's chief of staff, Catherine Dyar, who will serve as an ex officio, non-voting member of the committee, and project manager Jackie Cushman.