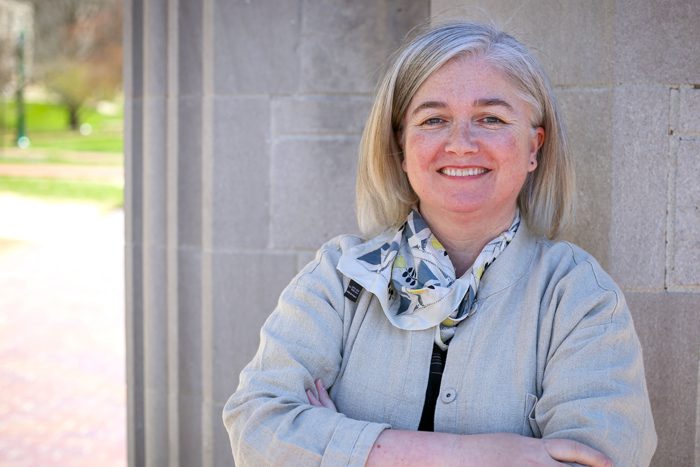 Elaine Monaghan
Professor of Practice
Contact Information
Research and Creative Interests
journalism practice

Foreign Correspondence

media ethics

Strategic Communication

Crisis communication

Representations of Religion

Belarus

Northern Ireland Peace Process

Russia

Scottish Independence Movement

Ukraine
Biography
Elaine Monaghan is a veteran reporter, writer and foreign correspondent who serves as coordinator for the news reporting and editing concentration of the Media School's Bachelor of Arts in Journalism. She is education co-lead at the Observatory on Social Media.
Born in Scotland, Elaine is a graduate of Reuters' journalism training program in London. During her first posting, to Moscow, she covered conflict, disasters, elections, financial markets and economic and business news across the former Soviet Union. She later ran Reuters' coverage of Ukraine, and of the ascent to power of President Alexander Lukashenko in Belarus.
As chief correspondent in Dublin, she led a team of journalists covering Ireland's entry to European monetary union and of Northern Ireland's "Good Friday" peace deal.
She covered the Kosovo conflict from the refugee camps of Albania and Macedonia, and from Kosovo itself, working in multimedia teams. In 1999, she became State Department correspondent for Reuters, and spent three years traveling with secretaries of state Madeleine Albright and Colin Powell. Later, as Washington correspondent for The Times, she wrote for the British newspaper about the Iraq invasion and other top U.S. stories.
She is coauthor of "On the Brink: An Insider's Account of How the White House Compromised American Intelligence," a CIA memoir that was translated into several languages. Elaine blogged for Microsoft UK about the 2008 presidential election campaign and sustained over a number of years an online column for The Times entitled "Abroad in America." She served as foreign policy correspondent and as a magazine writer for Congressional Quarterly. Aas vice president for a strategic communications firm in Washington DC, she served numerous clients, including Amnesty International USA.
I first aspired to be a journalist growing up in the tiny Scottish village of Twynholm. At night, I listened to BBC Radio for hours. I wanted to travel, learn languages and understand people, so I took French, German and Russian at the University of Glasgow and taught English in Berlin for my year abroad. I remember telling my Russian professor, Peter Henry, where I was going. Just watch that wall come tumbling down, he said, from behind his bushy white beard.
He was completely right. A few weeks after my arrival, the border between what was then West and East Germany opened. I remember standing on top of the wall and looking down on joyous crowds to the West, then turning to East Berlin where hundreds of soldiers were looking up at us. I felt a tremendous urge to jump down and ask about their fears, hopes and plans, and then tell everyone about it. So after finishing my master's at Glasgow, I applied to Reuters graduate journalism training program, where I learned the craft of news writing.
I also learned how to behave ethically in my reporting life, which unfolded in more countries than I can count. I am deeply passionate about the ethical use of words and journalism's potential to change the world. Every day I come to work, past the heroic war correspondent Ernie Pyle working away at his typewriter, and hope that none of my students see the crazy Scottish lady thanking a statue.
I love teaching as much as I loved being a foreign correspondent. I try to pass on my passion for news and storytelling, fondness of deep research, respect for the responsible journalist and determination to educate the public with crisply written words and above all, our profound curiosity about humanity.
2019-2020
Elaine is teaching C-225, a required reporting class for undergraduates, and J-505, the intensive reporting and writing workshop for Master of Science students in journalism. This academic year her graduate students are focusing on covering the environment, with an emphasis on solutions journalism.
Spring 2019
Elaine taught the media ethics, J-410 course. Her students collaborated with Kinzen, a startup co-founded by Mark Little, founder of Storyful. She continues to pursue collaborative, interdisciplinary opportunities with colleagues across campus and further afield.
Fall 2018
Elaine taught Public Relations Writing for undergraduates and the intensive reporting and writing course for graduate students in the Media School Master's program.
Spring 2018 
Elaine taught an interdisciplinary course that took students from the media school, religious studies and the School of Global and International Studies to Ireland on a reporting trip over spring break. Students presented their work, at an April 24-26 symposium she organized called "Representing Religion." The symposium, which featured leading scholars and journalists from IU, the United States, Europe and Africa, was funded by a grant from the American Council of Learned Societies Program in Religion, Journalism & International Affairs.
Research, grants, other university affiliations
Recent Interviews, Publications
Follow Elaine Monaghan on Twitter @IUMediaScotProf.
Find out here how to join the IU student chapter of News Decoder, the award-winning educational startup where she serves as a correspondent.