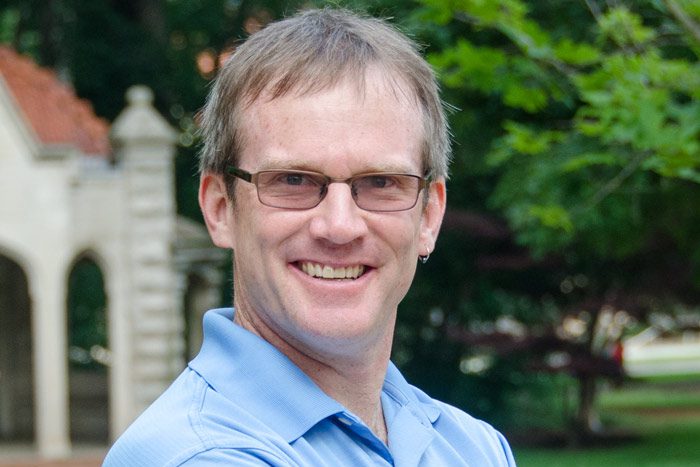 Rob Potter
Professor; Director of Graduate Studies
Pronouns:

he/him/his
Contact Information
Research and Creative Interests
Audio

Music

Psychophysiology

Social Neuroscience

Emotion

Media Industries

Advertising

Radio

Biometrics

Research Methods
Biography
Potter's research focuses on the impact of sound on information processing of media, using psychophysiological measures as indicators of cognitive and emotional response. His work has been published in Media Psychology, Communication Research, Communication Monographs, and Journal of Advertising, among others. He conducts his research in the Institute for Communication Research.
Potter recently co-edited the International Encyclopedia of Communication Research Methods.
Potter's first book Psychophysiological Measurement and Meaning:  Cognitive and Emotional Responses to Media (with Paul Bolls) was published in 2012 by Routledge.
For 2021-2023 he will serve as the Secretary of the Communication Science & Biology interest group of the International Communication Association (ICA). He is also the past Chair of the Information Systems Division of ICA and serves on the editorial board of Communication Research, Media Psychology, Journal of Media Psychology:  Theories, Methods, and Applications, and Communication Methods and Measures. More than a decade of experience in the radio industry as a promotions director, research director, and program director, guides both his teaching and research.
Dr. Potter is the Director of Graduate Studies at the Media School.
When I think about where my interest in sound and in communicating with sound began, I can conjure up different snapshots from my childhood and remember being a boy, maybe five or six, listening to a ballgame on a handheld radio in my bed after my parents thought I'd gone to sleep. I had it under my pillow and that whole deal.
Another memory, you fast-forward about a decade when the first "Star Wars" movie first appeared in theaters. I loved that movie, and I also remember getting a present — a cassette tape that been sold as part of the "Star Wars" merchandising — and on two sides of that cassette were just little bits of dialogue and sound effects and music from the movie. I could actually relive in my mind that whole story, and I listened to that thing over and over and over, eventually wore it out I'll bet.
Now, eventually I landed in the radio industry, where I used my voice and music and other production elements to try and grab people's attention in just the same way, but I was just going on intuition then — what seemed like it would work and I would try it. Now, as a researcher, my job is to really try to investigate and empirically demonstrate what it is about sound that captures attention. What is it about sound that moves people emotionally?
At The Media School, we have all the tools to do it. We have the people and the equipment and the curious environment that allow me to really measure not only what people say about how sound or any type of media really makes them feel, but also to measure how it makes their body react. What makes your heartbeat change as you pay more attention to a certain part of a movie? What is it about a song that you loved as a kid that makes you smile and makes your palms sweat? Those are actually things we can get at here, and we actually have lots of fun doing it at The Media School.
Select Journal Articles
Audio in Media:
Advertising Research: