Restle gift to support research on info access, sources
For immediate release: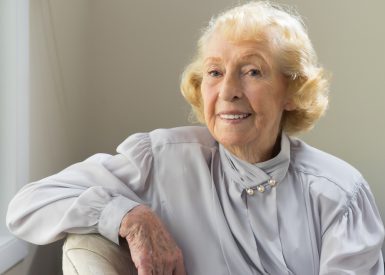 BLOOMINGTON, Ind. — Researchers in The Media School will expand their study of confidential source protections and the Freedom of Information Act, thanks to a gift from alumna Barbara (Blackledge) Restle.
The Barbara Restle Press Law Project will be implemented by the school's Center for International Media Law and Policy Studies under the guidance of associate professor Anthony Fargo, who directs the center. Fargo is a scholar of the First Amendment and of laws related to journalists and confidential sources.
The $100,000 gift will fund research, public lectures and travel for research purposes. Fargo said the initial focus of the project is to try to solve the problem of inconsistent and inadequate laws to protect journalists and their sources. A second major objective will be strengthening freedom of information laws.
"Barbara Restle's gift comes at an obviously important time for the study of free press issues," said James Shanahan, dean of the Media School. "It is easy to attack the integrity of journalism and more difficult to teach it and defend it responsibly. This gift allows us to make an even stronger commitment to the latter course."
Fargo said the focus on protecting fact-based reporting is particularly important as the ability to differentiate real news from fake news has become a national issue.
"We hope the project will lead to the strengthening of laws that help journalists keep government and other big institutions accountable during a time when media are burdened financially and also by a lack of trust in their work," he said.
A panel on cybersecurity at The Media School Feb. 23 will be the first event supported by the project.
Restle, BA'77, went back to school in her 50s to earn a double major in journalism and political science and is the author of three books and several short stories and articles. She has been a farmer, a Peace Corps volunteer and an environmental activist who has donated land for conservation. She still keeps bees at her Bloomington home.
Restle said her gift was spurred by recent developments in the arenas of journalism and politics.
"From my point of view, freedom of the press is really being challenged at this point," she said.
Restle grew up in Vienna, Austria, in the 1930s, the daughter of an American CPA who helped prominent Jews escape the burgeoning Nazi regime. She said her experience helped form her belief in the importance of free speech.
"Until I was a very young teenager, the culture I grew up in was the Nazi ideology, so I knew exactly what I could say and what I could not say," she said. "There was no such thing as a free press."
The rise of social media and "fake news" pose further threats, Restle said.
"In my lifetime, I have never experienced the stresses our American journalists are facing today," she said.
She said she hopes her gift will draw attention to the issue of press freedom and will encourage others to support similar causes.
Her gift counts toward the $2.5 billion For All: The Indiana University Bicentennial Campaign.
More: