Students gain hands-on experience in unique Media School courses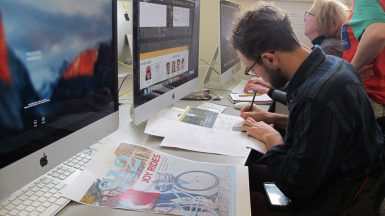 Students in The Media School have the opportunity to study all forms of media and production, including film, print journalism and multimedia storytelling. During their first years in the program, they can take entry-level courses that introduce them to the basics of media in today's developing landscape.
And as junior and senior year approaches, students can pick and choose from a selection of advanced courses that not only teach them about the industry, but provide a chance to for them to enter into the industry and generate their own content. These courses are available across each of the majors in The Media School, including the Bachelor of Science in Game Design, Bachelor of Arts in Media and Bachelor of Arts in Journalism.
In these advanced courses, students can learn how to create their own films, publish an Indiana magazine, create a multimedia news package and develop an original video game, all while earning an undergraduate degree. Here is a sampling of some of those courses: