Creating an Indiana Magazine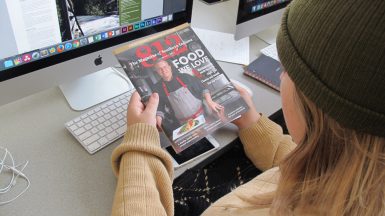 Students in MSCH-J481 Creating an Indiana Magazine produce a print and online issue of 812 The Magazine of Southern Indiana each semester, which is distributed all over central and southern Indiana.
"Students do extensive, real reporting," said lecturer Nancy Comiskey of the stories that highlight unique people and places of the area. "This is a true magazine feature."
The class is limited to only 14 students due to the space in the magazine to include everyone's stories. The magazine's focus is to appreciate southern Indiana, and students are expected to go out and find their own stories that match this mission statement. They pursue the story for the entirety of the semester, conducing multiple interviews, often more than once, shooting photos and developing drafts throughout the semester.
"I took the class because I like writing, and I've always had an interest in magazines," said junior Elizabeth Meuser, who took the class last spring. "It's the only class where you are actually working and creating a real magazine."
Meuser's story focused a southern Indiana resident who was the first blind person ever to kayak down the Grand Canyon, a story that won second place in the student magazine contest  Her story won second place in the Association for Education in Journalism and Mass Communication's annual student magazine contest.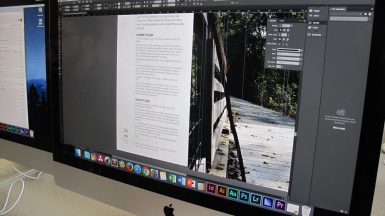 The magazine stories have won close to 30 national and regional awards total.
"That's the big thing for me," said Comiskey of the nearly 30 national and regional awards the magazine and its individual stories have won over the years. "Students are walking away with a truly professional clip that I hope will be one of the keystones in their portfolio. That is the big plus for the class."
Last spring, senior Michael Williams' magazine story focused on landscape painting in southern Indiana. Williams met with two artists and photographed their work, as well as the real landscapes they were painting. In addition, he tapped into his passion for design in his duties as art director for that issue.
"The most challenging part of this class was definitely my role as art director, but 'hard' is in no way a bad thing" Williams said. "But 812 is hands-down the work I've done in college that I am the most proud of. Without a doubt."
As art director, he had the opportunity to design the cover of the magazine, direct photo shoots, and work on the design and visual elements for his classmates and their stories.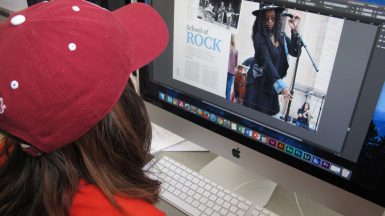 "That's the thing about this class: It's not just for people interested in magazine writing," he said. "There are incredible photo opportunities. There are incredible design opportunities. There are great multimedia opportunities."
Working a story or package for an entire semester may seem intimidating to some. But Meuser and Williams say that should not deter anyone who wants to enhance skills as well as be part of a full-bodied, professional magazine.
"If anyone is considering at all magazine writing or design, I think it's definitely something that they should at least try out," Meuser said. "It might seem daunting, but it is worth it."
More: