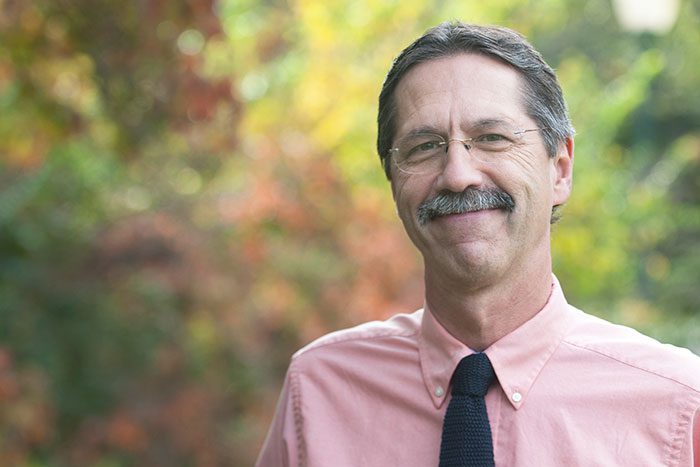 James Kelly
Associate Professor
Pronouns:

he/him/his
Contact Information
Research and Creative Interests
Photojournalism Ethics

Experiental learning

Visual Communication

Health Communication
Biography
Hello, I'm Jim Kelly, and I'm an associate professor of journalism. I was once a photojournalist for The Associated Press and several newspapers. My professional work raised questions in my mind about how technology was affecting the way journalism was done and about how the audience understood journalism ethics.
I've done research on these two questions ever since, and the results continue to inform my teaching. I mostly teach photojournalism and health care reporting. I have two signature classes: Words and Pictures and Reporting HIV/AIDS in Africa. In Words and Pictures, I teach a class of advanced photojournalism students, along with colleagues who teach a class of multimedia students and another who teaches a class of writers. We put our classes together to form eight three-person investigative reporting teams who work the entire semester reporting on a topic in great depth.
Their reporting emphasizes collaboration and teamwork and has garnered dozens of national awards. I also use this collaboration approach in my Reporting HIV/AIDS in Africa course. Most every summer, I take a dozen students to Uganda in East Africa where they spend a month reporting on the virus that lives in 33 million people around the world and remains one of the most serious threats to humankind. While in Kampala, my students intern at the country's largest privately owned newspaper, and by the end of the course, they've each produced three multimedia stories published in Uganda and the school website. Search for it, and see how good they are.
Both courses allow me to share the insights I've gained from my research into technology and media ethics. I'm able to help students use the technology they need to create compelling journalism, and I'm able to guide their reporting so that it is accurate, compelling and ethically responsible. In graduate school, I was taught that theory-based research should ultimately contribute to the ethical practice of journalism because good journalism is fundamental to a functioning democracy. I learned that lesson here at Indiana University where I earned my master's degree and my doctorate. Come to Bloomington, take my classes and join me as a proud alumnus of the best university a girl or boy could ever ask for.
James Kelly received a doctorate in mass communication specializing in journalism from Indiana University Bloomington in 1990. From 1990 to 2007 he was on the School of Journalism faculty at Southern Illinois University Carbondale. In fall 2007 he joined the Indiana University School of Journalism as an Associate Professor. From 2015-18 he was the first Director of Undergraduate Studies in the new Media School which combined journalism with telecommunications and film studies. Since 2019 he has been the Director of Journalism.
Prior to entering graduate school he worked as a staff photographer for the South Bend Tribune in Indiana and for the Associated Press in West Virginia. He has completed photographic reporting assignments for a number of major newspapers and national magazines. He was a researcher for the PBS television documentary, Studebaker: Less Than They Promised, a Peabody Award winner in 1983. Dr. Kelly also holds a Master of Arts degree from Indiana University and a Bachelor of Science degree in Journalism from West Virginia University.
His research areas include the influence of digital imaging technology on news photo credibility and audience understanding of photojournalism ethics. He is the former editor of Visual Communication Quarterly and is more recently co-editor of The Handbook of Visual Communication: Theory, Methods, and Media, published by Routledge, 2020.
His teaching areas include photojournalism, graphic communication and publication design, journalism ethics, the mass media's role in society, and the reporting of HIV/AIDS and healthcare. He is a Herbert Frederic Lieber Distinguished Teaching Professor. He regularly teaches a summer session course that takes Media School students to East Africa where they report on the HIV/AIDS epidemic. Their stories have been published in African and American newspapers.
Since 1990, Dr. Kelly has participated in a series of projects in South Asia and East Africa aimed at strengthening the practice of journalism and the ties between mass media newsrooms and journalism departments at universities. He has traveled extensively in South Asia (Bangladesh, India, Nepal, Pakistan, and Sri Lanka) and in East Africa (Tanzania, Uganda, Kenya, and Ethiopia). In 1998 he spent his sabbatical at the Open University of Sri Lanka where he wrote a textbook to help journalists there use the Internet. In 2019 he was a Fulbright Scholar at Moi University in Eldoret, Kenya where he did research on job motivation and satisfaction among healthcare workers working for AMPATH, a 30-year partnership between the medical schools at IU and Moi University. He also taught a photojournalism course at the university and conducted workshops for photojournalists in Nairobi.
His book about AMPATH, From AIDS to Population Health–How an American University and a Kenyan Medical School Transformed Healthcare in East Africa, will publish on the IU Press in November 2022.
He is a native of Hinton, West Virginia, is married to Carol Kelly, and has two daughters: Anna, an education consultant in New York City and Megan, a graduate student at Columbia University in New York City. He is an avid, if slow, road bicyclist.