Words and Pictures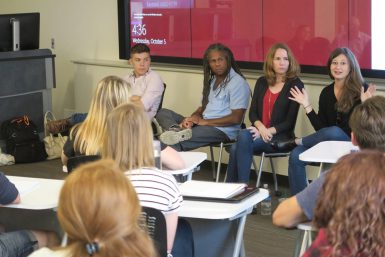 Photography, writing and multimedia come together to create a model newsroom in MSCH-J460 Words and Pictures.
Professional of practice Tom French, associate professor Jim Kelly and lecturer Bonnie Layton teach this invitation-only course.  Each teaches his or her own section of the class with a different focus, then the three sections come together once a week to collaborate.
Students in the course are organized into eight teams, each with one student from each section.  Each team spends the entire semester reporting on a single story.
"We are trying to teach them how to work in an ideal newsroom setting where all these roles are treated equally and democratically," Layton said.
Layton's section focuses on multimedia reporting, the students in Kelly's section are all photographers and work with Kelly to learn and practice photojournalism techniques, and French's students spend the semester reporting and writing.  The students collectively learn about ethics, commitment to their stories and what choices to make when reporting.
Senior Katelyn Rowe was in the fall class, the second time she's complete the course. The first time, she was as photographer, and this fall, she worked on the multimedia project. She said she's learned how important every second of reporting is, and how amazing people are when they are willing to open up to you as a reporter.
"When you're given three months to work on something, it's crazy what comes out of it," Rowe said.
There were weeks when her team spent more than 20 hours reporting on their story, but she says every stressful hour was so worth it. Her group's story on women's reproductive rights will be published in March.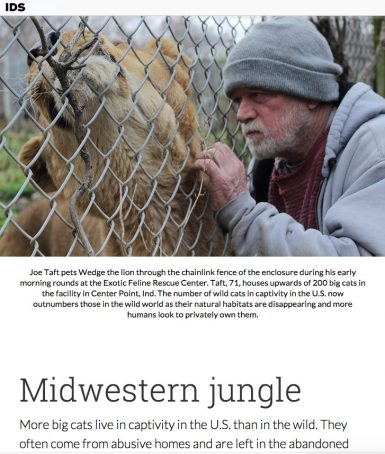 At the beginning of the semester, each team develops an idea, the hardest part, said French. The story idea must be visual for photography and multimedia, but riveting enough for the in-depth reporting.
Some students are put off by group projects, but working in teams is what makes this class so beneficial to students, Kelly said.
"The goal of the class is for the students to advance their reporting skills, but especially to learn to collaborate with other journalists who work in different media," said Kelly.
Rebecca Mehling worked as a photo editor for the Indiana Daily Student the same semester she took the photography section of Words and Pictures. She said all her hard work within her group was rewarding. Her team's story on the opioid epidemic will be published in February.
"It's a lot of work," Mehling said. "You learn a lot and you're actually reporting on issues that matter."
The work pays off in high-quality, published portfolio pieces as well as potential accolades. Many of the course's final stories have won awards in student journalism contests, bringing attention to the course as well as to the IDS, which usually publishes the packages.
"This isn't just the best student journalism," said French.  "This is some of the best journalism in the country."
See stories produced by the Words and Pictures teams here:
More: