Faculty, students welcome new Ernie Pyle, Media scholars
Media School faculty members and current Ernie Pyle Scholars welcomed incoming Media Scholars and Ernie Pyle Scholars at a welcome reception for media honors program students Thursday.
The Media School's Ernie Pyle Scholars and Media Scholars programs accept about 30 students who are directly admitted into their majors and receive enhanced opportunities and benefits, including faculty advisors, special honors classes and travel opportunities.
Ernie Pyle Scholars are honors students majoring in journalism, and Media Scholars are honors students majoring in media and game design. The fall semester's incoming class of Media Scholars is the school's first.
Emily Metzgar, director of undergraduate studies and former director of The Media School's honors programs, assured new students they will find a wealth of amazing opportunities and programs at The Media School.
"The Media School will sort of become your home, eventually," she said.
Honors program director Nicole Martins congratulated the incoming class of scholars on the outstanding achievements they've already collectively accumulated.
"It's amazing to see what all of you have accomplished and what you can bring to The Media School already, as freshmen," Martins said. "You are among the very best that not only The Media School has to offer, but of what we see here at IU. It's a great privilege to get to know you."
Media School faculty and returning Ernie Pyle Scholars introduced themselves to the new freshmen and shared advice and memories.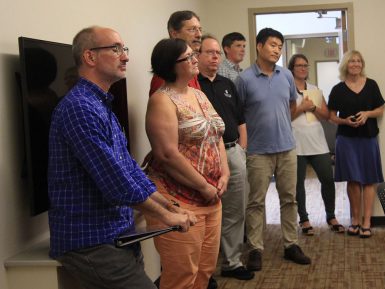 Some spoke about exciting opportunities at The Media School. Others offered advice and fond recollections. All of them urged students to get involved and make friends within their classes.
Associate professor and former honors program director and Ernie Pyle Scholars mentor James Kelly told students their fellow Ernie Pyle and Media scholars will undoubtedly remain significant parts of their lives.
"Look around the class. Look around at the faces that are sitting in this room now," he said. "Eventually, they're going to be your roommates, then they're going to be your professional colleagues, and then someday one of them is going to stand for you at your wedding. One of them is going to hold your child when it's born, and a couple of them are probably going to be at your funeral. Be close to them. That's the best advice I can give you."
Annie Aguiar, a sophomore Ernie Pyle Scholar, advised the freshmen to get involved.
"I think my favorite thing about my freshman year as an Ernie Pyle Scholar was all of the opportunities that I got through EPS and through other on-campus organizations," she said.
Incoming Ernie Pyle Scholars Sara Kress and Danielle Osborne shared a similar enthusiasm about the opportunities they'll have at The Media School.
"I'm really excited to get a chance to meet alums and people who are already in the field," Osborne said.
More: