Telford places 1st, Alani 3rd in national writing championship
A spot story about undocumented farm workers, as well as a profile and coverage of a press conference, earned Media School rising senior Taylor Telford  first place in the Hearst Journalism Awards Program's national writing championship, the organization announced in a ceremony June 1 in San Francisco.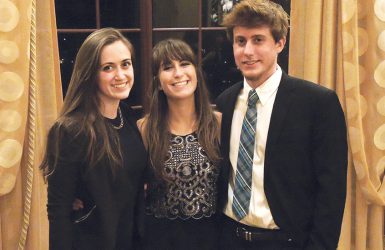 Spring 2017 graduate Hannah Alani placed third, and rising senior Jordan Guskey was a finalist. Telford also won Enterprise Story of the Year for "A question of consent," a piece about sexual assault that was published in the Indiana Daily Student.
The three were among eight students from around the country to participate in the championship. All received cash awards, as well as matching funds for the school.
This is the third year in a row and the fifth time in eight years an IU student has won the championship. IU also finished first in the Intercollegiate Writing Competition for the fourth consecutive year and eighth in the overall competition, which includes radio, television, multimedia and photo categories.
"Every year Indiana University and The Media School do very well at the Hearst Awards writing competition," said dean James Shanahan, who attended the award ceremony with IDS advisor Ruth Witmer. "It is a testimony to our talented students and our talented faculty. In addition, it's evidence of the enormous amount of hard work that goes into being a journalist (a real one). Our faculty and our students continue to do us proud, and they will be part of what keeps the profession viable in years to come."
Professors of practice Tom French and Kelley Benham French serve as mentors and instructors to students who participate in the Hearst competition.
Telford was a finalist last year and said she felt nervous and out of practice after flying back from her Media School Summer in London internship for the 2016 competition. She did not place, although her spot story was published later in the San Francisco Chronicle.
"I'm very competitive," she said. "Last year I was angry and disappointed. I wanted to go back this year and redeem myself."
Telford said this time, she planned ahead and pre-reported the assigned profile of San Francisco city attorney Dennis Herrera. All students were assigned the same profile, as well as coverage of a news conference with Herrera.
"I started writing before I got on the plane," she said. "I set deadlines for myself and made them all."
For the spot story, students were asked to write about the impact in the Bay Area of President Trump's immigration stance. Telford, through "lucky Googling," found the fourth-generation Zuckerman family farm 90 minutes outside the city. She took an Uber from city hall right after the Tuesday press conference, finished her reporting that day, stayed up working until 5 a.m. and had all day Wednesday to write and polish her work.
At the farm, which grows asparagus and cherries, the farmer told Telford Trump's proposed policies would be catastrophic for California farmers, who rely heavily on immigrant labor.
Telford said covering immigration is her passion.
"The topic is my strength," she said. "I did it the way I wanted to do it. I was really proud of that story, and I knew I had a shot (at the championship)."
She said the experience is "intense, but  it's rewarding as long as you learn how to work in that environment and don't judge yourself too harshly."
"It's about the work you do to get there, not while you're there."
Telford will spend the summer as an intern at the Tampa Bay Times in St. Petersburg, Florida, before returning to campus for her senior year.
Alani focused her spot story on undocumented Chinese and East Asian immigrants, including an undocumented Filipino man who had just graduated from Berkeley.
"You don't read a lot of stories about them," she said. "Because it was not very well reported on, it was really difficult to report on in a day-and-a-half."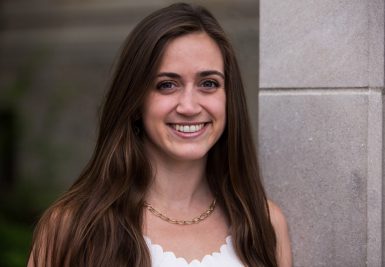 Alani said she was happy with her stories and with her third-place finish, after making the finals but not placing last year.
"Last year, I didn't really get there," she said. "This year, I finished my three stories, and I was really proud of them. The judges acknowledged and recognized my work. And I was absolutely ecstatic and thrilled for Taylor that she got first place."
Alani said the competition exposed her to perspectives and ideas she wouldn't have experienced otherwise. She's planning to pitch her spot story idea to editors at The New York Times, where she will spend 10 weeks this summer on the metro desk as a James Reston Reporting Fellow.
Guskey, who is interning this summer at Indianapolis Monthly magazine, wrote his spot story on a community garden in San Francisco's Tenderloin District. Some of the people who benefit from the garden are undocumented immigrants.
It was Guskey's first time as a Hearst finalist.
"It was a lot of fun," he said. "It was really stressful. It was kind of a whirlwind. You're trying to rely on your instincts and what got you there."
That said, "I had a good time, and I would do it again," he said.
Students earned their spots in the individual writing final by winning or accumulating points in monthly writing contests. Alani won the breaking news writing contest and Guskey the sports writing contest. Telford qualified by placing second in enterprise reporting and fourth in personality/profiles.
Rising juniors Laurel Demkovich and Sarah Gardner placed third and fourth, respectively, in the feature writing contest, adding to the points total that won IU first place in the Intercollegiate Writing Competition.
Students from 106 undergraduate journalism programs across the nation are eligible to participate in the Hearst Journalism Awards Program. The program awards up to $500,000 in scholarships and grants annually, including student scholarships and matching grants for schools.
Telford received a $5,000 award; Alani a $3,000 award; and Guskey a $1,500 award.
Participating schools must be accredited by the Accrediting Council on Education in Journalism and Mass Communications, and is fully funded and administered by the William Randolph Hearst Foundation.