Woods wins Hearst writing competition, IU finishes first overall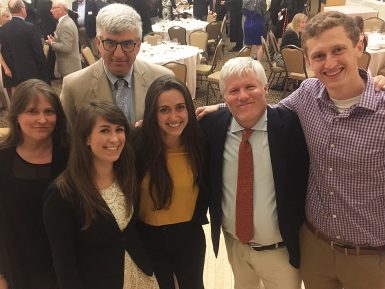 Newly graduated Alden Woods has won the Hearst Journalism Program's National Writing Contest and IU finished in first place overall, the organization announced Thursday evening.
Woods and seven other national finalists, including IU senior Hannah Alani and junior Taylor Telford, competed in San Francisco this week by writing several stories, including a profile and an on-the-spot reporting assignment in which they had only a few hours to produce at story.
"I didn't expect to be in San Francisco, let alone have a chance at winning," said Woods in an email after the announcement. "Seeing the people who have won this competition in the past, even just people from IU, makes it seem like such a faraway thing that it actually took me a minute to process that I had won."
The national experience is hectic and intense, he said. The finalists completed three stories: A profile of Oakland mayor Libby Schaaf,  news coverage of a press conference with Schaaf and a spot feature about homelessness in San Francisco, which they had only a few hours to report and write.
Woods said he wanted to write a story that would be different from the thousands of homelessness stories already published. After spending precious time searching and calling organizations in the city, he found an adult education center that teaches homeless people basic literacy skills.
"I had spent a summer working for an adult literacy nonprofit in Indianapolis, so I was hooked," Woods said of the story idea. "I called over, and the director told me there was a class starting in a few minutes. I rushed over and spent the day with a 57-year-old man learning to read for the first time."
For their achievements, Woods will receive a $5,000 scholarship, and Alani and Telford each will receive $1,500.
The national writing competition is the culmination of a months-long series of contests that award previously published stories in five categories: enterprise, breaking news, profile, sports and feature. Students accumulate points based on where their stories place.
First place winners, such as Alani and Telford, automatically are invited to finals in the summer, awhile three others, such as Woods, win wild-card bids based on their points.  The school with the highest point total wins the overall championship, which IU now has won for the fourth year in a row and sixth time in the last eight years.
This also is the second year in a row that an IU student has taken top honors in the finals, and the fourth time in the last six years. Last year, Samantha Schmidt, BAJ'16 , won first place and then-junior Hanna Fleace was second.
Alani also won the Article of the Year award, for which she will receive an additional $1,000. The article was "The Little Sister," which won first place in the monthly contest category of personality/profile.
In addition to writing, the Hearst Journalism Program also includes four other divisions: photojournalism, radio, television and multimedia. Top students in those areas also competed at the nationals.
The program awards up to $500,000 in scholarships and grants annually, including student scholarships and matching grants for schools.
The Hearst Journalism Awards Program is conducted under the auspices of accredited schools of the Association of Schools of Journalism and Mass Communication, and is fully funded and administered by the William Randolph Hearst Foundation.
Several other IU students competed in the monthly contests. Read more about their achievements: