Symposium showcases archives-based research
A history professor from Germany's Bielefeld University, the chief editor of ChineseInvestors.com and IU Lilly Library's curator of modern books and manuscripts were among the three scholars who gathered in Franklin Hall on Friday to discuss a common interest: historical archives.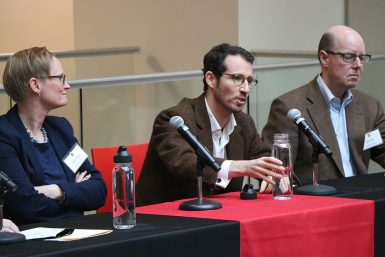 The Roy W. Howard Archive Symposium celebrated the recent digitization of the Roy W. Howard Archive, a 14,000-piece collection of documents originating from United Press and Scripps Howard Newspapers leader Roy Howard, held by The Media School. Investigative journalist James Neff opened the symposium with a keynote speech about opportunities for journalists in historical archives. Friday, scholars presented research and discussed issues and opportunities in archives in three panel sessions.
The symposium was funded by a grant from the Scripps Howard Foundation and the Howard family.
Stories from the Archives
By Kara Williams
The first panel session, "Stories from the Archives," gave examples of the stories historical archives hold and showed how researchers and historians can use this content to learn about some of journalism's key historical figures.
Panelists Ellen Gruber Garvey, a professor at New Jersey City University; Na Ma, MA'14, of ChineseInvestors.com; and Melony Shemberger of Murray State University presented research they conducted using archives. Associate professor Gerry Lanosga moderated the session.
Garvey used archives to tell the story of Robert M. Budd, one of the earliest newspaper archivists. Budd opened a business in the 1870s that collected old newspapers; sorted them by date, place of publication and title, sold them; and created an archive of newspaper history available to journalists, historians and the general public to buy or read.
"Most people thought of newspapers as things to be reused," Garvey said. "But he understood there was value in old newspapers."
Scholars Roundtable
By Chris Forrester
Gene Allen of Ryerson University, Kirsten Bönker of Bielefeld University and attorney Jonathan Silberstein-Loeb shared research they've conducted using the Roy W. Howard Archive during a lunchtime roundtable session. Distinguished professor emeritus Dave Weaver moderated the session.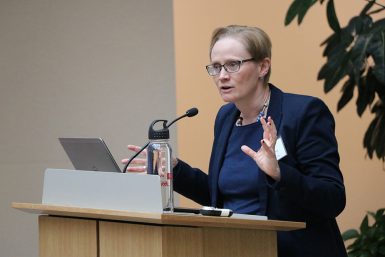 Allen used the archive for his research on the history of the Associated Press. He shared highlights from his findings, including tidbits of the fiery competition between AP and its competitor, United Press — which Howard led as president from 1912-20.
"One, it shows UP's basic stance of debunking aspects of AP's self-satisfied image whenever it could," he said. "And second, the apparent personal delight that Roy Howard took in doing this."
Issues and Opportunities in Digital Archives
By Austin Faulds
The closing panel, "Issues and Opportunities in Digital Archives," provided the perspective of librarians and archivists.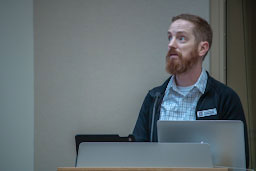 Media School media manager and archivist Josh Bennett, Lilly Library associate director and curator of modern books and manuscripts Erika Dowell, IU Libraries metadata analyst Julie Hardesty and IU Archives outreach and public services archivist Carrie Schwier were the panelists. Professor emeritus Dave Nord moderated the session.
Bennett presented the newly digitized Roy W. Howard Archive. The digitization project, which he oversaw, required the scanning and coding of more than 14,000 documents and 3,200 images, now available in a searchable format.
More: