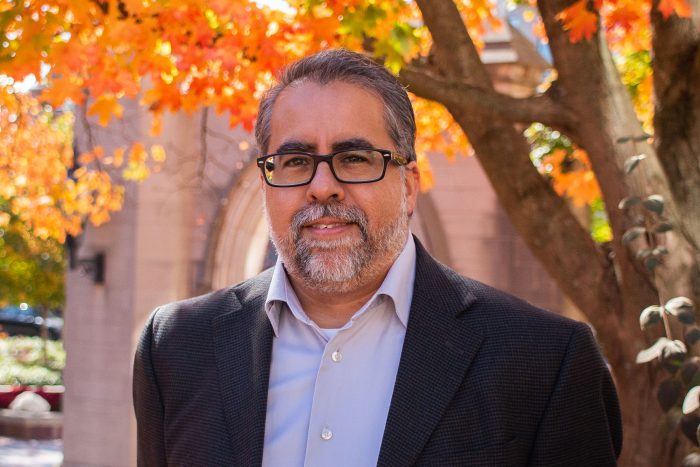 Gerry Lanosga
Director of Journalism and Associate Professor
Pronouns:

he/him
Contact Information
Research and Creative Interests
journalism history

journalism practice

Media law

freedom of information

investigative reporting

data journalism
Biography
Gerry Lanosga's research and teaching revolve around the practice of journalism in both contemporary and historical settings. In particular, his interests include the development of journalism as a profession, prize culture in journalism, and journalism's intersections with public policy. Lanosga completed his Ph.D. in 2010 at Indiana University and taught for three years at Ball State University before returning to IU. Previously, he spent nearly two decades as a print and broadcast journalist, winning numerous state, regional, and national awards, including the duPont/Columbia award, the George Foster Peabody award, and the Investigative Reporters and Editors' Freedom of Information Medal. Lanosga serves on the boards of several non-profit organizations – the Midwest Center for Investigative Reporting, the Indiana Coalition for Open Government, the Indiana Debate Commission, and the Media School's Michael I. Arnolt Center for Investigative Journalism. He is married and has three sons.
Recent publications:
G. Lanosga, 2022, " 'Behold the Wicked Abominations That They Do': The Nineteenth Century Roots of the Evidentiary Approach in American Investigative Journalism," American Journalism, http://doi.org/10.1080/08821127.2022.2133024.
G. Lanosga, 2022, "A Prize of Their Own: Marginalized Journalists Seek a Share of Professional Esteem," Journalism History, https://doi.org/10.1080/00947679.2022.2074756.
G. Lanosga, 2022, "Investigative journalism," In G. Borchard (Ed.), The SAGE encyclopedia of journalism (Vol. 1, pp. 874-882). SAGE Publications, Inc., https://dx.doi.org/10.4135/9781544391199.n214.
Camaj, J. Martin, and G. Lanosga, 2022, "The Impact of Public Transparency Infrastructure on Data Journalism: A Comparative Analysis Between Information-rich and Information-poor Countries." Digital Journalism, https://doi.org/10.1080/21670811.2022.2077786.
Camaj, J. Martin, and G. Lanosga, 2022, "Professional Ideals of Data Journalists Around the Globe: Congruences and Divergences Between Role Conceptions and Narrated Role Performances." Journalism Studies, https://doi.org/10.1080/1461670X.2022.2094822.