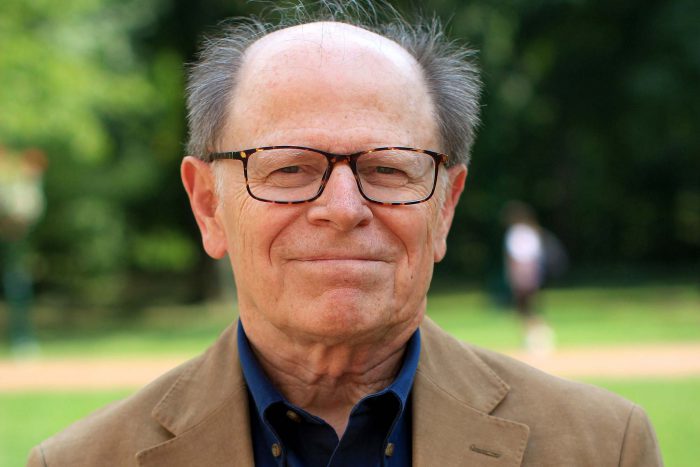 David Weaver
Distinguished and Roy W. Howard Professor Emeritus
Contact Information
Research and Creative Interests
Journalism

Media and public opinion

Media agenda setting

American Journalists

Global journalists

Cross-Border Journalism
Biography
Professor Weaver was on the faculty of the School of Journalism from 1974 to 2011, teaching mainly research methods and political communication to graduate students, and in earlier years beginning newswriting, newspaper editing, and public opinion to undergraduates. He earned his bachelors and masters degrees in journalism from Indiana University in the 1960s, and his Ph.D. in mass communication research from the University of North Carolina in 1974. He worked on four daily newspapers in Indiana (including the Indiana Daily Student) and North Carolina, and served nearly two years in the U.S. Army before joining the Indiana faculty in August of 1974. He was selected as the first Roy W. Howard Research Professor in 1988 and awarded the rank of Distinguished Professor in December 2010. He officially retired from the Journalism faculty at the end of December 2011.  During his career, he published 14 books, more than 100 journal articles, and 61 book chapters about journalists, media agenda setting, media credibility, voter learning from media, and global journalists.
Past Positions
Reporter, Copy Editor and Assistant Editor, Indiana Daily Student (Bloomington, Ind.), 1966-68; Wire Editor and Reporter, Courier-Tribune (Bloomington, Ind.), 1968; Copy Editor, Post-Tribune (Gary, Ind.), 1968; information officer, U.S. Army, 1970-71 (Fort Bragg, N.C., and Long Binh, S. Vietnam); Wire Editor, The Chapel Hill Newspaper (N.C.), 1973.  Assistant, Associate, Full Professor and Distinguished Professor, School of Journalism, Indiana University, 1974-2011.
Teaching and Research Areas
Research methods, media and politics, public opinion and mass media, media agenda setting, research on journalists, use of social science methods in reporting.
Research Summary
Working on a book based on the fifth national study of U.S. journalists in 2022 with Professors Lars Willnat of Syracuse University and G. Cleveland Wilhoit of Indiana University as part of the continuing American Journalist project that began in the early 1980s in the School of Journalism at Indiana University.
Recent publications include:
David H. Weaver, "Agenda-Setting," in Gianpietro Mazzoleni, ed., The International Encyclopedia of Political Communication (Malden, MA: John Wiley & Sons, 2016), pp. 1-9.
David H. Weaver and Lars Willnat, "Changes in U.S. Journalism:  How do journalists think about social media?"  Journalism Practice, May 2016: 1- 13, http://dx.doi.org/10.1080/17512786.2016.1171162
Gerry Lanosga, Lars Willnat, David H. Weaver, and Brant Houston, "A Breed Apart?  A Comparative Study of Investigative Journalists and U.S. Journalists," Journalism Studies, 18, 3 (2017):  265-287,  http://dx.doi.org/10.1080/1461670X.2015.1051570
David H. Weaver and Jihyang Choi, "The Media Agenda: Who (or What) Sets It?" in Kate Kenski and Kathleen Hall Jamieson, eds., The Oxford Handbook of Political Communication (New York: Oxford University Press, 2017), pp. 359-376.
Lars Willnat, David H. Weaver, and G. Cleveland Wilhoit, The American Journalist in the Digital Age:  A Half-Century Perspective (New York, NY: Peter Lang Publishing), 2017, pp. 1-443.  https://www.peterlang.com/view/product/31156
Lars Willnat, David H. Weaver, and G. Cleveland Wilhoit, "The American Journalist in the Digital Age: How journalists and the public think about journalism in the United States," Journalism Studies, 20, 3 (March 2019):  423-441.  https://doi.org/10.1080/1461670X.2017.1387071
David H. Weaver, Lars Willnat, and G. Cleveland Wilhoit, "The American Journalist in the Digital Age:  Another Look at U.S. News People," Journalism & Mass Communication Quarterly, 96, 1 (March 2019):  101-130. https://doi.org/10.1177/1077699018778242
David H. Weaver and Lars Willnat, "Changes in U.S. Journalism:  How Do Journalists Think About Social Media?" in Stuart Allan, Cynthia Carter, Stephen Cushion, Lina Dencik, Inaki Garcia-Blanco, Janet Harris, Richard Sambrook, Karin Wahl-Jorgensen and Andy Williams, eds., The Future of Journalism:  Risks, Threats and Opportunities (New York & London: Routledge, 2019), chapter 16, pp. 181-192.
David H. Weaver, "Demographics of Journalists," in Tim P. Vos and Folker Hanusch, eds., The International Encyclopedia of Journalism Studies (New York: John Wiley & Sons, 2019), pp. 1-6. https://doi.org/10.1002/9781118841570.iejs0224
Clement Y.K. So, Klaus Krippendorff, Chin-Chuan Lee, Colin Sparks, and David H. Weaver, "Senior  Communication Scholars' Advice to and Expectation of Young Researchers," Communication &  Society, 49 (July 2019): 1-41.
Lars Willnat, David H. Weaver, and Cleve Wilhoit, "The American Journalist Under Attack:  Key Findings 2022,"  S.I. Newhouse School of Public Communications, Syracuse University, April 2022, pp. 1-29.  https://www.theamericanjournalist.org/post/american-journalist-findings