James Neff: Archive digitization introduces new opportunities for journalists
Digitization capabilities have introduced a new golden era for historical journalistic research, James Neff, deputy managing editor of the Philadelphia Media Network, said Thursday.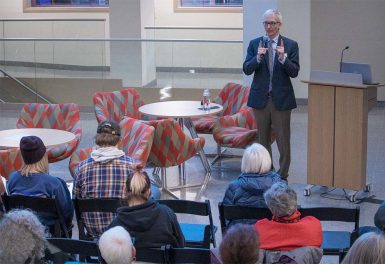 Many records and archives are now readily available online, allowing for quick research for deadline pieces rather than only long-term projects, Neff said.
Neff's talk Thursday, "Unleashing the Hidden Power of Archives," was the first in The Media School's fall semester Speaker Series and the keynote of the Roy W. Howard Archive Symposium, which continued Friday in Franklin Hall. He shared stories of time spent deep in archives while researching for his books, discussed the ever-changing role of digitization in archives and gave advice for future journalists.
Neff edited three Pulitzer Prize-winning stories and was a finalist for the 18-part Seattle Times series "The Terrorist Within" in 2003. He has authored five nonfiction books, including Vendetta: Bobby Kennedy versus Jimmy Hoffa.
As he introduced Neff, associate professor Gerry Lanosga shared a tip sheet from a talk Neff gave about treasures and archives at an Investigative Reporters and Editors conference in 2006.
"Journalists have traditionally overlooked archived materials," Lanosga read from the sheet. "This is a mistake."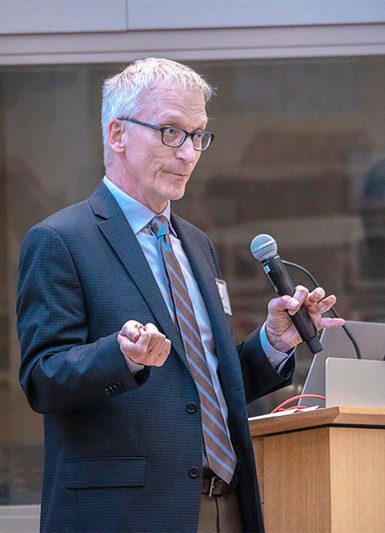 The symposium celebrated the digitization of the 14,000-piece Roy W. Howard Archive, held by The Media School. The digitization of archives makes the resources even more useful to journalists by making information more quickly and easily available, Neff said.
As archives are digitized, materials that had previously been overlooked are being unearthed, he said. While researching for Vendetta, he found an archived document that revealed Bobby Kennedy had gone AWOL for two days from his Navy service in 1946 when his brother announced his Congressional candidacy. Neff said he could find no record of this fact having been reported before. It appeared no one had looked at the document since it had been donated to the archive.
He also shared a story about graduate students who found digitized copies of early poems from Anne Sexton and columns from Walt Whitman, under a pseudonym, in archived newspapers and publications. Without digitization, this would have been impossible, he said.
"It's really a powerful time to be in this field, to be in this research," Neff said.
However, he said digitization also creates challenges. For example, it's much easier for agencies to destroy electronic records.
No one writes important information or correspondence down anymore, he added. It's all electronic, making it easier to be destroyed and sometimes more difficult to get access to.
Changing file formats is also tricky, Neff said.
"It's a big deal," Neff said. "Librarians and archivists talk about this. They're concerned about this."
Neff is responsible for the preservation of 14 series of documents he found in the basement of the Teamsters Union headquarters in Washington, D.C., while researching for Vendetta. He spent thousands of dollars copying the materials and finished the job just before Jimmy Hoffa's son, James — current president of the Teamsters — realized what he was doing. Eventually, he donated the materials to George Washington University.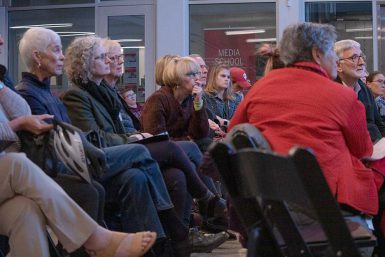 Neff gave two pieces of advice for journalists using archives. First, if an archive is "closed" for some reason, a reporter can always go to the family of the person who donated the archive to see if they can get it open or grant permission. Second, even though people give their work to archives, archivists don't always have enough staff to go through them.
For students and young journalists just starting out, Neff said it's equally important to learn about records as it is to learn about sources and interviewing.
When starting a new beat, it's important to know how public records are kept for that beat, he added. Learn what they are and play around with them in your free time, so that when something actually happens, you'll know how it works.
"They can provide context and meaning in real time," Neff said.
More: