Distinguished Alumni Award recipients trace success to IU roots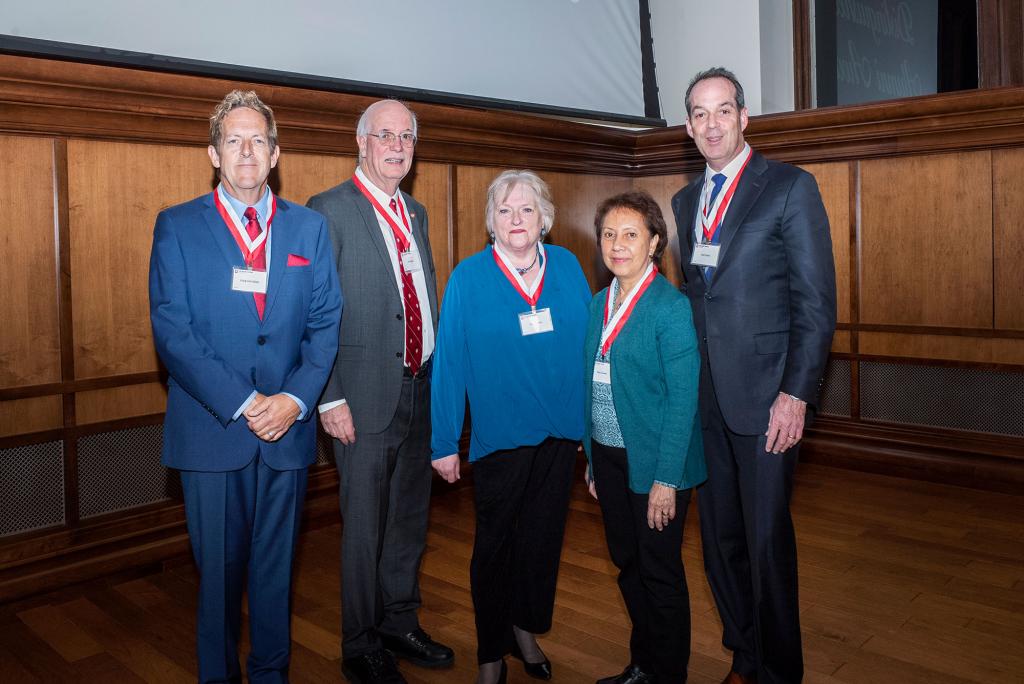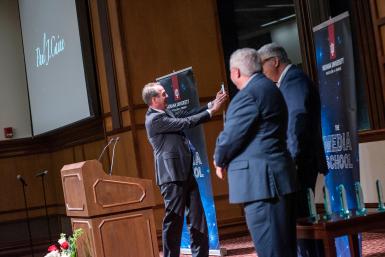 Thirty-six years ago, Paul Caine walked into what is now Presidents Hall to register for classes, having just transferred to IU from a pre-dental program.
"During that journey out to IU, I pledged to myself that I would be the person I always wanted to be and follow my passion," said Caine, BA'86, "and that was what I did."
That day, he registered for his first communications class.
On Friday, Caine — now head of three corporations — returned to Presidents Hall for The Media School's Distinguished Alumni Awards banquet as one of the six 2019 recipients.
Caine; public relations executive Jim Bright, BA'74; researcher and professor Edna Einsiedel, PhD'75; sports journalist Tracy Dodds, BA'74; and television writer/producer Craig W. Van Sickle, BA'79, accepted their awards in front of family, friends, faculty, students and staff. Sandra Moberly, sister of broadcast journalist and professor Marilyn Schultz, BS'67, MA'90, PhD'93, accepted her posthumous award on her behalf.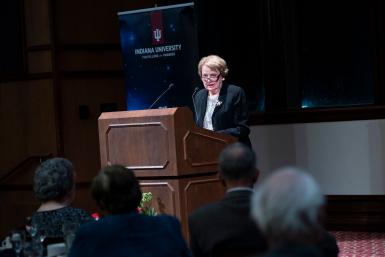 "She was a loving sister, an aunt, a wonderful member of our family," said Moberly of Schultz, who is best-known as the lead plaintiff for a class-action lawsuit representing 700 women against NBC seeking equal pay and opportunity for women.
The recipients acknowledged the critical roles family, colleagues, classmates, bosses and faculty members played in their careers, including the late professors Fred Brewer and Dick Yoakam, as well as professor emeritus Cleve Wilhoit and associate dean Walter Gantz.
"That advertising class really changed my life," Caine said about Gantz. "You have been in my life every day."
Dodds paid tribute to other Hoosiers, including jazz composer Hoagy Carmichael, BA'25, JD'26; legendary swim coach Doc Counsilman; senior assistant athletic director Chuck Crabb, BA'73; and U.S. Sen Birch Bayh, BS'78, JD'96.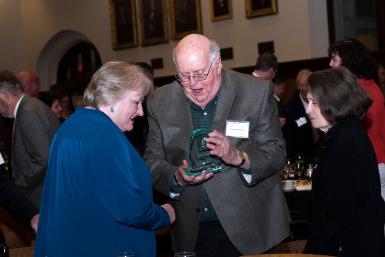 Bayh authored Title IX, which Dodds said was the reason Indiana Daily Student sports editors allowed her to write for the desk.
"Those guys said 'Yeah, I think we can use you, because I think we're going to have to start covering women's sports,' and they didn't want to do it," Dodds said.
She thanked Marge Blewett, BA'48, who was the placement director who helped her land her first-time job. The Media School celebrated the life of Blewett, who died in February, at a reception Saturday.
Dodds also thanked longtime Bloomington Herald-Times sports editor Bob Hammel for advocating for her at a time when women sportswriters were essentially nonexistent.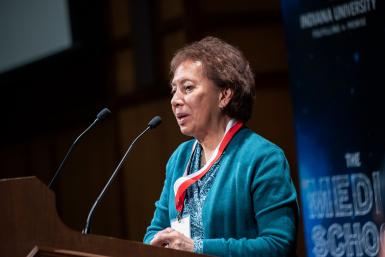 "There's just no way any of that would have happened without that support. Anything I learned in classes, which was all well and good, would not have gotten me where I got without these wonderful people in my life," Dodds said. "So thank you to IU, and thank you to you good people."
Einsiedel remembered her fellow IU graduate students, remarking that she's the third in her cohort to receive the Distinguished Alumni Award.
"I had a memorable group of female students in my cohort who definitely inspired me as I went through graduate school," she said.
More than four decades post-graduation, Einsiedel marveled at the evolution of the program. And Bright, who taught an international public relations course that traveled to Tokyo three times while he was a visiting lecturer, touted the school's international study opportunities.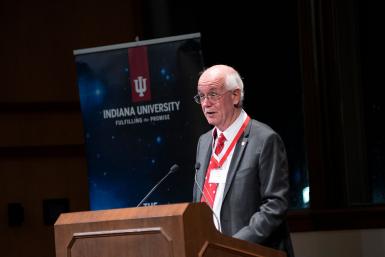 "I believe strongly that the IU Media School's commitment to providing overseas opportunities for students gives our students a competitive advantage in the marketplace and makes our university even greater," he said.
Van Sickle addressed the students in the room, offering career advice. First, he told them to focus on getting their foot in the door however possible.
"Pursue your heart's passion," he added. "Never give up on what's deep in your bones — that singular thing, that zing in your brain that wakes you up in the middle of the night — make that your career, because that feeling you can't live without will never make work feel like work."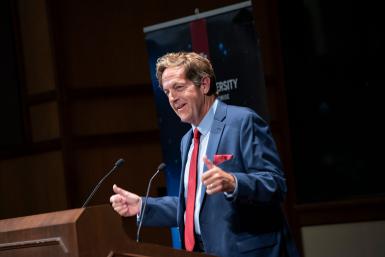 Caine, who serves on the Media School's Dean's Advisory Board and teaches as an adjunct instructor, had one more thank you: to current Media School students.
"The students here at Indiana do represent the future to me," he said. "I care about them deeply, and I spend a lot of time thinking about them."
Austin Faulds and Kara Williams contributed to this report.