Media School community celebrates the life of alumna Marjorie Blewett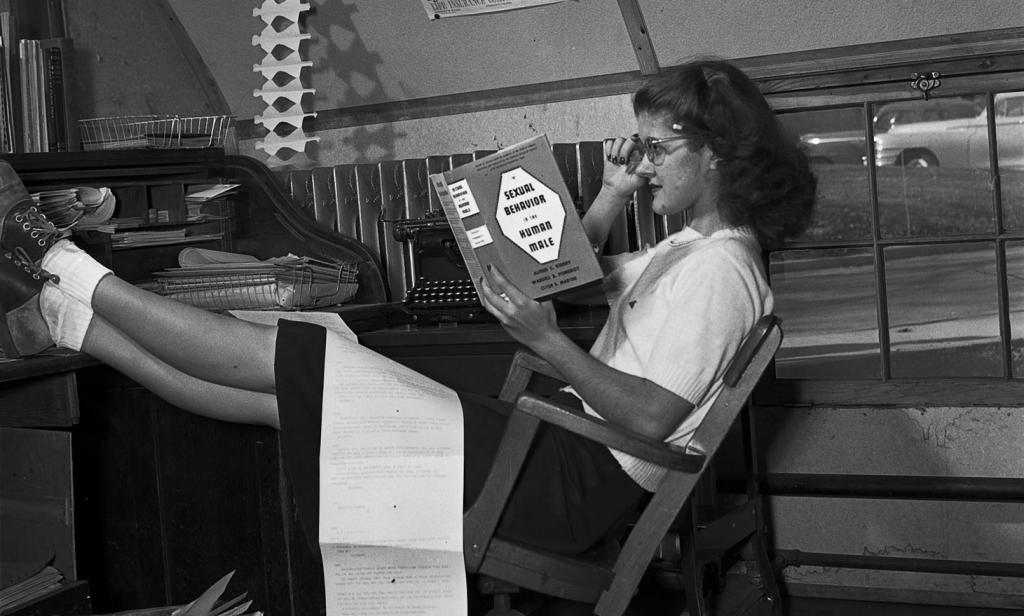 For those who knew her, Marge Blewett seemed to embody IU and its journalism program.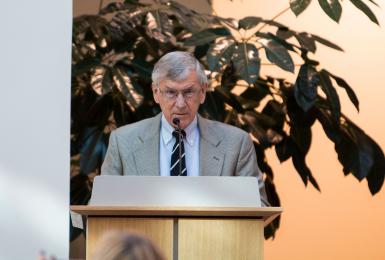 Important dates in IU's history seemed to line up with Blewett's own life, noted former School of Journalism dean Trevor Brown. Blewett entered IU in 1944, the same year Ernie Pyle was awarded an honorary doctorate, and graduated when Alfred Kinsey published his now-famous book on sexuality in 1948.
"That was Marge's aura," Brown said. "She seemed to have been there from the start."
Brown was one of about 50 people including family members, friends, former students, faculty and staff who gathered Saturday afternoon in the Franklin Hall commons to celebrate the life of IU journalism icon Marjorie "Marge" Blewett.
"Many owed the start of their career to her and loved her," Brown said.
Blewett, an alumna of the school who dedicated a large portion of her life to the journalism program and its students, died Feb. 15. She was 91.
Blewett began her journalism career as a writer at Bloomington High School, followed by a position as a teen columnist for the former Washington Star when her family moved to Washington, D.C., during high school.
As an IU student, she served as editor-in-chief of the Indiana Daily Student her senior year.
After working for local newspapers in Bloomington and Lafayette, Blewett became a lecturer  in the School of Journalism before serving as placement director from 1969 to 1990. She created a scholarship to help fund students' unpaid internships.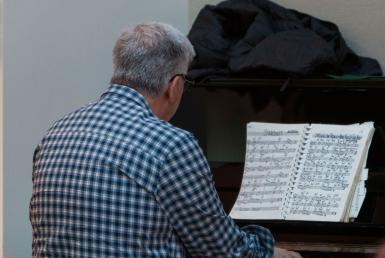 Her notable lifetime achievements include induction into the Indiana Journalism Hall of Fame, receiving the Sagamore of the Wabash award and being honored in the inaugural 2011 Distinguished Alumni Award class alongside other IU journalism icons including Ernie Pyle and Nelson Poynter.
For 24-year-old Catherine Blewett of Naperville, Illinois, the Saturday event provided a new look at her grandmother's life. She said she'd never seen photos of her grandfather or any of her grandmother as a young girl.
Catherine Blewett said she didn't see her grandmother often since her family lived out of state, but she took inspiration from Blewett's career as a journalist and hopes to become a writer herself.
"She was vibrant. She was full of life," Catherine Blewett said. "You couldn't not look at her."
Anne Kibbler, director of communications and media relations for The Media School, said Blewett was an unfailing champion for IU's journalism students.
When Blewett won the IU Alumni Association's President's Award in 2013, she was told she wasn't going to give a speech — just shake President Michael McRobbie's hand after accepting the award.
Kibbler, who accompanied Blewett to the stage that night, suddenly realized Blewett was making a beeline for the microphone. It wasn't much of a surprise to Kibbler.
"She was not going to be quiet," Kibbler said. "She wanted to say whatever she had to say, and the only thing I remember was, 'Go IU Journalism.'"
Blewett's daughter Joy Shayne Laughter said she remembered her mother grabbed the microphone because a student had placed in the Hearst Journalism Awards Competition and she needed to tell the whole room how excited she was.
The little rebellious speech, Laughter said, was an example of how much Blewett cared about students.
"She was pushing and proud and supported all of them," Laughter said.