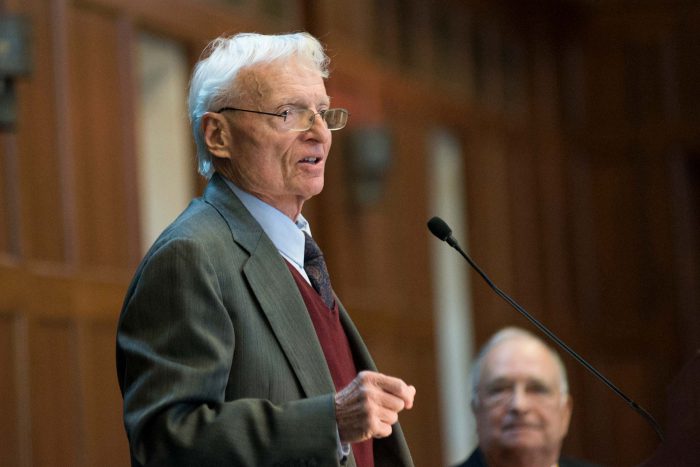 Cleve Wilhoit
Emeritus Professor of Journalism
Contact Information
Research and Creative Interests
Political Communication

media ethics

media & society

sociology of journalists
Biography
G. Cleveland (Cleve) Wilhoit is Emeritus Professor of Journalism at Indiana University, where he taught from 1967 to 2004. He was the first graduate of the PhD. program in mass communication research (with a double major in political science) in 1967 at The University of North Carolina. His dissertation, "Experiments in Computerized Content Analysis and Information Retrieval," was directed by pioneering communication scholars Wayne A. Danielson and John B. Adams. An article based on that work, "Political Symbol Shifts in Crisis News," in Midwest Journal of Political Science (May, 1969), was among the first in the political science literature to use computerized symbol analysis.
During his career, Wilhoit directed IU Journalism's Bureau of Media Research and was associate director of the IU Institute for Advanced Studies.  He was head of the Communication Theory and Methodology Division (1976-77) and in 1979-80 chaired the Standing Committee on Research of the Association for Education in Journalism and Mass Communication (AEJMC).  He was on the editorial board of the association's flagship academic publication Journalism Quarterly from 1975-2004.
Wilhoit was on the Steering Committee of the News Research Center of the American Newspaper Publishers Association (ANPA) from 1975 to 1981. His work with ANPA resulted in one of the first books to help journalists in reporting opinion polls, Newsroom Guide to Polls and Surveys (co-authored with IU colleague David H. Weaver), published in 1980 by ANPA and in a new edition in 1990 by the IU Press.
Wilhoit was a Fellow at the National Science Foundation's Institute in Political Communication at Ohio University in 1971 and a research fellow at the Audience Research Service of the Netherlands Broadcasting Corporation (NOS) in 1975. At NOS, Wilhoit and his former doctoral student Harold de Bock conducted longitudinal survey research on a large panel-sample of Dutch viewers of the popular American TV show "All in the Family," widely shown in Europe in the 1970s.  That research ("'All in the Family' in Holland," published in the Journal of Communication, 1976) was intensively reported in Europe media because of its surprising finding that the satirical program did not appear to reinforce racial prejudice.
Elected to the International Council of the International Association for Mass Communication Research (IAMCR) at its general assembly in Prague in 1984, Wilhoit was among the first U.S. scholars to be active in the Europe-based organization.  In association with IAMCR, Wilhoit and colleague David H. Weaver (and their doctoral students) were partners in an international study by UNESCO to analyze American news coverage of what was then called the "Third World."  The IU research suggested U.S. coverage of developing nations tended to focus more on violence, famine and cataclysmic events than for other parts of the world – but not as much as both critics and the researchers expected.  That work was published in the Journal of Communication and in UNESCO papers (1981-1985).
As a Fellow at the Freedom Forum Media Studies Center at Columbia University in 1991, Wilhoit conducted in-depth interviews with elite journalists in New York City.  He was co-author of four books in The American Journalist series.  Three of the books won the Society of Professional Journalist (SPJ) distinguished service awards for research.  The latest book, The American Journalist in the Digital Age: A Half-Century Perspective (with Lars Willnat and David Weaver), was published in 2017.
At IU Journalism, Wilhoit taught the introductory survey course about journalism and mass communication, the senior ethics seminar, and graduate research methods courses.  He directed 14 doctoral dissertations and 25 Master's theses.  He received the SDX/SPJ Brown Derby, Gretchen Kemp, and two Student Alumni Association Outstanding Faculty awards for teaching. In 1998, alumni who had been IU student government leaders named Wilhoit as one of 10 professors who had a "lasting impact."
In 2006 (with David Weaver) he received the AEJMC Presidential Award for outstanding service to journalism education and in 2015 was inducted into the Indiana Journalism Hall of Fame.
Below are links to press releases about the 2017 book, The American Journalist in the Digital Age: A Half-Century Perspective, and a biographical sketch published by The Indiana Journalism Hall of Fame.