Latson wins NABJ Salute to Excellence Award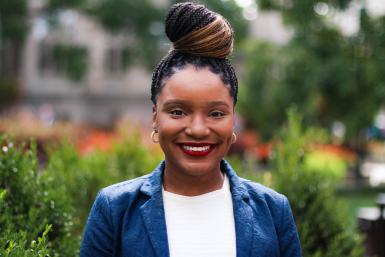 Master's student Samantha Latson will receive a Salute to Excellence Award from the National Association of Black Journalists at its convention next month.
Latson won the Newspaper: General News Reporting category for graduate students for her story "March brings attention to missing Black girls and women," published in the Chicago Crusader, a weekly African-American newspaper.
"Samantha's reporting for the Chicago Crusader was exceptional and worthy of this award," said associate professor Jim Kelly, director of The Media School's Journalism Unit. "Since then, she has continued her strong reporting at the Arnolt Center here in Bloomington and at her Washington Post internship in D.C. We are pleased that NABJ has recognized her 'excellence.'"
This is Latson's second NABJ Salute to Excellence Award. She was part of a team that won the Best Use of Multimedia — Special Project category in 2021 for "Unforgotten 51: The Untold Story of Murdered Chicago Women," which she reported on as an undergraduate at Roosevelt University.
Latson will accept the award at NABJ's annual joint convention with the National Association of Hispanic Journalists on Aug. 6 in Las Vegas. The Media School is supporting Latson's convention attendance — as well as 10 other students and NABJ advisor Cheryl Owsley Jackson — thanks to a gift from Ross Hazeltine, BS'38. They will attend workshops and network with Black and Hispanic journalists from across the country.