Kelly updates 'Handbook of Visual Communication' for social media era
When the first edition of "Handbook of Visual Communication: Theory, Methods, and Media" was published in 2004, the world hadn't yet been introduced to viral videos, Instagram or even the iPhone.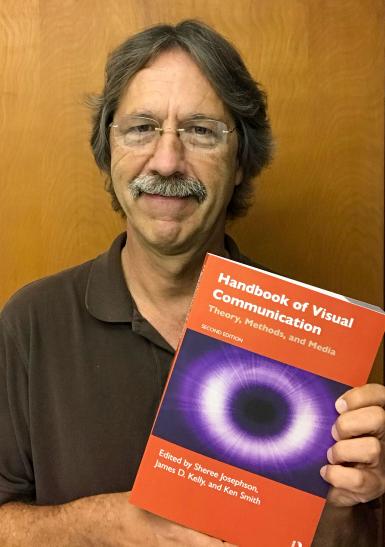 Associate professor James Kelly released the book's second edition this year with Sheree Josephson of Weber State University and Ken Smith of the University of Wyoming. Published by Routledge, the new edition applies the same 13 key visual communication theories to an updated media landscape — memes, TikTok and all.
"We have a new chapter that examines the doodles that Google's search engine displays on special occasions, another that tests visual interactivity in digital storybooks and another that looks at the use of videos on web pages used to publicly shame people falsely claiming military experience," Kelly said.
While it focuses on visual communication, Kelly said the handbook can be applied to a wide range of academic disciplines.
The authors solicited chapters from the best-known and respected professionals in their field. Each theory chapter invites an author to define the theory.
Professor Betsi Grabe authored the chapter "Visual Cognition." Kelly co-authored the chapter "Applied Media Aesthetics: Encoding and Decoding Meta-Messages."
The chapters explain not only theory but the practice of exercising cross-disciplinary learning. Kelly worked with communications scholars, visual anthropologists and even medical doctors.
As communication technologies evolve, the book will likely need another update someday.
"I would like to see young scholars take on a third edition," Kelly said.