BFCA facility upgrades expand Black filmmaking preservation, exploration opportunities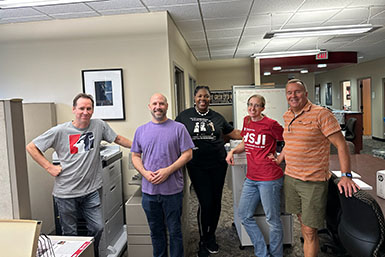 The Black Film Center & Archive's Finance and Office Administrator Ja Quita Joy Roberts has been with the department since March of 2014. She noted that was also how long much of the equipment had been in the center. The BFCA is an archival repository dedicated to collecting, preserving, and making available historical and cultural films by and about Black people.
Roberts knew that to fulfill its mission and grow, the center would need better resources and equipment. Over this past summer, that fact became the focus of The Media School's technical teams as they collaborated to upgrade the BFCA facilities.
"(In the past) if a computer went down, it was just taken away," Roberts said. "Departments had to replace them, and many times, with programming and other needs, there just wasn't enough funding to keep up with the replacements."
Often, those replacements weren't able to be made. Roberts had to dedicate her time to finding resources to support the office. Her efforts to keep the space working for the previous decade included many visits to IU Surplus to secure technology for replacements.
Roberts brought this issue to Jay Kincaid, the director of facilities and technology at The Media School. Kincaid said that about 18 months ago, he had been faced with an issue in a similar field during a conversation with former Media School Interim Dean Walter Gantz.
He explained that organizations like the BFCA, IU Cinema, Black Camera, the Indiana Daily Student, and others had not always belonged under the umbrella of The Media School. The BFCA was established in 1981 by Phyllis Klotman as part of the African American and African Diaspora Studies department. It wasn't until 2013 that the IU Board of Trustees voted to merge telecommunications, communication and culture, and journalism and created The Media School. Because of the merger, Kincaid said that The Media School had many new programs and tasks to consider that they hadn't needed to before.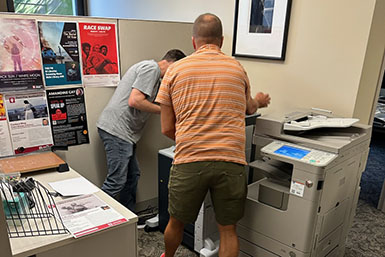 Roberts sought to remedy that when she began reaching out about receiving upgrades. As he walked through the facilities, he knew something needed to be done.
"We noticed their equipment was very old," Kincaid said. "We kind of got a sense. 'Wow, it's been 10 years.' So, we said, 'give us your wish list.'"
Kincaid took Roberts's suggestions and set the wheel in motion. It was during this time that support from all areas of The Media School began to factor into the project.
Different teams came together to make it happen. CITO, one of the IT organizations within the College of Arts and Sciences, provided support and installation services, with the guidance of Media School IT Coordinator Dave Ernst. Media School tech team members — including Game Lab Director and Instructor Andrew Behringer, Technical Specialist Allen Major, and Multimedia Technical Specialist Kate Crum — were also involved in the process. Other participants included Media School Assistant Director of Facilities and Building Manager Michael Gray and Space Design Engineer Manny Knowles, who contributed their expertise to the project.
Kincaid offered special thanks to accounting associates Janet Laughlin, Sarah Gibson, and Bobbie Treadway who helped submit the requests for equipment through BUY.IU. He and Roberts recognized the serious efforts of Gantz, Associate Dean Radhika Parameswaran, and Media School Director of Finance Katie Higgins to make the whole project possible. Every person involved made a difference.
"We're a media school, which means having a lot of tech. Our (the tech teams) job is to put equipment in hands. We're a support group," he said. "But sometimes people need to come to us. Joy was just unbelievable about 'let's get it done.'"
In total, Kincaid said the improvements cost around $90,000. The BFCA upgrades covered not only their seminar room but also the office space that staff, researchers, and scholars use on a daily basis. The office now contains: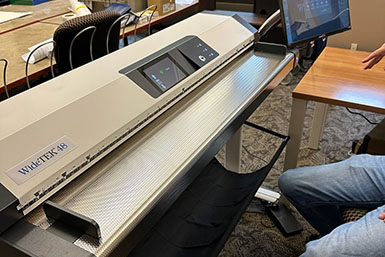 its first-ever large color printer/copy machine;
additional workstations, research stations, and viewing stations;
replacements for all the old computers and monitors;
and a new WideTek scanner offering more digitization options for preserving digital artifacts.
"There have been multiple dates scheduled in our seminar room, for example. We weren't ADA (Americans with Disabilities Act) compliant in there, so I decided that we'd need to refrain from scheduling any courses in there until we could get it upgraded," Roberts said.
The seminar room was equipped with:
new projectors and cameras for Zoom capabilities;
microphones and speaker systems;
deck connectors;
and a total rewiring to accommodate the new features.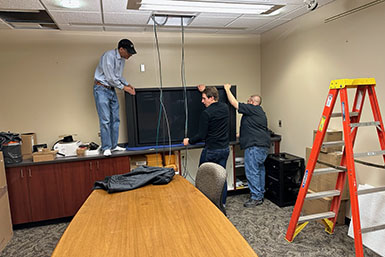 The seminar room did not have a computer at all until this project, and while it had a screen, it had no projector either. Now, with the upgraded technology, undergraduate and graduate classes have the option to enhance their learning experiences.
"We'll continue planning more events, hosting more classes and student groups, and scheduling more researchers. We have the equipment and space to offer more availability," Roberts said.
The upgrades have greatly improved the BFCA's capacity to uphold its mission, and they offer new opportunities for preservation and appreciation to those working on the team. They happened just in time too; with the arrival of the new BFCA Director Novotny Lawrence, the center is equipped with all that it needs to continue growing.
"It's a whole new era for them — a new director, new equipment, a beautiful archive," Kincaid said.
He says that they now have what they didn't have before, and because of this effort, maintaining the technology will be easier. Now, the BFCA's tech has a lifecycle — in four years they may be updated.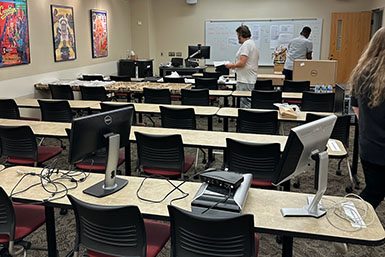 Roberts has been extremely grateful to everyone involved with the project, and she has high hopes for the future of the BFCA. Her advocacy for these upgrades has ensured that the center can explore Black filmmaking to greater depths.
"I've always felt a responsibility of making sure that the BFCA not only survives but thrives," Roberts said. "I feel we all have a responsibility to do our best and to speak up, when we notice something that can help our current and future generations, in some way."