Alumnus-produced Ernie Pyle documentary to premiere this spring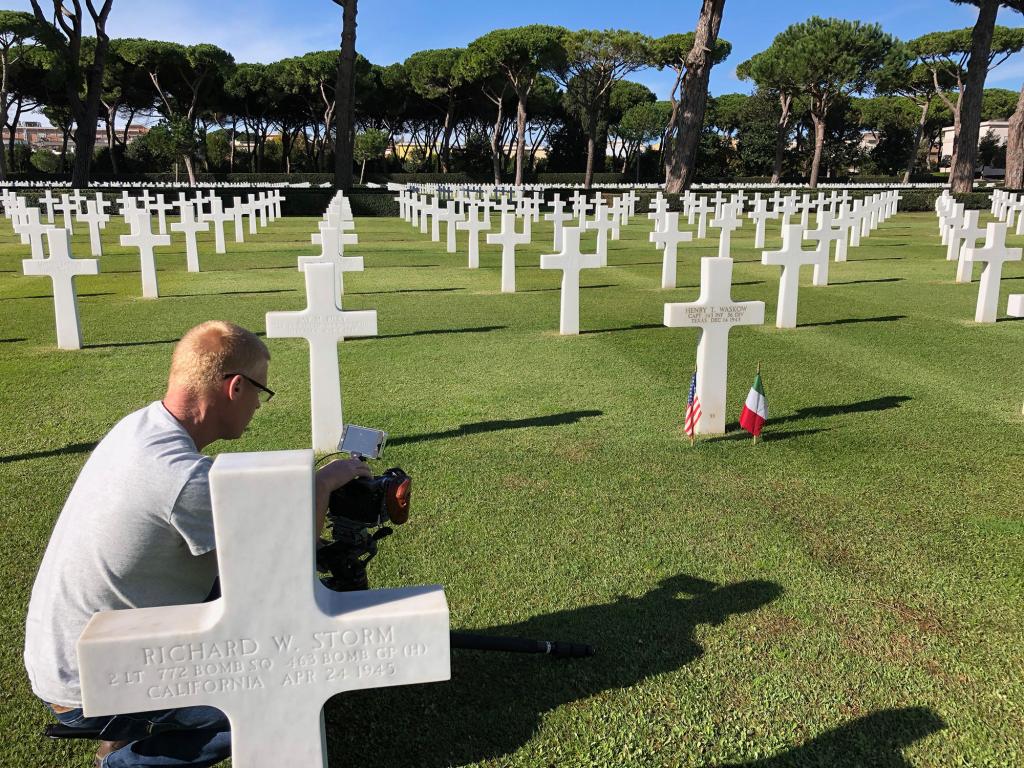 Like many of the people he followed in his influential and widely beloved columns, Ernie Pyle was an ordinary man who did extraordinary things, said fellow Media School alumnus Todd Gould.
Fascinated by Pyle's empathy and impact, Gould, BA'88, MS'16, is bringing his story to the screen with a documentary, "Ernie Pyle: Life in the Trenches."
"Here's a guy from small-town Indiana who goes out and conquers the world and has this incredible influence on the way journalism is done in America and even the world now," Gould said.
The documentary will premiere on WTIU this spring — the 75th anniversary of Pyle's death and the end of World War II, as well as IU's Bicentennial — but this celebration of one of American journalism and IU's most notable icons has been in the works for years.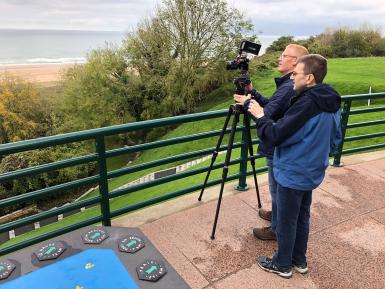 Gould only briefly encountered Pyle's work and legacy as an undergraduate telecommunications student. He began reading books about Pyle after graduating, and started researching him through the Indiana Historical Society and the Indiana State Museum in 2005. By the time he returned to IU as a graduate student in 2014, his knowledge of Pyle was encyclopedic.
He enrolled in The Media School's From London to Paris: In the Footsteps of Ernie Pyle course, taught that year by senior lecturer Bonnie Layton.
Layton remembers Gould paying a visit to her office to chat about Pyle. She'd only just inherited the role of teaching the course and was still learning about Pyle herself. Gould had already completed a 30-minute documentary on the famed columnist, called "Ernie Pyle's War."
"I said 'Really, Todd?' Then you probably know more about Ernie Pyle than me," Layton said.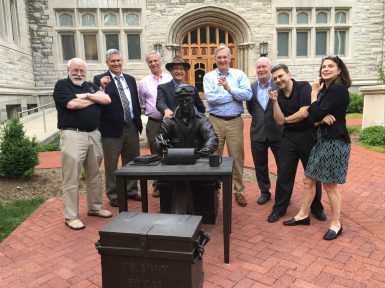 Nonetheless, Gould called on Layton in summer 2016 when he assembled a gaggle of Pyle scholars for a brainstorming session to prepare for the documentary. The panel, which included faculty members and authors with specialized knowledge of Pyle, convened to plan thematic and structural aspects of the documentary, as well as begin to brainstorm potential interview sources. The process was also necessary to begin grant applications.
IU awarded the film a Bicentennial Project Grant, which Gould said gave him the resources to travel to Europe to shoot footage of historic battle sites. It also allowed him to commission an original score for the film.
"IU is giving him the opportunity to do what every documentary filmmaker dreams of doing, which is going back and fleshing out the material he had to leave behind," Layton said.
Layton said she's fascinated by the deepness of Pyle's humanity. And being at IU provides a unique perspective from which to admire him, she said.
"I love talking about him because he's so human," Layton said. "We can claim him in a way no one else can."
An awkward, uncomfortable-in-his-own-skin boy from Dana, Indiana, Pyle came into his own at IU. He was an equipment manager for the university's football team who made students attend practices to spectate and organized train trips for fans to see away games. He became like an adopted child to the dean of students and his wife, who lent him a shoulder to cry on when his girlfriend dumped him and who encouraged him to leave IU early when the opportunity for a promising job arose.
History professor emeritus James Madison, who joined Layton and the other scholars at the brainstorming session, said Pyle's approach to war reporting was vital because it contradicted the myths of World War II as the "good war," the war that needed fighting against an evil that needed stopping.
"He understood what war was, and he particularly understood what war was to the ordinary person fighting in that war," Madison said.
When he joined the roundtable gathering, Madison had already worked with Gould before, on a documentary about Charlie Wiggins, an African-American sportsman made to compete in an alternate Indianapolis 500, among other projects. He said he admired Gould's technical prowess and historian's instincts. Gould has a keen eye for settling moments into their broader contexts and a devotion to diligent fact-checking.
Gould rationalizes his tireless dedication to his projects by thinking of each one as a new Ph.D. For the Pyle documentary, he pored over hundreds of photos and thousands of pieces of correspondence at the Indiana State Museum and put out feelers in search of sources all over the country.
"You just get so involved in that one project, it's all-consuming, and then you kick it out the door when it goes out for broadcast and get started on the next one," he said.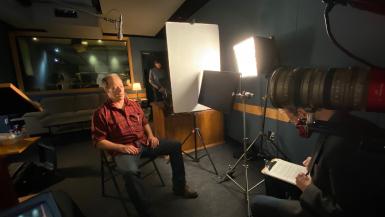 Interviews include journalism heavy-hitters like Walter Cronkite and Andy Rooney, who have both since passed.
But Gould also heard from new voices, such as a 96-year-old Oregonian who was Pyle's editor on a battleship off the coast of Sicily at age 22.
Gould said he often found himself enchanted by the subjects' stories. Rooney, he remembers, shared a story that perfectly encapsulated Pyle's style and mode of attack: one day, rather than trekking to the frontlines to be in the midst of the fray, Pyle fell back to report on the man whose job it was to redistribute gear and garb from dead soldiers to fresh faces.
"You're just sort of spellbound for the couple of hours you're talking to them on camera," he said. "That's part of the magic of it."
To Gould, Rooney's anecdote was everything to admire about Pyle. He was dedicated and smart, and he wrote in a singular voice that could be both rich and beautifully written. But he was also accessible to the common reader. He steered away from the numbers and focused on the human toll of war. He changed the game, affected the world.
"I find it kind of fascinating," Gould said, "this story where a pebble drops in Indiana but then ripples out and has this greater impact around the nation and even the world."