Ernie Pyle scholars meet, discuss future documentary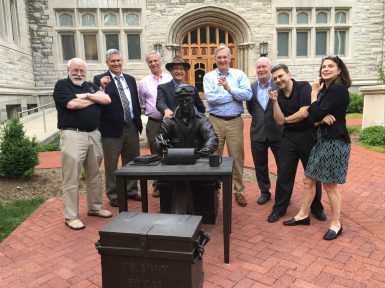 Senior lecturer Steve Krahnke and producer Todd Gould, MS'16, hosted a day-long conference of scholars of Ernie Pyle last week, the initial step in creating a documentary film on the life of Ernie Pyle.
The meeting in Ernie Pyle Hall provided a brainstorming session for the documentary, which Krahnke and Gould plan to produce over the next few years.
The goal of the meeting was to discuss potential themes and interview subjects for the Pyle documentary. This information is necessary to apply for scholarships and grants, including a competitive award from the National Endowment for Humanities that Krahnke and Gould hope to receive.
The film could cost around $500,000 dollars and take several years, Krahnke said. It will be distributed through PBS.
In addition to the meeting, the group also looked at Ernie Pyle artifacts in the Lilly Library and visited the Ernie Pyle sculpture near Franklin Hall.
Attendees were:
Bonnie Layton, senior lecturer at The Media School, who will handle online presence and educational outreach;
Jim Madison, history professor emeritus and author of several award-winning books on the history of Indiana and its people;
Owen Johnson, journalism associate professor emeritus, developer of the course "In the Footsteps of Ernie Pyle," and author of historical columns and research papers focused on Ernie Pyle, including the recent book At Home with Ernie Pyle;
Jon Schwantes, BAJ'86, convergence director at Columbus Dispatch and host of WFYI's Indiana Lawmakers, who has studied the life and writings of Pyle for more than 20 years;
Tim Brady, author of A Death in San Pietro: The Untold Story of Ernie Pyle, John Huston, and the Fight for Purple Heart Valley; and
James Tobin, author of Ernie Pyle's War: America's Eyewitness to World War II.
More: