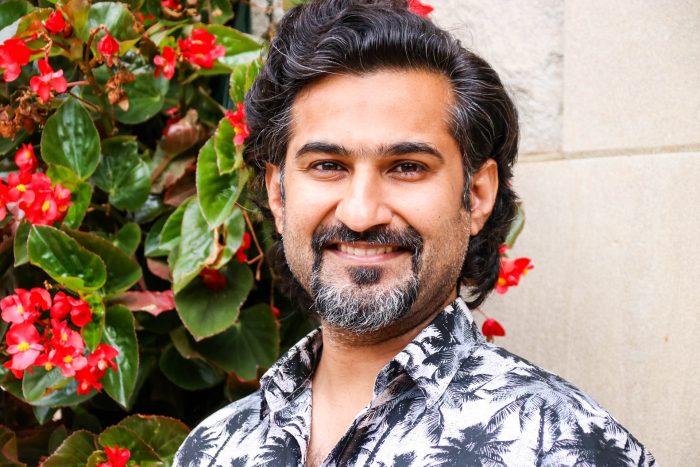 Khurram Sheikh
PhD Student/Associate Instructor
Contact Information
Research and Creative Interests
Postcolonial Media

Transnational Cinemas

Film Festival studies

Third Cinema

Global Media

South Asia

Post 9/11

Coproduction
Biography
My research areas include National and Transnational film cultures, Postcolonial Media Studies, Film Festival Studies, and Post 9/11 Media practices. I am particularly interested in studying postcolonial artists and filmmakers through an institutional focus on film festivals and transnational coproductions for exploring emerging film practices.  My research investigates larger questions of geopolitical negotiations that work across multiple scales and modalities at the intersections of nationhood, regionalization, and religious identity discourse especially in the post 9/11 world. 
For my MA thesis, "The Local at a Global Scale: The Role of the Film Talents Workshop in Shaping Emerging Film Cultures of Pakistan", I studied emerging filmmakers from Pakistan that participated in the Film Talents workshop organized by Goethe Institut. In doing so, I investigated the institutional goals of the workshop involved in funding multiple film productions each year at the local level and training filmmakers for international film festivals. For my PhD research, I examine such models of coproduction and collaborations that are involved in producing and circulating films from third-world countries and the identity discourse of filmmakers through such film practices.
Conferences and Presentations
Presenter. "Resistance through Muslims Arts and Representation in Western Media". Bloomington Rotary, Aug 2022
Conference Presenter. "Reimaging Muslim Identity through post-9/11 Documentaries"
Visible Evidence Conference, University of Gdansk, Poland, Aug 2022
Conference Presenter. Media Objects – Experimental Film
Common Ground Conference, Media School, Indiana University Bloomington, March 2021
Conference Presenter. "Art & Activism: Multiple Sites of Film Festival Circuit"
San Francisco State University's 22nd Annual Cinema and Media Studies Conference, Feb 2021
Roundtable Presenter. Studying South Asia: A Graduate Student Roundtable, Dhar India Studies, Indiana University Bloomington, Nov 2020
Conference Presenter. "Structure, Agency, Artistic Voice: Pakistani Filmmakers at International Film Festivals"
Common Ground Conference, Indiana University Bloomington, Mar 2020.
Teaching 
Associate Instructor (AI), Story Lab 1
The Media School, IUB, Fall 2022
Associate Instructor (AI), Introduction of Design and Production
The Media School, IUB, Fall 2020 – Fall 2021
Associate Instructor (AI), Introduction to Media Studies
The Media School, IUB, Spring 2020 & Spring 2022
Associate Instructor (AI), Introduction to Production Techniques
The Media School, IUB, Fall 2019
Instructor Performing Arts Workshop
United States Education Foundation in Pakistan (Lahore, PK), 2015 (AI)
Professional Experience
Project Coordinator
Muslim Voices Project, March 2022-present
Co-Curator
People of IU Online Exhibits, May 2021
Director and Screenwriter
Film Talents: A Filmmaking Workshop by Goethe Institute (Karachi, PK) 2017-2018
Project Development Workshop
Open Doors Locarno Film Festival (Karachi, PK) 2018
Director/Performer
Orchestral Readings Theatrical Performances (PK) 2015-2017