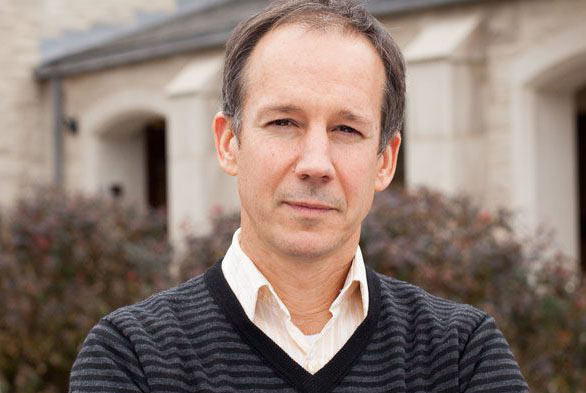 Joseph Coleman
Professor of Practice
Contact Information
Research and Creative Interests
International reporting

news writing

aging and work

East Asia

Foreign Correspondence

Immigration

Latin America
Biography
I think I first had the idea I wanted to be a journalist in a career development course in grad school. I was studying international relations and had to fill out one of those questionnaires, and it came out with two things I love to do: travel and write, so I thought why not become a foreign correspondent.
Perhaps the first time in history that a student in a career development course actually developed a career, but I wasn't a natural-born journalist. At that point, I'd never taken a journalism course, I'd never written an article, never worked for the school newspaper, and never even finished that career course. I ended up with an incomplete. But I got something more out of it than just a college credit. Journalism became like a symbol for everything I wanted to do: travel the world, meet interesting people, witness history, see life in all its extremes. That was three decades ago, and journalism has become much more to me over the years.
It's a way of communicating the stories of all sorts of people, a way of fighting for social justice and a way of caring for and caring about other people. It's about telling the truth. I try to convey all of that to students in my classes, whether we're writing about immigration in a Midwestern town or we're interviewing World War II veterans or we're talking to survivors of the atomic bomb in Hiroshima.
I want my students to open their hearts to the stories of others, and then I want them to have the tools to deliver those stories, the truth of those stories, to an audience, so it's great to have a place like IU where I can do that work.
Joseph Coleman came to IU in 2009 after a 20-year reporting career covering Latin America, Europe and Asia, where he spent many years writing about Japan and neighboring countries for the Associated Press. His specialties at the Media School are newswriting and international reporting, and he leads classes to Japan to report on the enduring legacy of World War II and Asia-Pacific security.
Coleman, a fluent speaker of Spanish and Japanese, is a native of New York and graduate of Vassar College and Columbia University's School of International and Public Affairs. He began his reporting career with United Press International in Bogotá, covering the deadly conflict between the Colombian government and the Medellín drug cartel in 1989 and 1990. After a series of reporting positions in Missouri, Pennsylvania and New York with the AP, he was posted to Tokyo in 1995. He stayed in Japan until 2001, when he was named a Journalism Fellow at University of Michigan. In 2002, he went to Paris, again with the AP, and moved at the end of the following year back to Tokyo, where he was named AP bureau chief in 2004.
Coleman's years as a reporter and editor have carried him to more than 20 countries, and his work has appeared in dozens of publications around the globe, including The New York Times, The Washington Post, the Los Angeles Times and the Yomiuri Shimbun, the world's largest circulating daily paper. He had a hand in covering the top stories of the 1990s and 2000s, including editing of work on the civil war in the former Yugoslavia and the genocide in Rwanda. He covered the deaths of Mother Teresa and Chinese leader Deng Xiaoping, reported on protests that toppled Indonesian strongman Suharto, and wrote about natural and man-made disasters around Asia. He helped direct the AP team that reported on the deadly tsunami in the Indian Ocean in 2004.
Coleman has continued his journalism since arriving at IU. In 2010 and 2012 he won grants from the Abe Fellowship to report on the aging of the global workforce. In addition to stories on older workers in The St. Petersburg Times, Canada's Maclean's magazine, Salon, and Trains magazine, Coleman's Unfinished Work: The Struggle to Build an Aging American Workforce (Oxford University Press), published in February 2015, tells the stories of aging workers in the United States, Japan, France and Sweden. Last year he was named a 2022-23 Fulbright U.S. Scholar in Journalism, and spent six months reporting on the growing immigrant community in Japan. His latest work can be seen here:
https://www.latimes.com/world-nation/story/2023-07-24/japan-and-asylum-seekers
At IU, Coleman is using his experience as a mentor to young journalists. His classes focus on building reporting and writing techniques in the classroom and then deploying them beyond campus, either in the Bloomington area or further afield. He has led students on reporting trips to Japan, Hawaii and Florida. Student work from his classes has appeared in publications including the Indiana Daily Student, Stars and Stripes, YES! Magazine, the Indianapolis Star, Atlantic.com, Global Post, the Virginian-Pilot, News-Decoder and The Japan Times. He is the mentor to the 2027 Ernie Pyle Scholars honors students in the journalism program.
Coleman lives in Bloomington with his wife, Kyoko Ichikawa.