Visiting lecturer has experience in advertising, standup comedy and pro fighting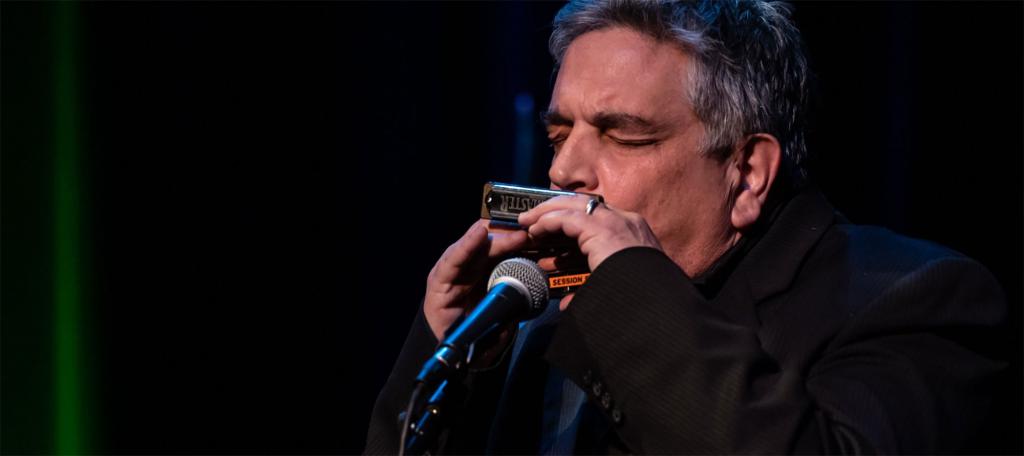 His name is Daniel, but everyone calls him Catfish.
A French-speaking, blues-harmonica-playing, stand-up-comedy-performing, 14-time-pro-fighting veteran of the advertising industry, Daniel "Catfish" Russ joins The Media School's faculty this semester as a visiting lecturer. He'll teach A305, an integrated media advertising course.
Russ, who recently moved to Bloomington, says he's astonished at how close together everything is. Having ventured to the Midwest from Austin, Texas, after a three-year stint as creative director at Nexstar Media Group, he isn't quite used to everything being just 15 minutes away.
Russ is no stranger to traveling. In addition to traipsing around the country for production work, he's also held a variety of positions at agencies in several states.
After graduating from Georgia State University with a degree in philosophy and a minor in American foreign policy, he got a job as a production artist at an ad agency, despite having next to no experience.
"Day one, I did not know what I was doing," Russ said. "Day two, they hired a woman who taught me how to be a production artist."
And so Russ got his start, making artwork for apartment guides and learning by doing. His aspiration was never really to be an art director or a production artist — he wanted to funnel his comedic talent and creativity into copywriting — but he took the opportunity in front of him and used the tools he'd been handed to cultivate a good-looking portfolio.
Among other witty ideas, he dreamed up a campaign for tinderbox pipes that capitalized on the inherent iconography of different styles. Albert Einstein's pipe became "the pipe that split the atom" and Douglas MacArthur's "the pipe that saved the Pacific."
His hard work and colorful portfolio paid off, landing him a junior copywriter job at an advertising agency in Atlanta where he penned a handful of TV ads he remembers being well-liked. But as is often the case in his line of work, he went uncredited.
Two years later, Russ found a new workplace, a small boutique agency in Atlanta. Whereas major agencies work for big names like Pepsi and Toyota, boutique agencies are much smaller, focusing on specialized work for a limited client list. Once again, his work paid off, winning him 17 ADDY awards.
His name now firmly on the map, Russ was offered a job by The Martin Agency in Richmond, Virginia. He likens it to the Harvard of the advertising world. But being young and ambitious, his preference at the time was to go to New York, Los Angeles or Chicago.
"I was young and healthy and good-looking," he said. "I didn't want to go to the capital of the Confederacy."
He went anyway, and stayed for seven years and nine months.
After The Martin Agency, Russ worked at GSD&M in Austin, Texas, for 13 years, during which time he produced work for the U.S. Air Force, Fannie Mae, Chili's, Macaroni Grill, the Texas Lottery and Walmart. He's since worked for R&R Partners in Las Vegas — where he inherited the famous "what happens here stays here" campaign — as well as Blackboard and Nexstar Media Group, the largest TV station operator in the U.S.
At Nexstar, Russ worked for a variety of clients, often on smaller budgets. But he learned long ago that the real currency of advertising is great ideas.
"They didn't have a lot of resources," he said. "But it doesn't take a lot of resources to have an idea."
Among the many other tricks and titles Russ accumulated as he traipsed from agency to agency was a new name. A blues harmonicist and coveter of attention, he was performing at a shoot kickoff party at the Miramar Hotel in Los Angeles when none other than Chevy Chase turned up and dubbed him "Catfish."
The name stuck, at first as a joke amongst the production crew, and eventually as a nickname. Now, Russ hardly even registers Daniel as his real name.
Eventually, he realized it was time for a change of pace. The industry had changed a great deal since he first entered it after college.
As he began the search for a new job, Russ got a call from Media School professor of practice Bill Schwab, a former colleague.
"I asked the world to give me a chance at something else, and it came to me out of the blue," he said.
Russ is no stranger to the classroom. He taught courses at Virginia Commonwealth University and the University of Texas. The only real struggle he says he's faced in gearing up for his work at IU is making sense of Canvas.
As this new chapter of his life begins, Russ has new ideas and new goals, both as a professor and as a community member. He wants to start a blues society. He wants to have blues jams every week. He wants to inspire students, to fan the flames of their creativity. He wants to be the reason someone falls in love with advertising.
"I want to see excited students. I want them to love the class," Russ said. "I'm gonna work hard to get their attention and make it worth their while."
And yes, his students can call him Catfish too.