Uslan's childhood passion for Batman stories ignited a career
Michael Uslan has loved the comic book hero Batman since early childhood, because he was the only superhero with no super powers.
"From a young age I asked myself, 'How do I take what I love and am passionate about and make it into work?'" he said.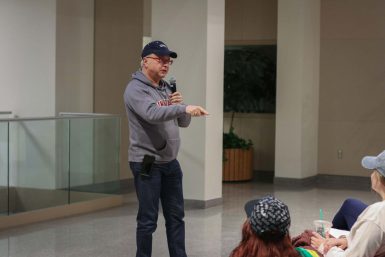 Uslan, BA'73, JD'76, MS'75, Media School professor of practice and producer of the modern Batman films, screened Christopher Nolan's The Dark Knight (2008) Monday night in the Franklin Hall commons. As a self-proclaimed Batman fan-boy and the executive producer of the film, Uslan introduced the film and answered questions from the audience.
Growing up, Uslan didn't like the cartoon versions of Batman on television, because he felt they didn't capture what the story was really about. They weren't serious enough and were playing Batman for laughs.
"So I made a vow like Bruce Wayne did over the bodies of his parents — although mine were safe in the kitchen — that somehow, someday, I would show the world the dark and serious Batman," Uslan said.
This started with the 1989 Batman starring Michael Keaton as Batman and Jack Nicholson as the Joker. That adaptation was directed by Tim Burton, who Uslan describes as a genius.
Almost two decades later, Nolan had a vision that would, once again, restore the seriousness of Batman and his world after years of superhero movies being what Uslan described as "infomercials for toy companies."
"He wanted to make you really believe that this could happen today," Uslan said. So, Nolan cast Christian Bale as Batman and Heath Ledger as the Joker. The third-most important character, Uslan said, is Gotham City. Nolan used Chicago as a stand-in.
"I've got to bow down to the studios, and I am often the first to criticize the studio," Uslan said. "But they had the cojones to take one of their most important projects and give it to an independent filmmaker because they believed in his vision of it so much."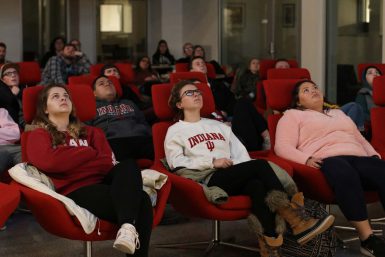 Uslan describes Nolan's casting as "completely out of the box." The Dark Knight was no exception, especially when it came time to cast the Joker.
"Everyone was speculating who it would be, and when word got out that it was Heath Ledger, everyone said, 'You've got to be kidding me — you're going to have the gay cowboy play the Joker?'" Uslan recalled, referencing Ledger's role in Brokeback Mountain, a 2005 drama about a romance between two cowboys. "I was worried that fandom would surround the studios with pitchforks. Now, fandom can't see anybody else ever playing the Joker."
Ledger would go on to win an Oscar posthumously for his portrayal of the Joker in 2009, after dying from a cardiac arrest induced by prescription drug intoxication about a year earlier.
"Heath's performance was the performance of a lifetime," Uslan said. "He was not only a great actor but a great guy, a great human being."
The Dark Knight wasn't only praised for its Joker. It has also been called one of the greatest films post-9/11. It grapples with how to best combat terrorism and what a society has to give up to do so.
"Through Batman and the Joker, we ask ourselves, when fighting terrorists, do we sink to their level, or do we stand the moral high ground? How do you balance a war against terrorism and privacy?" Uslan said. "These were important issues to Chris and the country, so he incorporated them into the movie."
Uslan will be in Bloomington the next two weekends teaching intensive courses, M436: Business of Production Motion Pictures and M453: Live from L.A.: Pros Make Movies. This is his fifth year as a faculty member.
"It's like recharging my battery when I come back here," Uslan said. "It's home."
More: