Science Fest brings spooky fun to Franklin Hall
Franklin Hall's Studio 8 hosted some legendary guests Saturday.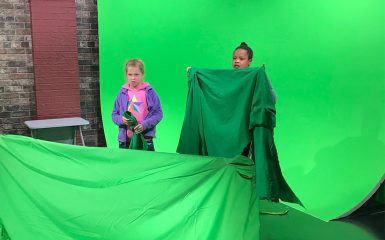 Audio of interviews with aliens, mummies, werewolves, Count Dracula, Godzilla and Frankenstein aired in the Franklin Hall commons.
"So what's it like being a blood-sucking monster?"
"That is a horrible assumption. Not all of us monsters drink blood."
"But you're drinking my blood right now?"
"Well, I skipped lunch."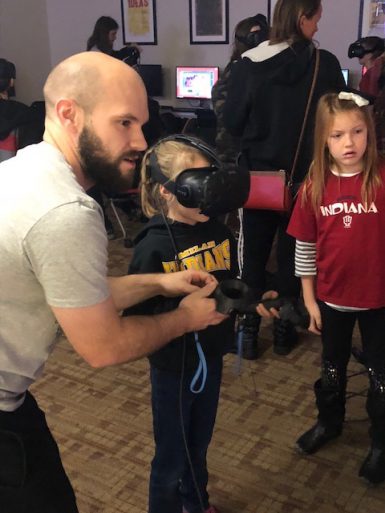 The haunted podcasts were hosted by guests of IU Science Fest, a campuswide event that introduces children from the community to all aspects of science at IU through fun, hands-on activities and demonstrations. The Media School partnered with Science Fest for the first time this year, turning Franklin Hall into a scientific laboratory featuring Halloween-themed activities: haunted podcast recording, Beckley Studio green screen broadcasts that turned participants into ghosts, virtual pumpkin carving using motion capture in Studio 9 and social science experiments testing reactions to spooky content.
Media School professor Rob Potter, director of the Institute for Communication Research, worked with graduate students and game design and production faculty to bring Science Fest to The Media School for the first time to show the community how science and media work hand-in-hand.
"I remember last year seeing signs for Science Fest and thinking, 'Science and technology plays a big part in what goes on in The Media School,'" he said. "We should try to be a part of Science Fest so we can tell people about what we do."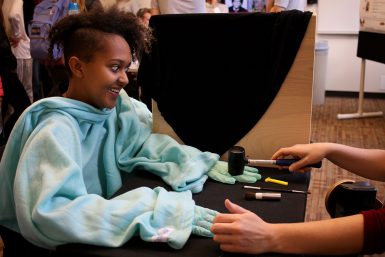 The commons screen projected the green screen broadcasts and video of guests operating the motion capture technology, as well as results of biometric studies using BIOPAC software measuring the increase/decrease of subjects' heart rates as they watched media.
Franklin Hall also hosted the Department of Psychological and Brain Sciences and the Center of Excellence for Women in Technology. The psychology department invited children to build crafty versions of neurons and participate in sensory processing games.
"I want to let people see the science behind it — show science is for everybody," said psychology professor Benjamin Ramsden. "Everything links up with everything else. It's terrific."
More: