Media School students work behind the scenes of March Madness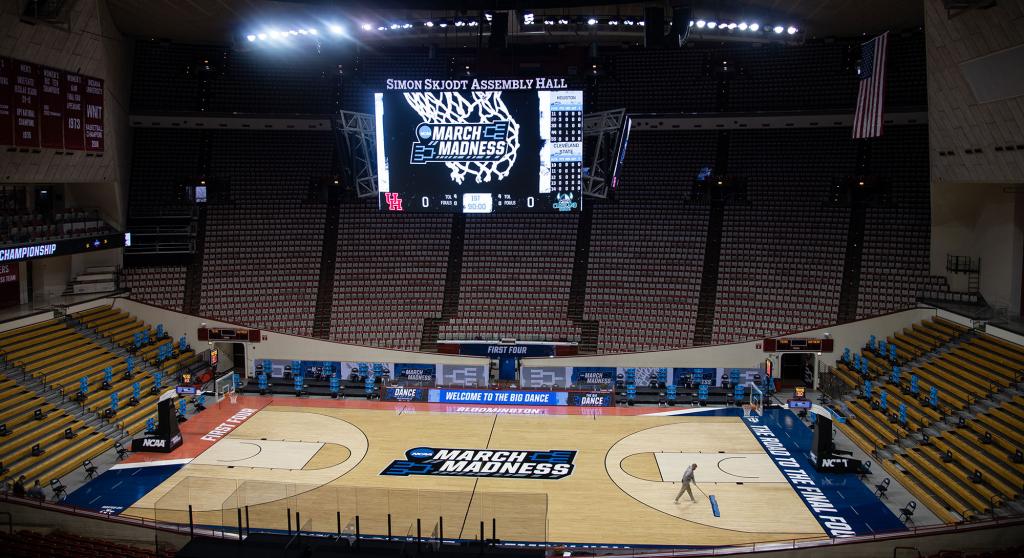 Seventeen IU students and recent alumni are among the many production team members bringing March Madness to your TV, thanks to a years-long partnership between The Media School and CBS, and this year's tournament's Indiana-only format.
The students and alumni are working as paid production runners for CBS, one of the two networks broadcasting the NCAA men's basketball tournament.
CBS has hired Media School students for its Super Bowl and Final Four broadcasts since 2017. Jay Kincaid, The Media School's director of facilities and technology, directs CBS coverage as his second job, and has helped build these partnerships. Since the entire tournament is taking place in Central Indiana this year due to COVID-19 precautions, more students are able to take advantage of this opportunity for hands-on professional experience.
The 15 students — 12 of whom are in The Media School — and two alumni are supporting the broadcast from six venues: Lucas Oil Stadium, Bankers Life Fieldhouse, Hinkle Fieldhouse, Indiana Farmers Coliseum, Mackey Arena and Simon Skjodt Assembly Hall.
Tasks include anything from handing out credentials to going to the store to purchase supplies needed to helping out in the booth, CBS Sports production manager Lori Migliaro said. Days generally run from 10 to 15 hours.
"The benefit for them is they get to see what a broadcast production looks like from the ground up. It's not just the show that's on the air, it's also everything that's behind the scenes — how we get that show on the air," Migliaro said.
Students said they are excited to gain real-world experience and be in an atmosphere with live sports again.
"I had an internship with the Indianapolis Colts canceled last summer because of the pandemic, so it's really important for me to get as much real-world experience as I can before I graduate and start my own career," said senior Nicholas Montgomery.
Sophomore Jack Edwards said he's looking forward to gaining insight into the process of professional broadcasts.
"I've got experience doing the talent portion in high school and college, so this will be a really great opportunity to learn more about how things are done by the pros," he said.
In addition to the ability to experience the behind-the-scenes of a major broadcast, senior Juliet Gahan said she's looking forward to the experience as a basketball fan.
"Growing up, high school basketball was the highlight of my hometown, and then we have a bracket competition in my family every year, so it's kind of a big deal for me," Gahan said. "You know Indiana."
The production runners are:
Brian Barnes
Zachary Carr
Ara Cowper
Jacob Diamond
Isabella Doss
Sam Dykema
Jack Edwards
Juliet Gahan
Emily Greggs
Haley Jordan
Don Kane
Cecelia Kincaid
Nicholas Montgomery
Luke Rasberry
Max Rezek-Twinkle
Jonathan Smith
Connor Stachnik