Kincaid directs CBS Sports pregame show, Super Bowl coverage in spare time
At 8 a.m. Monday, Jay Kincaid leaves his house on his bicycle for Franklin Hall.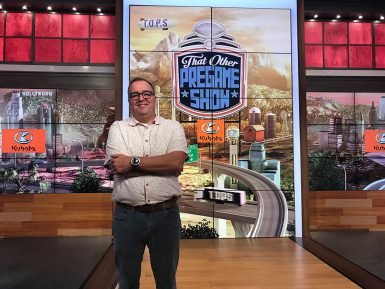 As Media School director of facilities and technology, he oversees equipment and space in two campus buildings. He supervises seven full-time employees and about 30 part-time student workers.
He spends most of his day working with the architect's office discussing building renovations, approving equipment orders and working with vendors for the best deals. When he's not moving around campus, he spends much of his time in his office answering emails. Every day is different.
He leaves for home by 6 p.m. He repeats this routine Tuesday, Wednesday, Thursday, Friday.
On Saturday, Kincaid leaves his house at 4:30 p.m. He drives to Indianapolis, boards a plane, lands at Newark Liberty International Airport and gets a ride to a hotel on 58th Street in New York City, arriving by 9:45 p.m.
At 4:15 a.m. Sunday, he's at the CBS Broadcast Center around the block, preparing to direct the four-hour That Other Pregame Show.
This is his schedule 40 weeks a year. In 20 years, Kincaid has made more than 700 trips to New York City.
In addition to That Other Pregame Show, Kincaid directs CBS coverage of the Super Bowl and the NCAA men's basketball tournament. He does this in addition to his full-time work at The Media School.
"Just keep doing it 'til it's not fun," said Kincaid, BA'82, about how he manages it all. "I think that's it."
A Bloomington native, Kincaid began his career as a production runner at NBC Sports after graduating from IU with a bachelor's degree in telecommunications in 1982. From 1987-2008, he produced and directed Olympic coverage for NBC Sports. During that time, he rose from production associate to associate director to director, and covered the games in Barcelona, Seoul, Atlanta, Sydney, Salt Lake City, Athens, Torino and Beijing.
After NBC, he worked as senior director at CNBC, director at production company King World Productions and director at NBA Entertainment.
In 1999 — 17 years after he left Bloomington for New York — he moved his family back to his hometown to be close to his mother after his father died. He took a job as senior director at WTIU Public Television and Radio and Television Services.
But he didn't quit his job at NBA Entertainment.
"I drove here and moved my family, and the next week, I was back there," Kincaid said.
Nearly 20 years later, he's still making the commute.
His job at The Media School allows him to work on media production projects and stay up to date on new technology. His job at CBS Sports keeps him connected to the media industry.
Kincaid often uses these connections to benefit students. When CBS Sports needs freelance workers for major sporting events, he fills those spots with Media School students. He's taken students to the Super Bowl and the Final Four.
As an IU alumnus, Kincaid knows these opportunities are invaluable.
"I grew up in Indiana on a farm. I had never been on a plane until I was probably 18," he said. "And then all of a sudden, I've been all over the world."
The student media outlets Kincaid provides technical support for — the Indiana Daily Student, IU Student Television and WIUX Pure Student Radio — benefit from Kincaid's experience with top-tier media companies and major events. He tells stories and gives advice.
"You kind of live and die by the people you work with. A good show is when you work with really good people. A bad show is a show working with a bad producer or a bad crew," Kincaid said. "That makes the experience greater."
That's one reason he enjoys his job at CBS — it's an opportunity to work with broadcast professionals who are consistently dedicated to producing good shows. He's won eight national Emmy awards as director and two as associate director.
"My budgets are much bigger, and I get to use state-of-the-art equipment and deal with people who know how to use that equipment, and it's fun," Kincaid said.
When That Other Pregame Show concludes at noon Sunday, Kincaid takes a car back to Newark. He lands in Indianapolis at 4:30 p.m. and is home at about 5:45 p.m.
After dinner, he attends 9 p.m. mass at St. Paul's Catholic Center. He's in bed by 11 p.m.
At 8 a.m. Monday, he's back on his bicycle, riding to Franklin Hall.
More: