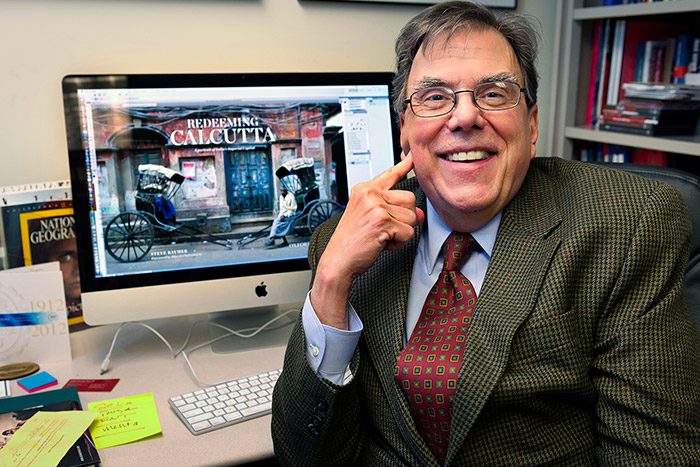 Steve Raymer
Professor Emeritus
Contact Information
Biography
Photojournalist, author, and educator Steve Raymer–a long-time National Geographic Magazine staff photographer and senior editor–taught visual journalism, media ethics, international newsgathering, and reporting war and terrorism for 21 years at the Indiana University Media School, retiring as a tenured full professor in 2016. More recently, Raymer has been a visiting professor at Zayed University School of Communication and Media Sciences in Dubai and Abu Dhabi in the United Arab Emirates and in the Hutton Honors College at IU.
Raymer earned Bachelor of Science and Master of Arts degrees at the University of Wisconsin–Madison and studied Soviet and Russian affairs at Stanford University as a John S. Knight Journalism Fellow. He also studied conflict journalism and trauma as a fellow at the Columbia University Graduate School of Journalism.
After serving as an artillery and public affairs officer in the United States Army during the Vietnam War, he joined the staff of National Geographic in 1972, launching a career that has taken him to more than 100 countries. From famines in Bangladesh and Ethiopia to the collapse of the Soviet Union, Raymer's photographs illustrated more than 30 bylined National Geographic Magazine articles, as well as numerous other Geographic articles, books, and multimedia presentations. In addition to his magazine photojournalism, Raymer is the author of seven photographic books on subjects as varied as the global Indian Diaspora to the cities of St. Petersburg, Russia and Calcutta, India.  His most recent monograph is a visual memoir titled Somewhere West of Lonely, My Life in Pictures, Indiana University Press, 2018.
The National Press Photographers Association and the University of Missouri named Raymer "Magazine Photographer of the Year"–one of photojournalism's most coveted awards–for his reporting of the global hunger crisis in 1976. He also has been honored by the Overseas Press Club of America for international reporting requiring exceptional courage and enterprise and is the winner of numerous first-place awards from the National Press Photographers Association and the White House News Photographers' Association. In 2019, Raymer received the association's John Long Ethics Award for his career-long commitment to ethical practice in photojournalism and journalism education.
-0-