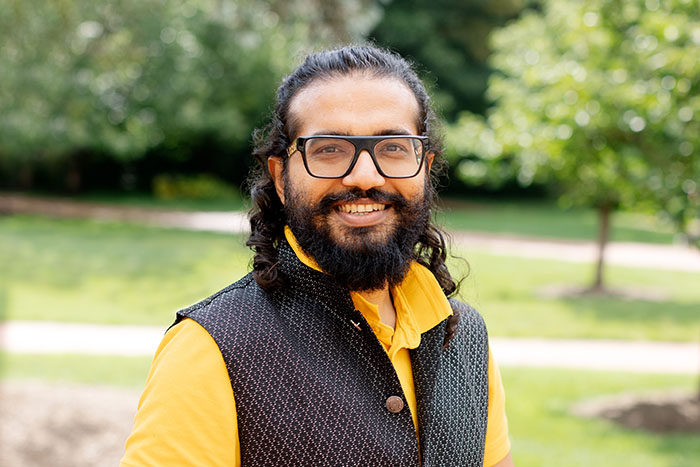 Ahmed Tahsin Shams
Ph.D. Student in Media Arts and Sciences (Cinema Studies)
Pronouns:

he/him/his
Contact Information
Research and Creative Interests
Pedagogy

Transcultural adaptation from text to screen

Auteur theory

ecocritical approach in camera narratives

visual storytelling

intercultural and intermedial art
Biography
I have been in academia since 2016 as a Lecturer in the Department of English at Notre Dame University Bangladesh, later where I have served as an Assistant Professor since 2021. Moreover, I worked as a Visiting Scholar teaching "Academic Writing for Graduate Students" at the University of Notre Dame, Indiana, USA from 2021 to 2023.
I started my film career in 2010 with shorts, television dramas, and films. So far, I have directed and produced documentary films and animated social awareness audio-visual projects for USAID, UNDP, European Union, and many others. In Amazon Prime Video [US & UK regions], two of my full-length feature films [fiction] are available: "A Tale of Night Flowers (Deho Station)" [2014] and "Reflection (Arshinagar)" [2022]. 
My research interests include hermeneutic motion and ecological politics in transcultural adaptations and the question of aesthetic liberty in such visual storytelling and restorytelling. 
Part A: Education
B.A. in English, Department of English, University of Dhaka, Bangladesh, 2012
M.A. in English Literature, Department of English, University of Dhaka, Bangladesh, 2015 
Part B: Research Publications
"Eco-centric versus Anthropocentric Approach in Literary Pedagogy: Inclusion of Non-human Narratives as Teaching Social Justice." Global Journal of Human Social Sciences, vol. 22, no. A9, Nov. 01, 2022, pp. 1-9.
"Representation of Family Members in D. H. Lawrence's Sons and Lovers and Franz Kafka's The Metamorphosis: A Comparative Study of Dehumanization." Bangladesh University of Professionals, December 28, 2022
"A Transcultural Study of Kaafiron Ki Namaaz: A New Discourse of 'The Hermeneutic Motion' as an Adaptation Theory." International Journal of Emerging Technologies and Innovative Research, vol.9, No. 9, Sept. 2022, pp. B504-b512.
"Theoretical Insights on Culturally Responsive Pedagogy in the USA and Bangladesh." International Journal of Humanities and Social Science Invention, vol. 11, no. 9, Sept. 2022, pp. 68-71.
"Identity Economics in Emily Brontë's Wuthering Heights: An Empathetic Inquiry into Psychoanalysis." Scholars: Journal of Arts & Humanities, Tribhuvan University of Nepal, vol. 4, no. 2, Sept. 2022, pp. 74–80.
"Musical Translation Approach (MTA) for Cognitive Learning in Translation Studies Pedagogy in Bangladesh." International Journal of Social Science and Humanities, vol. 10, no. 3, Sept. 2022, pp. 391-398.
"Primordialism and Constructivism:  A Critical Study of Boundaries in Arundhati Roy's The God of Small Things." International Journal of Research and Analytical Reviews, vol. 9, no. 3, Sept. 2022, pp. 191-194.
"Ecologized Humanity Versus Humanized Ecology: Critical Approach to Camera Narratives in Cinematic Art." International Journal Online of Humanities (IJOHMN), vol. 8, no. 4, Aug. 2022, pp. 1-15.
Part C: Research Conferences
Paper Title: "Glorifying Ecocide in Mainstream Cinema: A Cross-cultural Comparative Analysis of Selected American and Indian Films"
Mapping Gendered Spaces in Language, Literature, and Culture, Department of English, University of Dhaka, Bangladesh, May 4-5, 2023
2023 Orlando International Multidisciplinary Academic Conference, International Association of Applied Business Research (IAABR) and the Academic Organization for Advancement of Strategic and International Studies (Academic OASIS), SpringHill Suites by Marriott Orlando Lake Buena Vista in Marriott Village, Orlando, Florida, May  21–22, 2023
Paper Title: "Popular Culture Versus Visual Arts: Redefined from the Lens of Censorship in Bangladesh"
32nd International RAIS Conference on Social Sciences and Humanities, Research Association for Interdisciplinary Studies, Princeton University, The Erdman Center, 20 Library Place, Princeton, NJ 08540, USA, June 8-9, 2023
International Conference on Recent Developments in Social Science and Digital Economy (ICRDSSDE-2023), Bureau for Engagement in Scientific Research and Academic Exchange (BESRA) and the International Journal of Advanced Business Studies (IJAB), 1101 30th St NW, Georgetown, Washington, DC, USA, June 18-19, 2023 
6th World Conference on Social Sciences, WORLD CSS, Los Angeles, United States, August 17-18, 2023
Paper Title: "Eco-centric versus Anthropocentric Approach in Literary Pedagogy: Inclusion of Non-human Narratives as Teaching Social Justice," Fostering a Community of Cultures through Intercultural Competence, Center for the Study of Languages and Cultures, University of Notre Dame, Indiana, USA, Apr. 24-26, 2022
Paper Title: "The 'New Original' through Cultural Translation: Kaafiron Ki Naamaz, the Journey of Pastiche from Postmodern Stage to Indian Cinema Screen," Research Conference at University of BITS Pilani, Goa, India, Jan. 30-Feb. 2. 2019 
Paper Title: "Eco-conscious Approach in Hughesian Mythic Crow: The Rebel Non-Human Voice," Thinkers' and Writers' Peace Conference 2019, Research  Conference by Internationa Society for Intercultural Studies and Research ISISAR), Kolkata, India, Dec. 28-30.2019 
Paper Title: "Musical Translation Approach as the Magic Wand in the Pedagogy of Literature Translation in Bangladesh," 2nd International Conference on Teaching and Learning, Center for Pedagogy, Independent University, Bangladesh, Research Conference by Independent University Bangladesh (IUB), Jun. 28, 2018
Part D: Books Authored/Edited/Translated
"English Grammar SSC, Course Code 2652" for Secondary School Certificate Program, Bangladesh Open University Press, Jan. 2018 [Role: Author et al.]
"English Grammar HSC, Course Code 2852" for Higher Secondary Certificate Program, Bangladesh Open University Press, Jan. 2018 [Role: Author et al.]
"Theo 101," a collection of poems, Antivirus Publication (Liverpool, England), Feb. 2015 [Role: Author]
"Cultural Columns: Traffic of Truth," a collection of proses, Utso Prokashan (Bangladesh), Feb. 2015 [Role: Author]
"The Butterfly Effect," an anthology of liberal arts, published by Blank Voices (Bangladesh), Sept. 2022 [Role: Editor]
"Critical Insights," a peer-reviewed academic journal of the Department of English, Notre Dame University Bangladesh Press, Aug. 2022 [Role: Editor et al.]
"The Myriad of Meanings in Literary Culture Studies," a peer-reviewed collection of proses, published by Blank Voices (Bangladesh), Mar. 2022 [Role: Editor & Author et al.]
"Sajjad Arefin's Poesy Tales," a collection of transcreated poems, published by  Blank Voices (Bangladesh), Dec. 2020 [Role: Editor & Translator]  
"NDUB Research Journal," a peer-reviewed academic journal, Notre Dame University Bangladesh Press, Dec. 2019 [Role: Editor et al.] 
"Preema Donna: An Infinite Journey," a book on Nazia Andaleeb Preema's artworks and performances, published by Cosmos Books (Bangladesh), Nov. 2019 [Role: Editor & Author et al.]
"Potroput," a bi-lingual poetry collection by Shakib Lohani, Onnodhara  Publications (Bangladesh), Feb. 2019 [Role: Editor & Translator et al.]
"Blue Sky," a quarterly publication by Bangladesh Monitor for US Bangla Airlines, 2016 [Role: Editor & Author et al.]
"WIL," a quarterly publication of Bangladesh Brand Forum and Women in Leadership, 2018-2020 [Role: Editor & Author et al.]
Part E: Book Chapters/Reviews
"Decrowning Postmodern Protagonists from Page, Stage, and Screen: A Critical Approach to Theoretical Historiography." Strands of Cultural Historicism: Beyond Ideational Margin, Edited by Aaloy Gangopadhyay et. al., published by Gyan Darpan, Kolkata, India, December 2022
 "A Pedagogical Overview of Culturally Responsive Teaching for English Literature International Undergraduates." The Myriad of Meanings in Literary Culture Studies, Edited by Ahmed Tahsin Shams, Koel Mitra, and Avik Gangopadhyay, published by Blank Voices (Bangladesh), Mar. 2022
"A Breathtaking Manuscript of Revenge in Nocturnal Animals by Tom Ford." Dhaka Tribune, Oct. 2017
"A. S. Byatt's Possession: A Romance." Ashvamegh Indian Journal of English Literature, Chatto & Windus, Apr. 2016
"Protagonist as Intruder into Religion in Wole Soyinka's The Road: Reflection on the Hidden Theological Class-War." The Daily Observer, Bangladesh, Apr. 2015
"Margin Takes over the Centre: Readers Becoming Authors in Rosencrantz and Guildenstern Are Dead by Tom Stoppard." The Daily Observer, Bangladesh, May. 2015
"Jatiswar by Srijit Mukherji: A Musical Tribute to Anthony Firingee." Dhaka Tribune, Bangladesh, Nov. 2014
Part F: Nonfiction Proses 
Part G: Released Films in Amazon Prime
A Tale of Night Flowers [Deho Station], 2014 [Role: Screenplay and Direction]
Reflection [Arshinagar], 2022 [Role: Screenplay, Direction, Editing]
Part H: Media Coverage
Part I: Awards in Film Festivals
Swadeshi Short Film Festival 2017, Category: Best Film, Best Director, Best Screenplay, Film Name: Freedom of Silence (8.53 minutes), Organizer: Swadeshi Film Society, Dhaka, Bangladesh
Shadhinotar Golpey Cinema Banai 2017 [Making Films on Freedom], Category: 2nd Runner-up as Film Director, Film Name: Freedom of Silence (8.53 minutes), Organizer: Bangla Communications and BDSHORTS, Bangladesh
American Golden Picture International Film Festival (USA), Category: Best Director (Feature Film), Film Name: Reflection [Arshinagar], November 3, 2022, Location: Jacksonville, Florida
World Cinema Awards (USA), Category: Best Experimental Feature Film, Film Name: Reflection [Arshinagar], December 20, 2022
Calcutta International Cult Film Festival (India), Category: Best Postmodern Film, Film Name: Reflection [Arshinagar], October 26, 2022
Havelock International Film Festival (India), Category: Best Director, Best Experimental Feature Film, Film Name: Reflection [Arshinagar], November 4, 2022
Golden Fern Film Awards (India), Category: Best Postmodern Film, Film Name: Reflection [Arshinagar], November 14, 2022
Chicago Cinema Awards (USA), Category: Best Experimental, Film Name: Reflection [Arshinagar], November 8, 2022
Brazil New Visions Film Fest (Brazil), Category: Nominated for Best Feature Film, Film Name: Reflection [Arshinagar], October 26, 2022
Crown Point International Film Festival (USA), Category: Best Experimental Feature Film, Film Name: Reflection [Arshinagar], October 2, 2022
Golden Eagle Indie Film Festival (India), Category: Best Feature, Film Name: Reflection [Arshinagar], October 9, 2022
Eastern Europe International Movie Awards (Turkey), Category: Best Experimental, Film Name: Reflection [Arshinagar], October 1, 2022
Cuzco Underground Cinema Festival (Peru), Category: Best Feature Experimental, Film Name: Arshinagar [Reflection], October 1, 2022 
Indus Valley International Film Festival (IVIFF), Season 5 (India), Category; Best Adaptation Literature to Screen, Name: Arshinagar [Reflection], New Delhi, India 110048, October 10, 2022
Synergy Film Festival (USA), Category: Official Selection, Name: Arshinagar [Reflection], September 30, 2022, 520 N Western Ave, Los Angeles, California 90004
Dos Lagos Film Festival, Category: Official Selection, Dos Lagos Film Fest, Name: Arshinagar [Reflection], 7190 Sunset Boulevard, Suite 300, Hollywood, CA 90046, October 21, 2022
Part J: Invited Talks/Workshops
"Writing an Abstract" Workshop by Center for the Study of Languages and Cultures, University of Notre Dame, IN, USA, March 9, 2023
"Be Your Editor in Academic Writing: A Grammatical Approach," Center for the Study of Languages and Cultures, University of Notre Dame, IN, USA, Nov. 8, 2022
"Culturally Responsive Teaching: Teachers as Connectors and Cultural Translators," Center for the Study of Languages and Cultures, University of Notre Dame, IN, USA, Oct. 4, 2022
"Culturally Responsive Teaching: Awareness to Action," Center for the Study of Languages and Cultures, University of Notre Dame, IN, USA, Nov. 18 & 30, 2022
"Moves in Academic Writing," Notre Dame University Bangladesh Language Center, Dhaka, Bangladesh, Jul. 17, 2022
"Creative Writing in the New Age," The Neotia University, Department of English, Exploring New Pedagogy in English and Mass Communication Lecture Series, Dec. 4, 2021
"Creative Practice and Impact on Mental Health," NDUB Lockdown Fest 2020,  The Photographic Society of Notre Dame University Bangladesh, in collaboration with Notre Dame University Bangladesh Business Club (NDUBBC) and Notre Dame University Bangladesh English Club (NDUBEC), June 15, 2020 — July 16, 2020
"Eco-conscious Versus Ego-Conscious Approach in Literary Pedagogy," NDUB Environmental Vanguard Award 2019,  Notre Dame University Bangladesh, Nov. 15, 2019
"Peace Film Festival 2019," a 6-month-long film-making workshop organized by Manusher Jonno Foundation and Films4Peace Foundation at Shawkat Osman Auditorium, Public Library, University of Dhaka, Bangladesh, from January to July 2019
"Creative Writing and Storytelling Workshop," a day-long workshop on Creative Writing and Storytelling organized by Notre Dame University Bangladesh English Club (NDUBEC), held at Notre Dame University premises on July 21, 2018
Google Scholar Citations: 33 [until August 15, 2023]