Walter: Known unknowns can provide framework around elections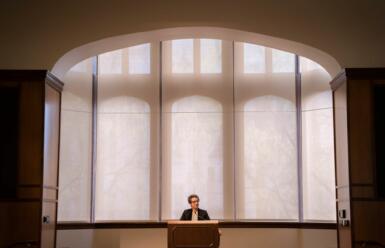 American political analyst Amy Walter presented her Known Unknowns: The 2024 Election and Beyond lecture in Presidents Hall at Franklin Hall on Wednesday.
Walter's lecture is named after the famous Donald Rumsfeld remark in 2002 when the former Secretary of Defense said, "As we know, there are known knowns; there are things we know we know. We also know there are known unknowns. That is to say, we know there are some things that we do not know. But there are also unknown unknowns—the ones we don't know we don't know."
While Walter admitted she laughed at the statement when originally hearing it, she realized that Rumsfeld had a point. "The more time that I spent with this quote, the more sense that it made," Walter said.
Walter believes Americans can use the framework of having "known unknowns" to better understand and predict the 2024 presidential election. Walter claimed that the largest known unknown is who the candidates will be for both the Republican and Democratic parties. She said that the debates, which will kick off this August, are another crucial unknown about the upcoming election.
Much of Walter's lecture focused on the growing political divide in America. Walter claimed that people now "identify more by party than person or policy." Walter said that the internet contributed to the nationalization of America's politics while saying that the web has made it much easier to vilify the opposing party. Ultimately, Walter described national politics as "volatile and unstable."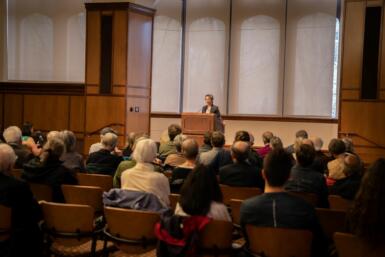 Walter has contributed to the PBS "NewsHour" since 2015 with a "Politics Monday" segment. Walter also contributes to NBC's "Meet the Press", CNN's "Inside Politics" and "Special Report with Bret Baier" on Fox News. In 2021, Walter became publisher and editor-in-chief of The Cook Political Report with Amy Walter.
Walter ended her lecture by claiming the largest "unknown unknown" was whether Americans were fated to live in a constantly polarized nation. "Are we ever going to break out of this?" Walter asked.
Following the lecture and a Q&A, Ted Carmines – professor of political science, director of the Center on American Politics, and the research director at the Center on Representative Government at IU – presented Walter with the Lee H. Hamilton Public Service Fellowship.
The complete recording of the lecture can be viewed on Facebook. The public event was co-sponsored by The Media School and the Center on Representative Government.