Spencer Bowman tells IU's Bicentennial story through video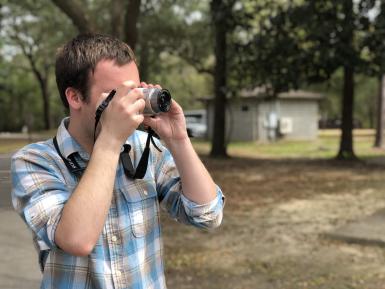 Media School senior Spencer Bowman has found himself in some unlikely places.
He once attended an archaeological dig at the Wylie House Museum, which uncovered remnants of a subterranean greenhouse.
He sat next to Hoagy Carmichael Jr. during a production of a new musical based on his father's music.
"He was getting misty as he was listening to his father's music," Bowman said.
Bowman is one of several students who have worked for the Office of the Bicentennial during its three years of existence to produce videos about the people, places and stories of IU's history.
"In addition to professional growth, the experience of learning about the institution and learning about our history and all the different things that were going on across the campuses is so enlightening," he said. "I feel like I've gotten a huge education about IU, our 200 years and what it means to be a member of this community."
Bowman joined the team when it first launched as a freshman. As other interns completed their semester-long internships and left, Bowman submitted a proposal to do more work for the office. He was hired, along with two other students.
"It's been a huge part of my education as a student," he said.
In spotlighting so many goings on, projects and people across all of IU's campuses and through all 200 years of its history, Bowman not only cultivated lots of knowledge and admiration, but he also worked to share that with others through the work he did.
"I think by creating these projects that are showing people what's going on at IU, we're helping people appreciate all the parts of IU that people aren't typically aware of," he said.
Bicentennial videos starring Media School students
How are you #MakingIUHistory?
Ellie Kaverman talks.
My name is Ellie Kaverman, and I'm a senior here at IU. I'm a journalism major, and then I also have minors in political science and history.
As a Bicentennial intern, Ellie Kaverman has researched and now presents on the first women of the business school.
She talks:
Something I've always been really passionate about is women's history and things that women have gone through throughout history, and so for me that was what I knew I wanted to do coming into it, and it was something that I was passionate and ready to kind of dive into.
Photos of and from the IU Archives are shown while she talks.
I think my favorite part of working with the Bicentennial has been being able to go into the Archives, the IU Archives on campus, to really physically hold some of the documents that have IU's history in them. My research really surrounds how important it is for women to support each other and push each other to do better. It's really shown me how much of a community IU is. That goes from me seeing the communities the women I researched created, but also through connecting with women who are alum of IU who have firsthand experience doing these things.
Ellie has presented her research to a number of groups, including the Women's Philanthropy Leadership Council.
I really, really love giving these presentations about my research. It's really fulfilling for me because I've now given it to women who are alum of the school, but I've also given the presentation to young high school girls who are interested in business, so to see how important it is and how effective it is to talk to girls who are entering into this world, that's been really, really awesome to see that and kind of facilitate those conversations.
The IU Bicentennial means a lot to me as someone who's grown up in Indiana, and I actually decided when I was in eighth grade that I wanted to go to IU, so IU in general means a lot to me. But the Bicentennial to me means taking a moment to reflect on our history and see where we were and where we are now and then really take a moment to look at where we're going to go.
Learn more about the internship program at 200.iu.edu.
Indiana University Bicentennial
How are you #MakingIUHistory?
Sarah Verschoor talks.
I'm a junior, and I'm a journalism major with a minor in liberal arts and management.
Sarah Verschoor works with fellow students as the managing editor of digital at the Indiana Daily Student, which has run for over 150 years.
She talks:
The reason I'm a part of the IDS and how I got involved was definitely the community of people who work at the IDS. There are so many people who are so dedicated to reporting and to teaching younger staffers that I felt really welcomed and like I had the resources and support from the first day I walked into the newsroom.
So really what I want to do is just help other reporters kind of find the joy in reporting and really get better at it like the IDS was able to give me.
Indiana University Bicentennial
How are you #MakingIUHistory?
Jessica Joppich talks.
I'm a junior. I'm studying media with a concentration in media management, industry and policy and a minor in entrepreneurship and small-business management.
Jessica Joppich is the executive director of IU Student Television, an organization that gives students the chance to gain media production experience.
She talks:
It's all about building yourself and those around you, so that they can do what they want to do. Because a lot of people have big hopes and big dreams, but they don't really know how to get there. And we're trying to help them get there because it's hard to do what you want to do if you don't have the experience necessary.
Indiana University Bicentennial
How are you #MakingIUHistory?
Colin Dombrowski talks.
I'm a junior. I'm studying advertising, public relations, marketing and history.
Colin Dombrowski is the editor-in-chief of Hoosier Flipside, IU's satirical student newspaper.
He talks:
I think we take those events, the things that happen in the day-to-day, the cultural trends, the news, and we make it interesting. We make it engaging for future students to read and to look back on. We make it worth remembering in a way that the news isn't. I think that's what really sets us apart and makes Flipside worth reading and worth remembering in the future.
Indiana University Bicentennial
How are you #MakingIUHistory?
Arianna Eiler talks.
I'm a junior studying media advertising with a minor in marketing.
Arianna Eiler is the game design lead intern at CEWiT, which advocates for women in technology-related fields.
She talks:
A lot of times, people see game design as a masculine field, where it's designed for men. Video games are a male concept for a lot of people. However, that is not the case. Video games have a really diverse audience, and it's important that we have diverse teams making these games as well.
Indiana University Bicentennial
How are you #MakingIUHistory?
Abigail Billing talks about her experience:
So my concentration is interactive and digital media, so I do mostly graphic design work. So with school I never actually do film production, but it's something that I really enjoy and really like, so these trips are a way that I can produce videos and do all the production work that I don't otherwise get to do.
Abigail Billing volunteers with the National Park Service, creating videos for parks as part of a partnership with Indiana University.
She talks again:
My favorite part of the weekend is just working with the National Park Service. I have a deep love for the national parks, and it's something that I would love to continue to do after graduation. So having that experience in college, I think is a really great booster for after.
A photo from one of her trips is shown, and she continues talking.
You're working on real-world projects. It's something that they're actually going to get a use out of, something that is not just for class and then gets pushed aside. It's something that people are actually going to see.
Indiana University Bicentennial
How are you #MakingIUHistory?
Dakota Taylor talks.
I am a senior. I'm studying advertising and have a specialization in narrative filmmaking.
Dakota Taylor is empowering students to tell their own stories as president of the IU Student Cinema Guild.
He talks:
It doesn't matter if you're a media student, film student, or whatever. Every year, we have people who are officers in the cinema guild who are not in any way related to media majors, including a cop. Just every year it's different, but it's definitely a good place for those kids who are majoring in it to come and make friends who are doing the same thing as you and people who are going to be rising in the industry next to you and who have the same goal as you. You can really use each other to help rise together.
Indiana University Bicentennial
How are you #MakingIUHistory?
Ellen Glover talks.
I am a senior. I'm studying journalism and minoring in music.
Ellen Glover has researched and produced a series of podcasts for the IU Bicentennial on various topics in university history.
She talks:
I didn't know a whole lot about the history before becoming a Bicentennial intern. You do — when you're a freshman or coming into college — you do this like walking tour where you learn a bunch of history, so that was always kind of interesting to hear little tidbits that I had always heard.
Photos from the archives and of IU play in the background while she talks.
I like learning about IU's history, and I hope other people would like learning about IU's history because, I mean, this is a 200-year-old school. We've been through a lot, and there's so many interesting people that came through here.
Just going into the archives and reading, I mean, I saw amazing things in the archives: old love letters, diary entries, and little pamphlets and just crazy things that you would think would just be lost in the winds of time, you know? But learning about all this and really taking the time to understand these people as just regular people was so interesting.
Indiana University Bicentennial