Smith lectures on heroines of sports
If Lauren Smith could meet any female athlete, living or deceased, it would be a toss-up between gymnast extraordinaire Nadia Comăneci and women's soccer legend Megan Rapinoe.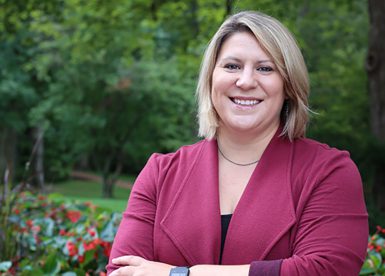 "My gymnastics heart would want to meet Nadia Comăneci because she was the first perfect 10. She was a pioneer in women's sports," Smith said. "But I think Megan Rapinoe would be another one. I really admire what she does, and I really admire that she just doesn't seem to care who she makes mad. She's going to say what she means and what she thinks and not apologize for it."
Smith, an assistant professor, spoke Tuesday as part of The Media School's Gather Series. In her presentation, "Go Big or Go Home: Women Who Helped Change the Face of Sports," she introduced a sample of some of the amazing women in sports and discussed the impacts they've had on this world.
Her discussion focused on women who not only had success on the field, "but who have also made a tremendous impact off the field," Smith said.
Beginning in the 1920s, Smith showcased golf great, Babe Didrikson Zaharias, whose athletic prowess expanded far beyond the golf course.
Despite women not being encouraged to participate in any kind of sport in the 1920s, Zaharias "burst onto the field and excelled at multiple sports: track, swimming, softball, tennis, baseball, basketball, boxing and golf," Smith said.
In the 1932 Olympics, she set four world records and won two gold medals. She founded the Ladies Professional Golf Association and won 82 professional golf tournaments in her career.
"So when we talk about the greatest athlete that ever lived, people will always go for Lebron (James) or Bo Jackson or Michael Jordan," Smith said. "But we seem to overlook Babe Didrikson which is really sort of an interesting thing considering how much she did and how much she was able to do on the field."
Smith covered a wide range of sports in her presentation, including ones that took place in the water.
"Queen of the Waves" Gertrude Ederle was not necessarily known for what she did in the Olympic Games (she won three medals at the Paris Olympics in 1924), but rather for being the first woman to swim the English channel.
"Not only was she the first woman to do this, but she also bested the times of the previous five men by over two hours," Smith said.
Another swimming icon is IUPUI alumna Trischa Zorn, who was blind since birth and is the most decorated Paralympian ever with 55 medals, 41 of those being gold. She's served on the Paralympic Advisory Council and has mentored and helped American veterans get involved with Paralympic sports.
Moving from the water to the rubber, Smith highlighted track stars Wilma Rudolph and Jackie Joyner-Kersee.
Rudolph, a polio survivor, competed in the 1960 Olympics, where she won three gold medals in track. She was the first woman to win three gold medals in a single Olympic games.
As a fighter for civil rights, Rudolph refused to attend her hometown's victory celebration unless the event was unsegregated. It was the first racially unsegregated event in Clarksville, Tennessee.
Six-time Olympic medalist Joyner-Kersee also broke multiple barriers in track and field during her athletic career, but she's "defined her post-athletic career as a philanthropist, a public speaker and an advocate for children's education on health issues, racial equality and social women's reform on equal rights," Smith said.
Joining Rudolph and Joyner-Kersee was Kathrine Switzer, the first woman to run the Boston Marathon in 1967.
"Athletes are not just heroes because they can run fast or catch a ball," Smith said. "They're heroes because of their moral character. They're heroes because of what they do on and off the field. But most importantly because their actions transcend the field."
Anita DeFrantz, a powerhouse 1976 Olympic bronze medalist in rowing, led a group of 25 athletes who sued the United States Olympic Committee over its resolution to boycott the Moscow Olympics while breaking racial and gender barriers along the way.
One of the most pivotal events for women's sports was the passage of Title IX in 1972.
"(Title IX) was a landmark law that opened barriers for women and girls in sport," Smith said. "Since Title IX's passage, female participation in sport has grown by 1,057% in the high school level and 604% in the college level."
Throughout her career, proud female sports supporter and legendary University of Tennessee women's basketball coach Pat Summitt helped women overcome any obstacles thrown their way. She won eight NCAA basketball championships, graduated 100% of her student athletes and founded the Pat Summitt Foundation: Find a Cure for Alzheimer's after being diagnosed with the disease at just 59 years old.
"Players were more than just a number to her. They were a face, they were a name, they were somebody's daughter, they were somebody who could do something in the world," Smith said.
One of the biggest gender advocates in sport, famed tennis great Billie Jean King, broke barriers after defeating Bobby Riggs, who proclaimed that men were superior to women. King also threatened to boycott the US Open if men and women tennis players were not paid the same in 1973.
A fellow tennis great, Venus Williams, "was the driving force between men and women receiving equal prize money at all of the major tennis tournaments," Smith said. "She helped pave the way for new generations of women, especially women of color, many of whom now share the court with her as competitors.
Smith pointed out lesser-known names in the sporting world who had just as big an impact, including Marine Sgt. Kirstie Ennis, an amputee and military veteran whose goal is to climb the Seven Summits while raising money for nonprofits in process; Misty Copeland, the first African-American principal dancer at the American Ballet Theater; and Hilary Knight, a three-time Olympic medalist who helped form the Professional Women's Hockey Players Association, which established a pro league that provides players with livable salaries.
Ending with soccer, Smith brought up one of her favorite quotes spoken by soccer icon Mia Hamm.
"'My coach said I ran like a girl. I said if he could run a little faster, he could too," Smith quoted.
Not only was Hamm a goal-scoring powerhouse (holding the record of 158 goals in international competition until 2013), but her sport dominance ushered in a large amount of media attention.
"Suddenly, it was cool for girls to run and sweat and compete like boys do," Smith said. "She laid to rest the insult, 'You play like a girl.'"
Finally, a more recent name and one of the female athletes Smith herself would love to meet is Megan Rapinoe, soccer star and relentless advocate for equality.
"She is a nonstop champion for equal pay and equal rights," Smith said.
In 2016, she became the first woman and the first white athlete to join Colin Kaepernick in kneeling for solidarity. In March 2020, she joined and helped lead the U.S. Women's National Team in suing the women's soccer federation over allegations of gender discrimination.
Smith said that even though it's 2021, sexism in sport is still prevalent today, and coverage of women's sports is nowhere near where it should be.
"People have said if women's sports are on TV, they will watch them. They just have to be on TV. If they're there, there is an audience and there is a market," she said.
Smith said she is hopeful that women's sports are beginning to get more attention, even if it took a pandemic for the issue to be brought forward.
"I hate coronavirus. I hate what it has done to society. But it may be one of the best things that has happened to women's sports, because they got so much attention this year," Smith said. "Their ratings went up. They were out and they were vocal. We saw a lot more female athletes than we ever have in any point of society, outside of the Olympic Games. I'm really curious to see what is going to look like."