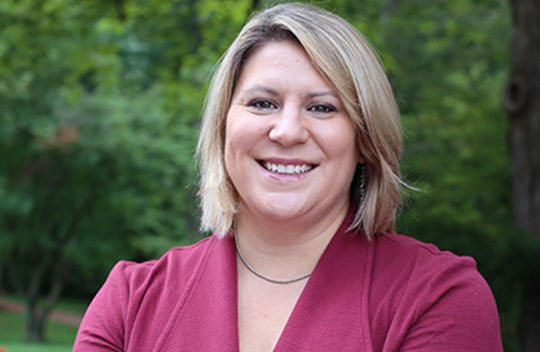 Lauren Smith
Associate Professor
Contact Information
Research and Creative Interests
Sports Media

Sports Media Effects

Gender and Sports

Olympics

Olympic Media

Sports and Race

Gender, Sexuality, and Sex

Social and Psychological Media Effects

NCAA and Amateurism
Biography
Sports have always played a major role in my life. On a personal level, I remember being a young gymnast and building a jungle gym out of the living room furniture to practice my bar routines on. I eventually became a collegiate springboard diver and now compete in triathlons.
I don't know exactly when I started watching sports as a fan, but I can't remember a time in my life when I didn't watch or take part.
As I began my professional career in broadcasting and promotion, I became more and more curious about the decision-making that went into the production and storytelling of the sporting events I was watching and the athletes I was seeing. Why was this vignette created about this athlete in this specific way? Why did they use that shot? How did the writers come to settle on this word selection?
This curiosity began to drive my eventual research agenda, which looks at media portrayals within sport. Here at Indiana University, I have access to the tools, equipment and people that allow me to not only continue my research on media portrayals, but allows me to begin to examine more questions that center around media effects within sports media. Sports, to me, are a highly emotional and unpredictable media experience, and one that often bonds people in unforgettable ways. As a researcher, I ask questions like what are the various effects that fans and spectators experience from watching sporting events? What makes fans enjoy the content that they do? What types of media really attracts us?
Our lab space here allows me the ability to work through these types of investigations and to answer these and new questions. That's a big reason why the growing sports media program at Indiana is the perfect place to work.
Lauren Reichart Smith (Ph.D. 2010) is an associate professor  of sports media.  She previously served as an associate professor and the associate director for public relations at Auburn University. As a former television producer, she worked in both the Atlanta and Birmingham television markets, and received an Emmy nomination in 2005. She earned her B.A. from Fairfield University, her M.A. from the University of Alabama-Birmingham, and her Ph.D. from the University of Alabama.
Lauren's main research area lies in mediasport – the intersection between sports and mass media. Her research encapsulates both mass media and social media. This focus has enabled her to complete research that focuses on issues of gender, race, and national identity. She primarily analyzes how athletes are portrayed in the media, as well as how new technologies enhance a fan's enjoyment of a game. More recent work has begun to examine the effects of sports media on audiences, primarily focusing on attention. Lauren's work has been presented at conferences such as the International Communication Association (ICA), the Association for Education in Journalism and Mass Communication (AEJMC), Broadcast Education Association (BEA),  the International Association for Communication and Sport (IACS), and Southern States Communication Association (SSCA). She has won top paper awards at SSCA, BEA, IACS, AEJMC, and ICA.  She is the former chair of the International Association of Communication and Sport, and a former officer for the Sport Communication Interest Group of AEJMC.
Her research has been published in Media Psychology, Journalism and Mass Communication Quarterly, the Journal of Broadcasting and Electronic Media, the Howard Journal of Communication, Communication Research Reports, Electronic News, the International Review for the Sociology of Sport, the Sociology of Sport Journal, Sport in Society, the Journal of Sports Media, the International Journal of Sport Communication, Communication & Sport, and the Journal of Intercultural Communication.
Lauren was once an All-American gymnast and a Division I springboard diver. She is still an avid sports fan today, and counts down the days until football season. In her spare time, she enjoys traveling with her husband Kenny Smith. Lauren is currently a member of USA Triathlon and regularly competes in duathlons and triathlons. She's a two-time Ironman finisher, and a three-time qualifier for USA Triathlon Age Group National Championships.