Schwibs, adjuncts win regional Emmys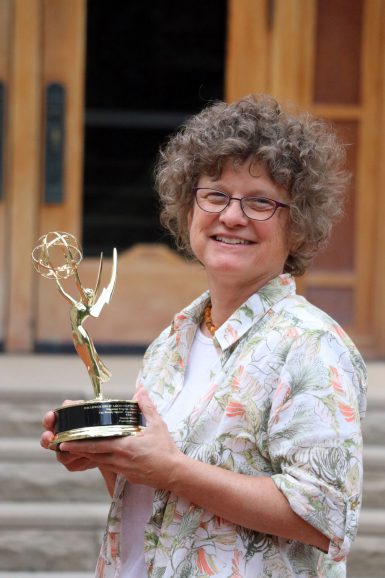 Senior lecturer Susanne Schwibs and adjunct instructors Eric Bolstridge and Jo Throckmorton won regional Emmys this weekend.
Schwibs won in the Documentary – Cultural category for "Beautiful By Design: The Indiana University Campus," which she produced and directed for WTIU.
Bolstridge won in the Children/Youth/Teen Program/Special category for two episodes of WTIU's "The Friday Zone." Media School students Yessica Leon, Marlie Bruns and Sarah Sanders worked on the episodes as students in MSCH-X476: WTIU Production Workshop. Jay Kincaid, Media School director of facilities and technology, directed the episodes, and adjunct instructor Russell McGee wrote and directed a segment.
Throckmorton won in the Commercial category for "Indiana University: Will Shortz."
Media School students, instructors and staff earned other nominations:
Students Grace Heppner, Naphtalia Ruth, Gabrielle Steenberger and Macey White in the Arts and Entertainment/Cultural Affairs category
Students Alexa Enoch, Satomi Masaki and Alyssa Woolard in the Long Form category
McGee in the Children/Youth/Teen Program/Special and Musical Composition/Arrangement categories
Kincaid in the Magazine Program – Program/Special category