Press Release: Alumnus Ed Spray contributes to control room, internships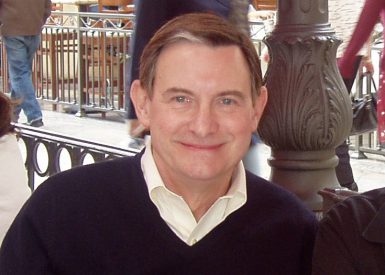 For immediate release:
BLOOMINGTON, Ind. — Students will have access to both paid internships and increased technology tools at Franklin Hall, thanks to alumnus Edward Spray.
Spray, former president of Scripps Networks, and his wife, Donna, have made a contribution to the Indiana University Media School's Franklin Hall Fund. In their honor, the state-of-the-art television control room now is named the Ed Spray Control Room.
The couple also has established the Ed Spray Field Production Internships through IU's Radio and Television Services. The internships will support students who have a career interest in television or journalism and work with local PBS affiliate WTIU.
Spray, BS'63, worked in broadcast and cable television for decades, establishing multiple cable networks, including Home and Garden Television and the Do-It-Yourself Network. He said he hopes these gifts will help students make the most of their time at IU and prepare them for successful careers.
"I did just about everything you could do in radio and television in my time at IU," Spray said in a phone interview. "I jumped in whole-heartedly and worked on every show I could. It was a wonderland to me even with the hand-me-down equipment that we were using."
The Media School's brand new technical facilities are a far cry from those "hand-me-downs," he said. During a visit to Franklin Hall, Spray was impressed with the top-of-the-line technology available to students in the Ken and Audrey Beckley Studio and the adjacent control room.
"I had a tour when it wasn't quite finished, but I could see what was going to be coming and it was amazing," he said. "Things are moving so fast now that students have to have hands on experience with the equipment. And to have that kind of equipment for them to work with is just a wonderful thing for The Media School."
Broadcast news and sports broadcasting classes, production workshops and IUSTV, the campus' student-run TV station, will use the control room, which will enable the execution and monitoring of productions in the adjacent studio. The control room also has camera connections to the Franklin Hall commons and to a lecture hall in the building. Fiber connections can bring in signals from elsewhere on campus and around the world.
Technology in the studio will include:
Workstations for 12 operators
Telemetrics robotic camera control system
3M/E Grass Valley Switcher for switching between video sources
Six server channels of video playback/record
Two-channel ChyronHego Mosaic graphics system for lower-third and full-screen graphics
NewTek TalkShow system, for live interviews via Skype
Multiview Monitor Wall (six 58-inch video monitors combining to produce a single display)
Video router and intercom systems
Yamaha audio mixing console, wireless microphones, wireless IFB, wireless intercom
Spray also visited WTIU and WFIU, and had a chance to view a taping of the Indiana News Desk program where he discussed with students the importance of their hands-on experience at WTIU and WFIU.
During their careers, he and fellow broadcaster and Kappa Delta Rho member Ken Beckley worked in allied fields, Spray behind the camera in control rooms and Beckley on screen in TV studios. Beckley and his wife, Audrey, donated funds for the creation of the leading edge television studio in Franklin Hall.
Spray thought it appropriate that the fraternity brothers and lifelong friends have side-by-side rooms, respective to their careers, in The Media School's new home.
"We were both from small towns, we were both kind of intimidated by coming to Bloomington, and we were both first-generation college students in our families," he said.
Spray received his Bachelor of Science degree in 1963, and his career quickly took off at WISH-TV in Indianapolis. After returning to IU for a master's degree in Radio and Television in 1966, he joined NBC Chicago as a producer/director, where he won five Emmy awards in a span of nine years.
He then spent 16 years with CBS serving as director of broadcasting at WBBM-TV/CBS Chicago and KCBS-TV Los Angeles, and later vice president of programming development for the CBS-owned stations. He then made a move to academia at the Newhouse School of Public Communications at Syracuse University.
After several years as a professor, Spray re-entered the industry to co-found the HGTV Cable Network and build Scripps Networks from the ground up.
"With HGTV, I got to take all the things I had learned and done throughout my entire career, starting at Indiana, and put them together, culminating in a very successful cable network. That, to me, was a career highlight," Spray said.
Spray was named president of Scripps Networks in 2000 and for six years managed the popular television and Internet brands of HGTV, DIY Network, Food Network, Cooking Channel, Travel Channel and Great American Country.
"When I retired, I felt an obligation to do something for The Media School because I'm at the end of my career, and it had given me so much at the start of my career," Spray said of his decision to contribute to the school.
Spray's gift counts toward the $2.5 billion For All: The Indiana University Bicentennial Campaign.
The Media School at Indiana University offers degrees in journalism, media and game design, with nine concentrations that allow students to tailor the curriculum to their career goals.