New display brings Pyle's legacy to Franklin Hall
The late World War II correspondent Ernie Pyle's jacket, typewriter and Purple Heart have made their way home to The Media School, just in time for National Ernie Pyle Day.
A new museum-like exhibit in Franklin Hall's lower level will teach students, faculty and community members about Pyle's contributions to the world of journalism. The special collection of artifacts includes Pyle's jacket, a large portrait of him, a typewriter he used and some smaller personal items including awards and medals.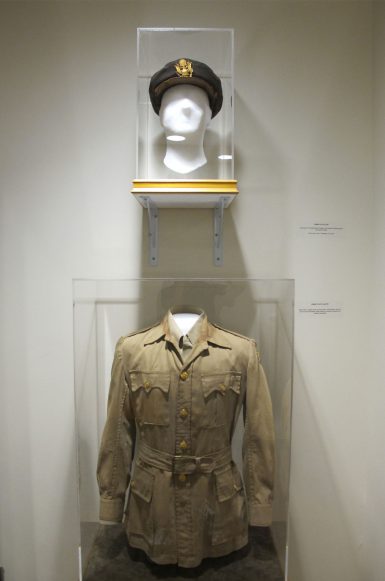 The items were once displayed in Ernie Pyle Hall, when it was home to the School of Journalism. The new display is outside Rooms 003 and 005.
Media School director of development and alumni relations Emily Harrison said the collection's new home in Franklin Hall will give The Media School a deeper connection to Pyle's legacy.
"This is a way to make sure that legacy continues, so that our current students are reading about Ernie Pyle and understanding who he was, what he did for journalism," she said.
Campus art curator Sherry Rouse assisted in moving the school's collection of Pyle artifacts out of Ernie Pyle Hall in 2016, and now she's helping situate them into their new home.
She said it's exciting that Media School students will be able to view the collection again.
Rouse said the university's full collection includes an army jacket, a cap, his pipe, a lighter, a ring, assorted journalism awards and metals, books, his typewriter and even his Purple Heart.
"His legacy is pretty awesome, and so I think it's really nice that we can bring it here and let students continue to learn about Ernie Pyle," Rouse said.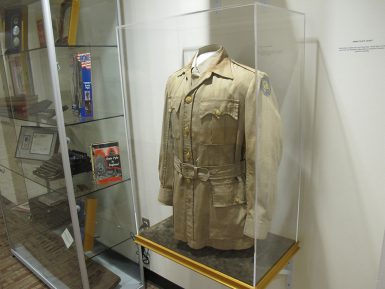 Media manager and archivist Josh Bennett said the collection was donated to Ernie Pyle Hall by the Scripps Howard Foundation in the 1940s, shortly after Pyle's death. Many of the Pyle artifacts were formerly on display in an Ernie Pyle Hall lounge, which still displays a bust of Pyle.
Bennett said the collection helps give a sense of context to Pyle's work and achievements.
"Documenting history is super valuable to representation of that time, storytelling of that time, the conditions of that time and the risks of the work," he said.
Harrison said the display will continue to grow to eventually include exhibits about other notable journalism figures with IU connections, including U.S. journalism giant Roy W. Howard.
Harrison said she's excited the collection had found a new home in Franklin Hall.
"It was such a strong part of our identity as a school of journalism," she said.
More: