National Ernie Pyle Day celebration to take place in Franklin Hall
The Ernie Pyle Legacy Foundation will commemorate National Ernie Pyle Day on Aug. 3 with a celebration in Franklin Hall, home of The Media School.
The event is free and open to the public. Held on Pyle's would-be 118th birthday, the local event will celebrate the legacy of IU alumnus and World War II correspondent Ernie Pyle.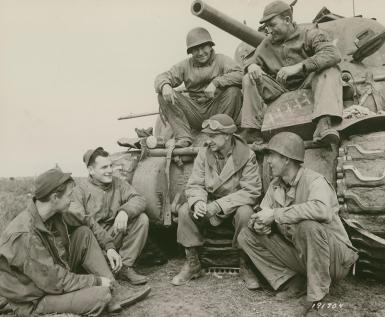 "Now more than ever the example of heroic journalists such as Ernie Pyle is much needed," Media School Dean James Shanahan said. "Ernie Pyle is one of IU's most notable alumni, and we are proud of his ties to our journalism program."
The event will take place from 10 a.m.-2 p.m. in Presidents Hall and at the Ernie Pyle statue outside Franklin Hall. The celebration will feature a keynote address from prominent war correspondent Joseph Galloway, as well as a performance by Ronald May as Ernie Pyle and remarks from sculptor Tuck Langland, who created the Ernie Pyle statue on campus.
The celebration will also feature a National Ernie Pyle Day proclamation, led by foundation Executive Director Gerald Maschino and Bloomington Mayor John Hamilton. A reception and light lunch will be included, after which Langland will speak to attendees at the Pyle statue and the American Legion will post the colors with a salute to all veterans.
The Ernie Pyle Legacy Foundation encourages veterans to attend the celebration.
Maschino said that in the past, most Pyle-related events were held on or around April 18 to commemorate the anniversary of his death, but the foundation wanted to create another activity or event that would carry on Pyle's legacy.
"We thought we needed something broader, so we created National Ernie Pyle Day," he said.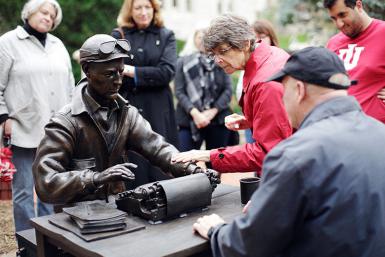 The foundation held a National Ernie Pyle Day celebration in Albuquerque, New Mexico, in 2017. Maschino said the foundation's next goal was to have National Ernie Pyle Day recognized on a federal level.
In December 2017, the U.S. Senate agreed to Senate Res. 345, which officially designated Aug. 3, 2018, as National Ernie Pyle Day. The bill was co-sponsored by Indiana Sens. Joe Donnelly and Todd Young.
Maschino said he is excited to celebrate Pyle's legacy at the home of The Media School for National Ernie Pyle Day.
"Through a lot of cooperation, and a lot of effort, and a lot of help – the people at Bloomington have been amazing – it's all coming together," Maschino said.
He said Pyle's legacy is worth preserving and commemorating because of his values and impact as a reporter. Maschino said Pyle's human-interest storytelling made his work memorable and affecting.
"In history, there are a lot of legacies," he said. "The reason why Ernie Pyle's legacy is important is what he stood for."
Pyle's legacy is preserved on campus in a number of ways, Shanahan said.
Though Ernie Pyle Hall, which was renamed for the Pulitzer-winning reporter in 1954, no longer houses IU's journalism program, a statue of Pyle at his desk greets people who enter Franklin Hall.
The university also has a number of Pyle-related artifacts, which were once stored in Ernie Pyle Hall, but will be relocated soon to an in-development commemorative display in Franklin Hall. The Media School's journalism program also honors Pyle with its Ernie Pyle Scholars honors program and gives students the opportunity to learn about Pyle's legacy through its From London to Paris: In the Footsteps of Ernie Pyle travel course.
"We hope these programs and artifacts will sustain his legacy far into the future," Shanahan said.
Program schedule
10 a.m., Presidents Hall
Formal program with proclamation and recognition of special guests.
Noon, Outside Franklin Hall 
Light lunch reception
Remarks by sculptor Tuck Langland
1 p.m., Presidents Hall
Ernie Pyle performance/character (Ronald May)
2-4 p.m., Ernie Pyle Hall
Drop-in tours of the renovated facility led by the Office of Admissions.
More: