Journalists reflect on investigative reporting at annual Arnolt Center symposium
Hello. Hi, welcome to the Arnold centers annual symposium. We're really glad you're all here. We have a terrific group of journalists for you to listen to today and question them and hold them to the fire. They're good at it. They don't mind it. So I'm the director, I'm Kathleen Johnston and we're only four years old. So for those of you that are students in the audience, come join us. We have we were having a lot of fun there and we're doing a lot of good stories. I'd like to first thank our sponsors for this event. Scripps Howard Foundation, Lumina Foundation, the Indiana citizen, SPJ in Indianapolis, great television, Indiana local news initiative. Hutton Honors College, Indiana Broadcasters Association. And who's your State Press Association Foundation. And we have a host of local organizations throughout indiana that are supporting us too. You could see them all on the back page. And of course we want to thank Michael Arnold who's here as well for his founding endowment so that we can start this center. We're training the next generation of investigative journalist. At the center, we're working newsroom with more than 40 students this semester. They're working on state and national stories with professional media partners like gray TV, Indiana citizen, and Indian environmental reporter. I hope you'll take some time and go to our website. Or adults aren't center.org and check out the stories. Their story with usaid a day on police and tasers is often cited as the definitive story on that subject matter. And I think it's a terrific read and it's on our website just a couple of weeks ago. Um, we published in broadcasts a story on underage gambling which might affect some of you. And one of our students, Mitch Here, brought the story. I did too great TV. They loved it. And it was such a terrific effort that they ran it during Super Bowl weeks. So they've got maximum exposure on there, 114 stations and their respective websites. So we're doing amazing stories and we'd like more of you to join us. And did I say we pay our students? It's a working newsroom, so we do pay. I'm looking out in the audience and we have some of our graduates. Alex is here, Alex worked in the center. He's back with us today, but Alex is now on air in Fort Wayne and I could cite some others as well. So are the people in this business are taking notice of the center and they are hiring our folks. Nick Napier who's here. He's one of our student board members, nick and one of our other students, Nadia, they did a story on big ten. On the Big Ten and how much coaches are losing coaches are being paid. And this is at your expense as college students. That story was picked up all around the country and particularly in Big Ten country. And it even landed on the front page of the Indianapolis Star. So we're doing good work and we'd love anybody who wants to join us to come on, come on over, and it's a lot of fun and you can talk to some of our students that are here. They're happy to talk to. You. Don't have to be a journalism major to join us. We have students from SPIA and psych, and we even had a grad student in the music school last year who wanted to join us. And what we can teach you is gonna be relevant to any work you do. And after I use so I'm thinking of that too. All the journalists here tonight, today they're all volunteer to come here. We have some horror stories on travel. Hello, our keynote speaker who got stuck in the snow storms. But they all believe in the power of investigative journalism in bettering the communities they see they serve and to a person they believe journalism, especially investigative journalism, is the lifeblood of our democracy. And our work can be exhilarating and adrenaline rushing and every other words you can think of that spells excitement. It's a fun profession. It's never the same. It's hard work. And it's not always easy and no job in journalism as easy. And if you think it can be dangerous, and every one of our speakers and some of our board members can tell you about close calls they've come to in the field, whether it's someone yelling at them or harassing them in their homes or cutting in on there live shots. It's not always easy. And I know each of them has a story of being threatened. And sadly sometimes there's violence and so it's a sad day to day in our profession. I hope you all remember Dylan lions today. Take a minute and remember Dylan lions. He's a young, he was a young 24-year-old reporter who was shot dead yesterday. Along with his photographer who's who's fighting for his life right now. And all they were doing was covering a domestic what appears to be a domestic shooting. And there were two other people that lost their lives as well, and there's another woman in a hospital fight. So please take a moment and think of Dillon because our work does have consequences sometimes. And he's not much older than most of you here today. And while the work can be exhilarating, it does have some cost. So I'm going to turn this over to my good friend and colleague, Mike Wells. We have a terrific day. Mike is going to start out with our sports panel and he's going to introduce all these fine folks up here. We're going to then take a quick break, 15 min or so. And then we'll have a news panel on investigative journalism as well. Talking about some of the new way, new emergence, emerging models of journalism that everything's on TV anymore in newspapers. And then we'll take another break. And our keynote today is Paul olivine. And if you've read any of her stories, you know how, what a terrific journalist she is. And following Paula's keynote, we want you to meet the journalist. So we'll be having out here in the comments, we'll be having a mixer so for about an hour or so you can meet them as well. So I hope you enjoy the day. I think you're, I think you're going to like what these people have to say. Thank you for coming. Thank you, Kathleen. First-off, I got to say, it is great to see so many students in my class who showed up today. Thank you very much for appearing today, but I really want everybody to take advantage of this opportunity to hear from some of the best investigative reporters there are in the business. And as my students know, please ask questions because you will not have a better opportunity to pick the brains than some who have been in some of the best trenches, our toughest trenches in the business. So take advantage of this opportunity because it'll help you going forward in your careers. The first person to my left is Steve Markowitz. He is with USA Today, a former colleague of mine when I was at the Indianapolis Star, part of the program. So he spends a lot of time covering college athletics. The person to the left of him is TJ Quinn. Tj Quinn as a former majorly baseball writer who turned investigative reporter. He has a great story on why he made the switch from being a beat writer to become an investigative reporter is very similar to mine. When it comes to family life habits. I have my wife and two kids here in attendance tonight decided to show up and come up with soap, so support today. And then we have Jill, I mess up your last name every time do refund Hoff reaping off. She spent a lot of time covering college sports with the Columbus Dispatch, covered Jim trestle. They all have a former coach. Now. She now She works as part of the gray television national team on the investigative side, it's covering high schools, colleges, use sports. So I will get the discussion going by the biggest question mark a lot of college students ask me is, what has changed in the era of social media when it comes to covering investigative things. I think I think this falls out of out of the area of where I generally do a lot of my work, but I think it's just made it gives you sort of another tool and another way to find out what's going on. And in a way to contact people whether they're newsmakers are sources, are people who are involved in stories. You can, you don't. It's a way to not only know what's going on, but as a way to get in touch with people and to reach out to people in a variety of different ways. And so being plugged into that whole area, I think is a big part of what's going on in journalism. Able to do your job. Now. In 2012, I don't know how many of you remember this huge scandal and baseball. Biogenesis was a lab out of Miami that was giving a lot of drugs through a lot of players. When we first got to tip about what's going on, that was really the first time with an investigation that size was able to look at all the players in this thing who ran the lab, who they were connected to, who is in their family because people put everything on social media. And we'd use it as a tool before that, but we were able to map out before we even started who everybody was and what their connections were. But one other thing, There's also an insidious influence with it as well. I mean, it's a great practical tool, but on the other hand, the instant feedback you get, which is so warped and so intense, it can really influence how you do your job. Especially if you're delving into tub, subject is sensitive, is religion. And by that I mean college sports. The nastiest stuff I ever got was about college sports is anyone here? Can tell you because it really is religion and you cannot help but have a reaction to it. You can try to be professional and put it aside and do your job. But the kind of pushback you get, the intensity of it, the threats you can get. It is very different. If you're a woman in this business, Jill can take that does she likes. But it is a force that is in your face the way you'd never had to deal with before? Yeah. Like I totally, totally agree with that. When years ago when we were doing stories that ultimately led to the firing at the Ohio State football coach. The comments were were really bad. And like, this is one of the nicer things somebody said to me is that I must have gone to Michigan. So with that said, considering you guys are investigative journalists. If somebody hears about a story or put something out, no one you guys have spent months working on it and it's still not finished. How do you guys handle that? Do you just let them run with what they have or do you feel the need to kinda push the story out quicker to bigger deal for you than for me. Yeah, but I think your thoughts on this are the ones we need to hear. I mean, you can you can only do what you can do them in knowing whether or not there's something else that's going on, you can't allow that to push yourself into a writing or reporting something that you haven't got and you have to end it or there are obvious sort of standards for it. But I think even though standards get put into sort of a gray area and you make them on a case-by-case almost sometimes hour-by-hour kind of decision about how you go about doing things based on what else is happening around. You may think that they're really tough thing when a story kinda gets out ahead of you is the narrative sets in, it just kinda gels. And now you're fighting that as well. What if you're reporting doesn't fit what everybody else is saying? Sometimes you need more time, sometimes you have good information, but it is not complete. But Twitter has decided, No, this is what the story is. It can be really tough to do your job that way. I'm trying to think of, well, even go back to biogenesis, there was a little different, but we weren't ready to go yet. And a newspaper, I don't need to pick a fight with anybody, but I used to work there. Did a story saying that the DEA was investigating this case. I knew that wasn't true. But I also knew that Major League Baseball had told them that was true because they wanted to put pressure on the US attorney to force the DEA to investigate it. So what do I do with that? Um, you know, I mean, just, just one example, but that's stuff comes up. We're going to respond to their reporting. In that case. We went we took our time. Then that story while we're waiting to do it, right, why don't need to go down this whole rabbit hole. But somebody in that lab and biogenesis was trying to give us documents. Somebody at our place made it difficult for them. And so they walked into Miami, New Times with a box full of records and they got the story. That's a whole other. But I mean, look, you There's an old expression, the business right it or read it. Unfortunately now, when you read it sooner and it's a good chance it's wrong. Oh, that's understandable. Jill luck. Kathleen clearly is trying to put a pitch on its students to come here to Arnold center and take part in it. You have a big influence here in the Arnold center. Can you talk about some of the stories you've done and why it would be good for students to have an interest in joining the program? Yeah, absolutely. I mean, some of the stories that we've tackled that we wouldn't have been able to pull off without, without the army of students that have worked with us. And probably one of the most ambitious. Kathleen still hates me to this day for this one is that I wanted to kind of look into the world of horse racing. New regulations were coming down the pike for, for thoroughbred racing, but there's all kinds of other racing. And racing is regulated by each state where it's allowed. There's 35 are states that have lived very sing. So we collected records from all of these state racing commissions to look at trainers who had been disciplined for doping allegations. And then also looking at horses who died during training. Or during races and without the students helping us. These records were not in any sort of standard format. There were things that were handwritten. I mean, there's just like even among the regulators, there's very little regulation, if you will. And things are written on pieces of paper like trainer so and so was caught doping. So it really wasn't all hands on deck to get this. And it was like it turned out to be a really powerful story because as far as I know that we're the only place that has ever really kind of looked at horse racing through this lens of all of these trainers in the past five years and how many had been disciplined and various different states. And it's just really a slap on the wrist. And this came about because of the whole thing with Medina. Medina spirit, the Kentucky Derby winner from a couple of years ago. By a raise of hands, who has paid attention to who paid attention to Brittany Greiner when she was when she was locked up in Russia. Note the hand in the middle right there. Tj spent TJ spent a lot of time following this case. Tj. Did you make it over to Russia? Part of the coverage. And if not, how tough was it the cover it across the Atlantic Ocean or the Pacific Ocean whichever way you want to go. Mike, you ask that question is though you may know the answer. It was tough. I had I had reported in Russia five-years ago. In fact, I think right about now five years ago for a story we did about Vladimir Putin's involvement in international sport and how we use sports and major events for his geopolitical goals. It was a pretty intense major project we're very proud of. But that kinda made me the Russia guy. And by the way, it's pretty funny because when you've just done one story there and then they introduce you one shows to talk. Suddenly, it's like you're endowed chair in Russia studies from Stanford University that I was a reporter who did a story there. But that was something. So I ended up being the one to do it. And I had some connections over there from people we dealt with. And so I was able to reach out to them very early for some help on it. Reaching out, trying to get stuff from official sources. The problem was getting their war had just started. And there was a brief discussion. Somebody told me, we think we can get you in the courtroom during her trial. And I wasn't really eager to go back because when we went the first time, we got to brief by a former US intelligence official who said, When you go there you will be surveilled. Don't try to detect it, don't try to avoid it. Because if you do that, then they'll treat you like a spy. A little paranoid the whole time. But this is pretty exciting. I called somebody at the State Department, said, What do you think? And she said, I don't know there's a do not travel. But I know NPR is somebody there. Cnn has somebody. They call the European colleagues. She called back and said, Yeah, it was described to me as a spectacularly bad idea. Espn's to high-profile, they couldn't they said they had no assurance as they could keep me safe because they were locking people up. And as much as I like a good story, I'm not that stupid. But it did create a huge problem, which is everything that all the information I'm getting is coming through American sources. Through the State Department, through the White House, through people around Britney Greiner. And no matter how well-intentioned are what good faith I think they may be speaking and I'm still only hearing it from them. And had to remind myself if there was a mantra that carried me through it. It was I don't know what I don't know. And then my best Russia contact ended up leaving because she's trying to get asylum here. So you always had to kinda take things with a grain of salt and know that there is no way to completely report the story because I can't walk into a courtroom over there. If you do have any questions, please raise your hand. We have microwave microphones off to the side. If you have any questions at any point through this, you may have mentioned about how you were only able to get the American side. And as journalists were taught to try to get both sides of the story, how did you handle it from getting it from the Russian side of things? Google Translate, fantastic tool. I was, I was like I did learn to read Cyrillic and so I could search for, I mean, before, not just for this story, I'm not nearly as smart. It took a long time, but but I would search for her name, for the name of Victor boot, who was the guy in the American Prison in Indiana, I think, who was traded for her and would search search their names. I knew enough about Russia and spoke to enough experts. Again, I don't care who you are in this business, how long you've done it. You are not an expert. You just have access to them. You know, one thing you know about Russian media is it's all state run. If you were reading something in tasks, the official news agency that meant it was coming from the government. So I was able to report first that they had proposed this trade of Victor boot for Brittany Greiner. So you could get a sense what they were reporting, what the Russian government wanted out. It was propaganda, but at least it was a reflection of what was going on. And then I'd talked to all my experts here in the UK and actually one in Russia who are able to help interpret that and kind of flush it out. Steve, you spent a lot of time on the college side of things. I'm always interested on his college the college bile to these coaches. I mean, they're set for life when they get fired. Like getting fired may turn out to be a good thing if you have no interest in ever coach. And again, because you're getting a lot of money to essentially go away and I'll be around the program when it comes to public rec records, searching and getting the information on how these numbers go, what is the protocol and trying to figure that stuff out? Yeah, it's just making use of open records requests and then doing doing a lot of grinding. I mean, go into what Joe was talking about in terms of things that would reason to be interested in investigative journalism, to be interested in the program here. One of the great things about being in school at a public institution is that the school is subject to open records requests. So you guys are in a position to be able to find out a lot of stuff about the Indiana University athletics department and about the university as a whole. So how do these two and how these things impact your life? I mean, here at Indiana, as far as I'm aware, there's not a student fee that you pay for athletics. At a lot of other, lot of other schools, both public and private, students are required to pay a fee for athletics. The quid pro quo is that you get free or discounted admission to a ball games. But if you don't care about athletics where you don't want to go to the games. Or in the case of Duke, where you can't get tickets to the game because you don't want to sit out and camp out all night for tickets you pay anyway. And that money is used to help fund the athletics program as a whole. And given that money is fungible, that that money helps create the environment and the possibility of having coaches who signed long-term contracts that are heavily guaranteed because coaches have a lot of leverage in negotiations with schools. So when things don't go well, in school, wants to fire the coach without having a good reason other than winning and losing, not winning or games. Those coaches end up getting paid for not coaching, essentially. And that money that is coming out of your pocket, either through student fees or through institutional support of the program. You pay the institution, your money is going to work in those ways. Um, and again, while that's not as much the case in Indiana and a lot of other Big Ten schools, it is the case at a lot of other places. And when I've spoken to other students, at other student groups at their individual schools. A lot, a lot of students don't know how much money they're paying every year for a fruit help finance and athletics program in the state of Virginia where I live. Because of the way the state legislature has required athletics department funding to work. The student fee assessments are in the thousands of dollars every year. So part of your bill every year, if you go to a school like Radford, which is a you know, what's a division one school that has doesn't have a football team, but students at Radford are paying over 1,000 bucks a year toward supporting the athletics program. I'll start with this question which you first you actually, Jack, did you have a question first? Just work all day long. Your kid and your wife and all your friends get all pissed at you and you're like you. It's something where you have to sort of figure out in your own mind how you're going to go at it. When you're younger. You can work all the time because you've got not a lot else going on and you can really throw yourself into stuff even. But even now, doing what I'm doing, what I'm doing it at this stage of my life where I'm doing it. It's still pretty hard at times to be able to. You know, pull away from it without an end to do just like I can actually having a life. So it requires some disciplines, some organization. And you know, sort of an understanding of when it is you really have to work all the time and when you can back away a little bit. I'm going to share this just because maybe it'll help you feel a little better about yourself if it's needed. But I'm horrible at it. I mean, to this day, I'm so bad at it. I always feel like I have to have the pressure of a deadline. Otherwise, I will flounder, will my mind will go everywhere. It's so easy to get into rabbit holes on these things. That's a really tough thing when you do a longer investigation, there are million rabbit holes you can go down. And we're all kind of nerds that way. And, you know, my, my best strategy is to answer the phone when one of my editors calls and says what's going on with such and such. And then I have to come up with an answer. I wish I had a better answer than that, but I'm horrible at it. Yeah. I think for us, especially with working with the students at the Arnold Center is that we spent, we set a lot of like sort of weekly deadlines and they might be small things, not like, right, this big story or have this big thing done. But just like, you know, just a, just a weekly just like mini deadlines for yourself to get. By the end of the week, I'm going to have this that and the other thing done. Sometimes it's like, okay, we need to get these public records requests out. So by the end of next week, we want to have 20 of the 40 public records requests made or whatever the case may be, small deadlines. That's what I do. Don't forget if you have any questions, feel free to please raise your hand and I will definitely call on you. So yes, yeah. I wanted to ask, in the age of everybody trying to be first quick and wanting to make that leap right away at a college, I've had discussion quite a bit with the students. What are some of the key components on being a good investigator, investigative journalist? Boy, really it's curiosity. I think if you're curious, and I call it nosy button, go with nosy. Nosy, right? And a little, a little forceful. I think those are pretty much the two, the two qualities that you need and be a little forceful, the PEI give me that record. Are married. You need to answer this question. You're a public official and I'm just curious. I mean, I think for a lot of us, stories bubble up because it's like what's up with horse racing, you know, what's up with, you know, college recruiting, what's up with, you know, how much coaches are being paid? I mean, I think it's just a lot of that natural curiosity. That's a huge thing. A family friend who was used to be the, the Foreign Desk Editor at the New York Times, said that the best copy he ever got out of his correspondence was when they renewed or country. Because they looked at it with fresh eyes. If you're young and you're going into this business, you've got fresh eyes, trust that. But on the other hand, there is, if you want to succeed in this business, there is so much pressure to create a brand for yourself. I hate that word. It's great if you're selling soap. But for what we do, it takes patients. The emphasis has to be on learning your craft so that when people read what's under your name, your name comes to mean something. No, this is somebody who has done the work. If I read something by these two, if I read something by Paula, all my years reading Mike, you know who they are, but it takes a long time to develop that, learn the craft and make sure you're right. Because there's so much pressure for say something outrageous, get out there first with it. And it's a great way to get attention, but it is not a good path to do what we do. Just say to persist. For a lot of what I do, which is geared heavily around open records stuff. It's just continuing to pursue it and pursue it and pursue it and not let it go. When you get something that poses another raises another question, ask the next question. And to try to do the best you can to be not accepting of something in front of you to be like, Well, wait a minute, that doesn't that doesn't quite work, right? That doesn't read write to me and to ask about him. Luke. That's fine. I'll jump in on that because I had one of those calls this morning with somebody who's pitching mystery. I'm not even slightly interested in, but but he used to be incredibly well-connected in several organizations. And I still need to go to him for connections to those people. So part of it, I, you know, I think I'm a genuinely nice guy. It's nice to say hi to him. I had no interest in what he was pitching. I didn't really pretend that I didn't, but no, you have to do that. I mean, in part because you may need to go back to them. But even the people that you know where it's confrontational or antagonistic, you don't have to be a jerk. There are times where their people where I've kind of gotten into it. But if you do it respectfully, if you do it, you don't apologize for doing your job, your job, you never do that. But you deal with people honestly, politely. And I've gone back to people who were pretty mad at me the last time we talked. And they remember that. They remember that, alright, at least he was respectful. So whether it's somebody who was a great source of somebody had a bang heads with I think it'd be treated as professionals. Yet you absolutely need to keep those relationships because how many of you who are baseball fans? I mean, if Scott Boras, the agent of death, as they call them, I had one week period, him screaming at me, threatening to sue me over a story. A week later, Hey, TJ at Scott. What's important is we always keep the line of communication is open. So either you to say like, I think this is just a great example that when I left the dispatch, I got a handwritten letter of thanks to my service to the citizens of this great state of Ohio from Mike Dwyane, who at the time was the Attorney General of the State and who's now the governor. Thought that was strange, but it says something. You're reading issues of Steve. People love me, man. I would TJ said it is what it is, what it's about. I mean, you know, you try you want to be respectful, but you got to do what you gotta do. And yeah, I mean, from time to time, you have to blow up somebody. But you better pick your spots because you have to think through the consequences of what that's gonna do. And sometimes you have to think in terms of the bigger picture rather than this one thing. Sometimes, sometimes it's worth, sometimes it's worth taking a bead on a small thing for for, for a longer haul. For a longer haul goal. Tj, You and I both dealt with our fair share of agents in the professional world. And we know what agents ONE TO one side of the story looking for out for the clients. How do you handle things? If an agent says you quote unquote burner bridge with him to try to repair that bridge, man. Sometimes you don't there. So transactional, I mean, that's one thing about agents as you can. Even the good ones, you can typically rely on them to be kind of reptilian. But I had one. Actually, this turned out to be before biogenesis, but connected to it. I swear I did other stories, but just a lot of good stories out of that. We got a tip that Ryan Braun of the brewers had tested positive for testosterone. And I had it down cold and his agent starts calling people in my network and saying TJ story is wrong. And some people on my network repeated that, not using those words, but just saying a source close to familiar with the test results says it may be such and such, which was just spin from an agent. I call them. I said, Well, what do you saying is wrong? It's just wrong. I said I have damn good sources on this. I said What are you saying is wrong as if you're going to tell me it's wrong, tell me what I got wrong and I'll get it right. Well, you said he failed the CIR test, which stands for carbon isotope ratio. It's fool-proof test. If testosterone came from your body or another source? I said I have a really good source and then you're saying he didn't fail it? No, you're wrong. Then this flashed in my head. Wait a minute. There's another name for the same test. I RMS isotope ratio of mass spectrometry. I said did he fail an IMS test? He said, I don't have to answer that. And I said, Okay, I got it. I get the game we're playing. I said your client failed the test, the stories, right? And this was a guy who was, like I said, calling colleagues of mine who were going on air. People who are not traditional journalists didn't kinda come up the way we did. This was a case where the guy essentially lied to me, tried to spend to me and I had to remember at the end of the day, don't take it personally. Remember it. I'll never forget it. But don't take it personally. This guy is trying to do his job. Again, he may be a reptile, but That's what he's doing. Don't take it personally and you just keep going back. Kevin. So then you ask them. I mean, that sounds like a pin. That response sounds like a really simple asshole response, but that's the way it works. I mean, you need to if you're investigating somebody at some point, you have to go at them and ask the question. It may not be the first thing that you do. It might actually deliberately be the last thing that you do, but that's what you do. You go at you go at them or they're not going to talk whether they're the lawyer or somebody who represents their point of view and try to go out and get it. How many times do you try to go at them if they're going to if they say they're not going to talk to you, at what point do you throw in a white towel and say, okay, they're not talking? Um, I think it's a case to case basis. And in some instances, you give them you give them a deadline into two. You have to, you can't say, Hey, you have five-minutes to make up your mind. You have to have it be a reasonable amount of time for people to put together a response. Because if you're dealing with an individual as opposed to an institution, even an individual may want to consult with a lawyer, with an advisor, with a friend, with family member, whatever. But yeah, sometimes that's what we do is you say, Okay, here are questions. You have 24 h and if we don't hear from you in 24 h, we're publishing the story. Will say that you declined to comment and we made an effort to reach you. And this is how we made the effort and this is what we did. But we're going to cover that base as well. We're not just going to ignore it. And even then you have to perform within reason. I mean, if somebody you give somebody 24 h and they get back to you at 23 h and 45 min and say, Hey, we'll have something for you and a couple of hours. Another couple of hours isn't going to make a difference. I mean, if he's long as you're feeling like that, It's not being done in a fashion to undermine your story or result in you losing the story. Then you give them, give them two more hours and let you know, get, get the answer. Because sometimes, sometimes a bad answer is for your purposes, just as well. Sometimes no answer is better than a shitty answer. I mean, the fact that somebody decided not to speak about something sometimes speaks for itself. I mean, there are a lot of different ways to go at it and strategies that you use. And I think you have to, you know, I go back. I know I'm repeating myself when I say that, but you have to sort of make these kinds of decisions case to case and situation to situation. There are times where it's it's something where you're calling an organization, especially if they're heavily loaded up and you know, they're prepared for this, that the subject has been out there. They don't need three days to respond. So you're going to you're going to have a very different response than someone who is not a public figure, doesn't deal with the media, is hearing it for the first time. That really just comes from experience. But it's like Stephen C, and you can't just dump it on and you have five-minutes and you're on the air. But other times when you're dealing with a more sophisticated operation like with Ryan Braun, e.g. when we're ready to go with that, he hired Marty Singer, who's a famous celebrity attorney in LA, who has said My job is to scare the shit out of reporters so they don't report stuff. I think that's on his business card and he is calling me screaming at me, I can't wait to own Disney, but he was buying time is what he was doing. You know, sometimes they'll do that because they want to put something out ahead of time and get ahead of you. So a lot of that just comes from experience. Having people around you who are experienced enough to know when you give them a lot of lesion. When you say no, you got you're on the clock. Alright. Covered that. Well, Talia, I cut out the story and I taped it to my refrigerator. And left it there. I cried. Crying helps. You drank, you know, I mean, you can go back. There are times you get you've been working on something and somebody else gets it before you. There are times where you got it. Okay. You you're pissed, but you get back in the fight because you can get your own story out that might advance the story. And if you have a particularly of a big investment in something time-wise and you don't want to drop it. I mean, you got to try to figure out figure out another way or dig back in and get back in on the story. There are lots of, there have been lots of instances where stories have been broken by one news organization, but the story continues to go on and other news organizations have end up breaking news on the same story as it continues to develop. I think what helps sometimes in those situations is think of it in the long term. You may get beat right then, but think about you're also writing for the record. You're writing as a record, someone's going to look back on some day on, on what the history of this story is. Maybe you won't get it in the moment, but try to be right, tried to be the one who has the definitive version. Again, biogenesis that happened where like I said, the guy tried to send me documents. He was employee of this clinic. He reached out to someone named Blaine at ESPN viewers services, wherever you are blamed. And he sent them an email saying, I'm trying to reach TJ Quinn. It's for a story. This is about a drug investigation. Where can I get in touch and Blaine road back. I'm sorry, we don't give out information like that about our talent. Please feel free to write them at one ESPN plaza, Bristol, Connecticut. So Porter Fisher took the box of documents and walked into Miami new times and said, Here, I found that out because when we did finally reach him, he said, you know, I tried to get a hold of you. All we could do at that point was, I mean, he literally walked in their offices with the box here, all the documents. I've been working on this for 13 months. It's a sickest ever felt in my life. I had a land in Miami because because someone had just told me the night before I have what you want. Come down, I'll give it to you. I get on the plane, the door shuts. My colleague, Mike fish calls and reads me the New Times story, I land. I have to go to a studio now to be on outside the lines to talk about the Miami New Times story. And Bob leaves the host and I forget who the other guests worries in their ear. Hasty Bob Lee, How are good? We're going to get you about 2 min. Joe. How are you doing? Okay, great. Thanks. Yeah, someone's gonna be in your ear. We're gonna go in about 60 s. And then it's my turn. Hey, how you doing it? But the next day we were able to come back with a story that someone was with Tony Bosch when he went to a Rhodes House, injected and got them to bleed all over as white carpet. Describe where it was, what the drugs were. You come back and just try to move it forward. But Blaine, wherever you are, how challenging is that when you get scooped on a score, on a story. And you've been, you've spent six months, a year working on it to be able to advance it. So you're not repeating what the competition just put out 24 h earlier. In our case, this was not a sports story, but this was back in the mid 2000s. We were working on stories related to dangerous baby products, cribs, strollers, et cetera. And how the Consumer Products Safety Commission, which is supposed to regulate these products is really failing. And we were we had been months into collecting records through a Freedom of Information Act request and those can take forever to get, in fact, years. And why were we had had several We had lots and lots of records come in. But lo and behold, the Chicago Tribune already had those records and produced in a Pulitzer Prize winning piece. And like rock on, it was great, it was awesome. And now here it is fast-forward all these many years later. And I'm working on these stories again because guess what? While the Chicago Tribune did their series made a lot of progress and move the needle. It's nowhere near where it needs to be to fully protect. Consumers, especially babies and lots of babies die and products unfortunately. So it's kinda like, you know, it was it was, you know, to me Dad years ago and then lo and behold, it just kinda came back up again. So you never know Michal? Can everybody hear that? Back there? He was at Mitchell. Can Can somebody is Zach, can you grab that microphone, please? But you didn't think you had to do some work when you came today. Zach. Thank you. So my question was, how do you guys deal with sources who want to remain anonymous? Because a lot of times that can take away from the credibility of the story. I mean, we all struggle with that. It's, it's kinda funny. There's a paradox that sometimes it's sexier if the person remains anonymous. You know, the Watergate scandal became less interesting when you knew it was Mark Felt was Deep Throat and that it was a senior fbi official who had an agenda. It's different than some mysterious figure in a garage. You try to get them to go on the record because you're trying to have something that's accurate and credible if you are going to use them and we all have to do it. Sometimes, you have to be very careful that what is this person's motive? Are they just trying to get away with taking shots at somebody or they credible, are they in a position to know? Because you can have somebody who gives you a great quote, but they don't actually have authority on the topic. Some places are different. I've never had an anonymous source where my editors didn't know who was least one person who was. So there's a fail-safe that's not TJ trying to get away with something because we've all if you're in this business, you know, somebody who's done that, you do as much as he can do to identify it. But if you're gonna be anonymous, you better protect them as well. Because I've seen people do it very sloppily where they can only be Mitchell who said that. I think you make decisions. Again, it's a case-by-case circumstances might have worked both as an editor and working as a reporter and a gun back-and-forth in both roles. And you have to think about, again, like what TJ was saying about motives and what does the comment from the person really advance the story? Is that, is the, is the quality of the story potentially worth throwing into question in order to have that comment. There are a whole range of things that I think you take into consideration in how you met and how you decide whether and when to use sources anonymously, and how you describe them and trying to describe why the person needs to be kept anonymous. Then there's also like kinda the flip side of it, like in the broadcast realm. I mean, if somebody decides to to go on TV and despite lake masking their voice or masking their image or whatever, there is no guarantee that you might look at that and say, Oh, I know that that's Jill up there. You're like there's no data. I mean, you can't you can't promise that no one will ever, ever find out at least from a TV kind of kind of perspective. Because there could be like, I know that's my daughter who's saying that, you know, but in newspapers or in print, it's definitely a lot easier because you can, you know, are anonymous source told us this and you don't know what that anonymous source looks like or sounds like or anything. So another aspect of it? Yes, ma'am. I was wondering if you could talk about outside of the job. Are there industry trends that are making your job harder? What's it like to be an investigative reporter? Again, because most of what I do is geared around the acquisition of public records. I'll speak to it in that. In that area, when I, when I'm dealing with primarily with colleges and universities, schools have become increasingly segmented and how you can make an open records request. It used to be that you could basically make an open records request in crayon on the back of a dinner napkin, and that would be considered viable open records request. A lot of institutions now require you to fill out an online form in a particular way. And schools, particularly larger schools, with your better staffed, have gotten increasingly careful about what they will give you, in what timeframe they'll give it to you or whether they'll give it to you at all. And basically say, Screw you come and get us. And sometimes that's what you have to do. We went through something recently where we ended up suing the University of Nebraska over something and we got it. And we got paid by the University of Nebraska. So they spent a lot of money was the world's most expensive open records request from the standpoint of the University of Nebraska. So I mean, sometimes you have to sometimes you have to be prepared to tee it up and bring it. And that's how you get people's attention sometimes too. I mean, that to me that just did that. Like I said, public entities are getting more and more more and more careful because they're getting they're facing in their defense mean they're facing more and more. Records requests. One little trap with technology sometimes is trusting it too much and just being aware of the limitations of whatever you're using. Just went through this recently with a young colleague who was showing her a couple of different, you know, search apps. Next, S and T, yellow, which are great. But I looked up a couple of people, friends of mine who I knew had some things on their record that should show up and it just admit them. Um, so it's very easy to think that you're using one of these very expensive subscription services and getting everything and you are not. So it just something generally to keep in mind that even, even with the great technology we have their limitations, you're still going to have to call places. You're still going to have to try to get original source documents instead of relying on somebody else. The not inserting your opinion part is easy. Just don't insert your opinion. That's not, that's actually not easy for college students. I've graded enough papers where they've inserted your opinion is a little too much so well. So trying to pull yourself up, pull your own point of view out of it. The biggest thing in that area to me is being able to contextualize something. Because of the there are different setting aside the most common source of athletics, department of athletics, department finances, e.g. um, which is this NCAA mandated report that schools have to fill out every year. The EU, you're dealing with different accounting systems, different ways of counting, different types of expenses, expenses or revenues, and how they're classified. The other thing is that you should never, in a numbers driven story, you should never strictly look at one year, even if you're really interested in one year, you have to contextualize that one year based on stuff that happened in another year. Because you're never quite sure why something spiked up there or whether or whether there was a spike. It's like you've got, wow, they spent the athletics department spent $20 million more this year than they did last year. Well, it turns out they fired the football coach and all the staff that other year in the year that you're looking at. And so if you didn't know that number, looks like way out of no, way out of whack. But if you don't know some broader contexts to it, you got to have it. So just something to compare it to. Any other piece of it is there's really no substitute for asking people about it. It's like if you are looking into the financial records or you're looking into a particular aspect of a coach. Contract or some other business arrangement that the school has. You need to ask about what does the ask somebody who knows or whose job it is to know what does this mean? And in a lot of instances, I mean, you'd be surprised. There are times where public officials, whether they're at colleges or anywhere else in government. Appreciate that you asked. Sometimes your story gets a lot better because you asked, somebody will tell you stuff that makes the story even more interesting. So just sort of looking at it, looking at numbers and just hauling off and writing about it. Yeah. I mean, sometimes it is what it is. But sometimes, you know, in more instances than not, by grinding in and doing that, putting in that extra elbow grease, you get a better story. Yes, ma'am. That's a great question. That's part of the reason why. Right now, I grew up in the shadow of the horseshoe. It is. I live 5 min from the Ohio State University. My dad was a member of the marching band, huge vendor, bazillion, different games. And then when I started investigating Ohio State, it just like really took the fun in machine out of it. It just as like they're slimy, they're dirty, they cheat. And it just makes it not that much fun anymore. When you really start peeling back the onion. That's my story. I mean, I spent seven years as a Major League Baseball beat writer because I love baseball. And I came away from it feeling like I loved the game more than ever. I despise the business of it more than ever. And it's tough because you end up routing more for people than for teams. I grew up a Mets fan. My sons are huge Mets fans. I cannot get the excitement that they get, but I can get involved in individual stories and women, you learn the inner workings of something when you get to that kind of esoteric level of appreciating something that I don't mean to be cornea about it. But you, the flip side is you start to see a beauty in it that you hadn't seen before and could not appreciate it if you didn't go there every day. Yeah, That is amazing. The business of it. I do. I've only done college stuff peripherally the way these guys have. And I mean, that's a whole other obsessed pool. At least in the professionals, they don't care to be anything, but pretend to be anything but what they are. But I've also covered a number of Olympics. And when you cover doping, as long as I have, which is more than 20 years now I've done that topic. You can't look at anything with a sense of wonder anymore. Unless you're wondering what drug they're on, you can't. And that's kinda depressing, You know, Bob beam and setting, setting the long jump record in 1968 was one of the most incredible human feats ever recorded if it happened now, There's no way you would believe it. I mean, that's what we've lost. That's kinda depressing, but that's also just anybody I know in any business will tell you. Same thing when you just get to know too much about how the sausage is made. If you like sports. Play. You know. I mean, I, you know, I still I still play. That's how I did this. So again, if you like, I mean, that's how you do to me. That's how you maintain your interests or your love of sports, is just stay in it in ways that are that are good and true too. What do you got any idea why you got into it in the first place? By corollary to that though is if you love sports, don't coach youth sports. As my wife and kids laughing right now as I did for 19 years. But investigate youth sports. Yes, sir. I'm just wondering how you guys like Jeff, did Back and tell you that the origin story of how I got involved in journalism, which, which would make your head explode. But the like getting into investigative journalism to me, for me it was like totally serendipitous. I mean, I didn't go I didn't I didn't go into it with an eye toward yeah, that's what I wanna do. It just so happen that way. But the basis for it was having done like all the beat work along the way. It's not that it can't be done and that it hasn't been done. But it's to be able to have the skill set to do investigative reporting requires a really firm grounding in the basics of reporting. And you know, you like in sports, the way you get the basics and reporting is like walking up and down the sideline of a high school football game, trying to cover the ball game and figuring out how to do that as opposed to what you, if you've never done that before and you're accustomed to going to an IU football game and sit in a press box and having somebody hand your sandwich stat package. It's a whole different world. If you have to stand outside and a rainstorm, keeping your own stats and trying to figure out what happened in the game and then have to go right at 12 inch story about it on deadline and the back of your car. That's you, that's how you sort of start out with it and you go from there or you do the beat work like TJ did. Were you understand and figure out how to report and how to how to build relationships and he can speak to that in doing what he did in baseball coverage, having to learn how to do that. Now, the first thing I would tell you is dropping the expectations of what your career should be. I knew two things when I graduated from University of Missouri. One is I wasn't going to work in sports and I wasn't going to work in TV. Yes. So that's also before I knew the difference between what they pay you in TV versus newspapers, and newspapers would disappear. But you just have to be open to anything and if you're going to. But in the meantime, just learn your craft, learned to report, learn data. Don't get sucked into the technology. Don't get sucked into the platforms. Way too many schools are emphasizing the technology. And sometimes it's because the companies that make the technology give those schools grants, you get to play with their toys. The technology will be obsolete by the time you get out. I really kinda fell into investigative like I fell into sports. My first job was I was in municipal reporter and the South Side South suburbs of Chicago doing cops checks and planning and zoning and Tax Increment Financing Districts and sewer district meetings and really boring shut, but it was really important. And you'll also learn how society works. And I left. Chicago, went to Salt Lake City, was working for a year. Was their grooming me to be a political writer. And the White Sox beat opened up at my old place. Speaks well that being nice to your old boss, all of a sudden I was in Major League Baseball beat writer. And I became my kind of alluded to this at the beginning. I've switched to investigative because I came home from a road trip one time and my daughter kinda didn't recognize me. And she was 16 years old. Now she was a baby, but it just might screw this. There was an opening. When I was at The Daily News, we had a sports investigative team. There was an opening. I had to audition. I did a piece about the use of human growth hormone and majorly clubhouses. So seven years of beat experience all of a sudden meets this new story. I was able to do it. The one thing I'll tell you with investigative journalism is it's, it's more mindset than anything else. It really is. You can learn the tools. And it's not hard to do it really isn't. It's your mindset going in. Think about what more is there to this that you're always, always looking at at that next level. Let me pick UP before I get to you or me piggyback off it is a question that I get from a lot of students is about whether from Chicago or Indianapolis or New York, the goal of wanting to work in her hometown. And as I relate to them, when you get in his industry, you usually you're probably you may end up in Salt Lake City or a small town or be away from move across the country from your family. How important is that to have an open mind, to be able to be willing to relocate anywhere to achieve the goals you want to. I got nothing on this. I've lived and worked in Columbus my entire life. And that's why that's why I was hoping to skip you on as a magnetite from from where I went to college, one of my one of my first mentors in college and journalism, It's Ken Rosenthal, who's Fox baseball reporter. Kenny's first job. If I remember correctly, was at the York Daily Record in Pennsylvania. Kenny grew up in the New York area and went to college and Philadelphia. And there were a group of us who were at the school newspaper there. That you are in the mindset. It's like, I just want a job and it didn't matter where. Just get some place where you can get your foot in the door. If you can't get a full-time job like me, which my father was absolutely thrilled that having spent four years of tuition at an Ivy League institution for me to move back home, be working as an hourly wage earner at the Baltimore Orioles baseball tickets store in downtown DC, which was on my first job was out of college. And I sent out 1 million letters, whatever. And at the post, my first job was taken high-school football scores on Friday nights, one night a week for 3 h and you got paid. That was that. And so you just anywhere you can get your foot in the door and you gotta go wherever and do whatever. Just get in the door somewhere. You can make of it. What you make of it, what you'll be able to make of it? Yes, sir. Yeah. Investigative journalism, it seems to me, is a really important topic and I'm glad we're having this conference. And I want to go back to the issue that came up earlier when someone's when I think Steve said get your your your view out of it. And I'm wondering if that's really what we need to be thinking about as investigative journalists. As I've been hearing lots of stories today about points of view, about what's gone wrong, what's unfair, what's unjust. So the question to me seems to be not keeping your point of view out of it, but how do you express your point of view? Do you do it through just opinion or do you do it through a careful attention to the facts until the goods, your opinion, your perspective into a story through the facts, not just through some statement of opinion. I mean, to me, again, I come at this from a in a, in a fairly narrow way and in writing a lot about the business of college sports. And to me it's just you let the facts speak for themselves and you let people sorted out from there. Um, you know, I try my best to be as agnostic about it as possible. But it had passed that Nick Sabin getting paid $11 million a year. It says what it says. Look, we're all human and journalists or justice subject to confirmation bias as anybody else. And sometimes we can convince ourselves we're above it because you can write in plain declarative language that sounds detached from what you're doing. But obviously every sentence you write, everything you say on air is a choice. Yeah, To me, it's about approach. My mantra has always been we have to treat journalism as science. You start with a hypothesis, but you do everything you can to disprove it. If you go into it thinking, I think this is what the story is. Well, by God, every piece of information you get is going to confirm that. That's, that's the human side of it. It's about recognizing your biases. It's about trying to account for them. And to challenge every assumption you have going into a story. Whether it's a, feels like an established narrative or not. And there's a discipline to that. And sometimes one of the tougher things in this business is it leads you to stories that are a lot less sexy than you thought they were when you started. Because sometimes what you thought was going on. There's sometimes a threshold mistake in this business. When you look at an institution or organization, you think those bastards, we're up to something. Well, if you go into with that attitude, you're going to find something. If you go in thinking, I want to know what's going on there without that assumption, without openness. So you've got a better shot of telling us a clean story that's free of your own bias. Did it very hard to, to, to, to, to always keep in mind both sides of it. I mean, like I just cited the example of Nick save and making $11 million. The lawyer who represented us in our lawsuit against the University of Nebraska said to me, Oh man, it's just, it's unconscionable. I can't believe how much these guys are making. I said to him will look, compare it to work. Why? Because it's any better or any worse than a movie star who's making $20 million to make a movie. I mean, is that any better or any worse than a larger public policy? Righteous life of anything. When you can. So you can always look at it in both ways. I mean, there's some people who would say that it $11 million. It's outrageous that Nick savings making that kind of money. There are other people who would say and can easily make the case that he's underpaid. At that rate. So you try to look at things from both sides and maintain an open mind about it. And again, it's, it's like this line from The Big Bang Theory that that is just like it's a running joke in my house with my wife because my wife has worked as a journalist as well. And it's like I go outside and I talked to people. And that's what you have to do. We've got about 10 min left. So if you have any questions, feel free to raise your hand. Henry. This younger. You can go. Let's go ahead and read first and then we'll go to the young man and apply it to sound right? Yeah. I just wanted to ask what you are seeing my kidney and recognizing your biases all time to be objective. I was obviously applies to news but also opinion. I was reading up in USA today this week. They can comment on this if you want. An article criticizing the New York Times is reporting on transgender issues. And the author, I read just a couple of days ago, the author of the piece said they didn't want to link the New York Times piece as to they didn't wanna, I didn't want to give them like they went didn't want to give that those aren't equal the platform. They never specifically addressed, specifically what the New York Times had said that they found objectionable. Also in reading this historic leading up to the face at me like How can you talk about a subject if you're not willing to repeat what the subject is. This actually, yeah. I don't really I mean, it's kinda hard for me to answer because they didn't see that. But there are like, you don't want to sort of repeat the mistake. The mistake takes home. I don't know if that's the case. It's also like a lot of times like news and media, no longer after the initial news of a mass shooting is not repeating the name of the mass shooter so as not to give that person some sort of celebrity status or whatnot. So I think that that's maybe part of the reason, but because I didn't really see it. My guess, there is a big push these days about not giving, not platforming. People like crime perpetrators were dealing with this right now with a story that we're doing. But that's going to come out sometime next month. It's four years ago, young woman track athlete, University of Utah was killed by an ex-boyfriend. Got a lot of national attention. We've got a four-year story coming. We're going to launch next month. That's an hour-and-a-half documentary, 12,000 word written piece. And there was a lot of discussion. How much attention do you, do you turn to the man who killed her? The language of abacus, it's her story. She was the victim of this, but our job is to make sure audience understands the subject. So you ask yourself that question all the time. Are we reporting on him and his background in a way that illuminates the subject? Or is it a way that's trying to humanize him in a way that is really unfair and takes away from what she went. There are no easy answers on that, but I disagree that sometimes you just dismiss part of a story because you don't like the person that it's about. You have to be able to talk about sensitive topics. On the other hand, when you do it, you better make sure you're including voices that are knowledgeable and that you're not just pining on something that's outside of your world. In the name of objectivity, you've got to reach out for those knowledgeable voices. Mr. Wells. Wow. You should answer that question. About the business. I don't know. I mean, I I don't worry about I know this is like a sounds like a really simplistic answer. I don't know. I just don't pay attention so much to say. I say thick skin, as I tell my students, you have to have thick skin to survive in this industry because people are not going to like what you write, what you say on TV. They're going to come after you, especially on Twitter. Thick skin is 100% necessary, if not, as this row over here is looking at me and shaking their head, they know I've said it 1 million times. It's going to be tough to be able to survive if you don't have thick skin. I'll tell you this what helps is knowing why you're doing what you're doing. There are times I I'm not immune to what other people think of me. I don't like when somebody calls me names. But if I remember why I'm doing what I'm doing, that makes it a lot easier. It also helps if you're getting an investigator of stuff, it helps. This is why it's so important to be correct. Why you go. The links that you go to to be accurate because unfair. People can argue with you about whether it was appropriate or whether your way of doing things was writer, whatever. But if you have if you're accurate and your fair, then you know, that goes a long way and being able to defend yourself and to be to be able and equipped to deal with somebody who wants to take a swing at what you're doing. In the other final questions. Remember, take advantage of this opportunity through to best up here. Alright, Kathleen starting to make her way this way. So Steve, TJ, thank you very thank you very much for the great information. Sorry about that. Everyone we're going to take. I want to thank you guys all that was just terrific. And we're going to sign you up for a comedy team at some point. So we're going to take a five-minute break. And then we're going to have a news panel which I think you will also enjoy. It's led by our friend Sara Sidner from CNN, who just raced in here this morning. So take a break and come back at 03:15. We'll start the next panel. Thanks, everybody. Gets better stories. My question. You don't want to freeze that I mentioned meant so much. All right. Minute. Okay. Hi. All right. Like we live, we can all fail to be like double-check. Straight plank. Remember, we're talking about I bring this back. I mean, we do have the money. I'm trying to figure it out. Yeah, but it's true. If you give them a hand to me about why you just record as you go and so you can see it. Like I said, even if the undercurrent is my first time. And I like them. Yeah. Wait. Thank you. Yeah. Let me let me show me. Okay. Mr. The way in the back? No. She's a little Yeah, I got a little ones. We gave it. We're ready to get started. Everybody. Good. People come from the outside here. Welcome those who are just coming to join us. I know a lot of your students have classes, so you're weaving in and out, and we appreciate it. I'm going to let my good friend and former colleague, Sara Sidner introducer panel. They are terrific. George and I have known each other for years. George has actually NYU grad and George, you're going to have your problems with these three women up here. So hold your own here. Hello everybody. I've just come off a whirlwind tour. That is a new store which you know, is unpleasant sometimes. And I'm so happy to be here at IU again. And also thank you for this whether I'm sure this is not normal for February. It wasn't like this last year. Joining me on this panel are some incredible people. They are changing the way that we see news. I'm going to start here with Nicky Kelly. She is right next to me. This wonderful woman here. Editor-in-chief, the Indian and capital Chronicle. That means she can hire you. For those who are looking. An independent non-profit newsroom launched last year to fill the gap caused by decreased resources for Indiana government and policy coverage. One of the things I think across the country that is happening is there's a decrease in covering local government issues that by the way, are the first thing to affect you. So really important, I coat to O4. Iata is co-founder and Chief Science Officer of capital B, a local and national news organization reporting for black communities. Specifically, she was previously managing editor at the Trace welcome. George, Papa John. Don't ask him for pizza. He's not related. Wait, are you I'm not rolling in the dough. It's more than once. He's led major investigations at three different news organizations. He's currently the Midwest editor for Pro Publica. Anyone who's familiar with any of the work of these three folks knows that they know what they're doing. Even though I think a lot of times we question that, which is good, we should be constantly questioning if we're doing the right thing. I certainly do for myself. I'm going to start with you down at the end and we'll go this way. George, Let's start with the first thing. Tell, tell us a little bit about help ProPublica works. Because these are news organizations that are not your typical mainstream ABC, CBS, CNN organizations. But they have played a really important role in, I mean, I was about to quote you guys last night for something that you guys have covered, right? So I'm part of the ProPublica has local news operation which came into existence really about six years ago and has been really bastion of experimentation. As you all know, the local news industry is in quite a bit of disarray. And ProPublica, which was very much founded and made its name through national news and national scoops and exclusives began about during that period to try to find a way to help fill the gaps and local news. So there's basically what has emerged in last few years, I would say is a multi multi-pronged effort. I'm part of that effort now as the bureau chief in Chicago for the Midwest bureau, we have people in five states. So setting up regional offices is one of those potential solutions. We have about a dozen reporters who covered the Midwest looking for investigative stories and accountability stories that nobody else is doing. But there are other ways too, that the local news is being approached by ProPublica. There's something called the local reporting that work where I think this is really kind of a cool thing. Every, every quarter we evaluate proposals from news organizations across the country, from reporters who'd like to work with ProPublica. And as part of that opportunity, we get to work Some great ideas, but we also then pay their salary. So this sort of incentivize is the news organizations to let us work with their reporters. We give them editing, we give them data help, we give them whatever help they might need. And so that's called the local reporting network, sort of an ongoing series of partnerships that are formalized in the last year, I got involved with one when I first started at ProPublica. It was supposed to last a year. It did last it did. We did stop paying her salary after a year, but we still work together. So we developed these also these informal relationships with people that we respect and mutual respect work together. And then finally, we also have developed fellowships for individual reporters in which we work with them for a period of two years. That will be with their news organization. Again, we paid their salary. We call publish. With their news organization. We work with their editors and we published stories together. But it allows again, that news organization to feel comfortable giving their report or that level of commitment to work on longer-term projects as opposed to the Corker turns. I wished you were around when I was a young person. That's over now. I do want to brag on you just for a second and on ProPublica in particular, because you all I'm sure are aware of the train derailment that turned into a toxic mess and East Palestine, Ohio. And last night, ProPublica published something that made me jump up and down. The headline is a Norfolk Southern policy. Let's officials order crews to ignore safety alerts. That just came out last night. It's a great read if you're interested. But that's the thing that they come with. That sometimes other news organizations who are chasing the CEO, we chase down the CEO. We got him to agree to sit down and talk to us. But those things come up and it's really important to have an organization say, let's immediately start digging. Not just do nuts and bolts, let's immediately jump into look at the past, look at their record. Let's see if there's anything that we can find and somehow ProPublica nails that every time I'm a kowtow, you serve a very specific purpose. And I was really impressed when I talked to you as we got ready for this panel that you're really trying to do news. You can use things that they need so that they need to read you because you are offering them something that helps enhance their life. Talk about the work that you all do at capital B. Yeah, I'm first, I'll start by saying, glad to be here. I think we all do journalism conference, so good all the time. And my favorite thing to do is talk to students, so I'm happy to be here. So capital B is a local and national news organization that covers or reports or black communities across the country. And in 2020. Which I think is now shorthand for just a very terrible time. Covid, it's pretty good for black people. Covid was disproportionately impacting us. The Briana Taylor and George Floyd protests. And me and my co-founder Lauren Williams, who was the senior vice president editor, chief at vox.com. That's BOX. Sometimes people think I'm saying fox, you guys have all red box, right? You guys know what MCS is. Okay. So we came together and we were, after having been in various newsrooms for deck for two decades, combined thought what can we do? Now? We felt an urgency to sort of take our talent and our experience in journalism and just do something specifically for black Americans. And so we identified two problems, were two challenges are two things that we wanted to sort of work toward solutions for. One is that national news has historically just gotten stories about race and racism and black life wrong. Just missing perspectives that just were not being covered in part because these nutrients are not diverse and there are few people of color in leadership. That was one side. The other side is that I think if you're a journalist working in any part of news today, you're concerned about what's happened to local news, right? Like without getting into it too much. But advertising models have been pretty much decimated. And then as the main way that papers have made news for decades, right? Like the, the rise of the Internet, facebook, Twitter, all that is just sort of changed the way that papers can make money. With that means that you have fewer local journalists, fewer papers. And that really impacts the information that pupil or need to get to make decisions about how they live their lives. And so what we wanted to do was create an organization that proposed solutions for those challenges, right? A national or international side, we do stories about big national issues with a Black perspective. On the local side, we do that too, but we also are trying to really give black residents the information they need to be civically engaged to just navigate their city. Like there's so many questions that people have about life. How do I get my kid registered in school? What is actually going on with voting laws here? What are the ways that I can access this tax benefit that the governor just signed? Um, these are things that people just need to know that I think often the decimation of local news has, has made that harder. But also that like not too many newsrooms have been prioritizing. And so that's what we do at capital B. And we have our first our first local newsroom is in Atlanta, and we just announced that our second will launch in Gary, Indiana later this year. Congratulations. Everybody knows Gary, Indiana because of one particular person. I was a faint line. Yes. Yes. My scrap to you might have you might have already guessed. That's true. Alright, so the work that you are both doing, all three of you important, I think sometimes we sort of like, oh, your head down, you're trying to get stuff done. But these are things that people actually need to know. And it's been stripped out of their daily news diet, if you will. If they're even on a news diet at all. Nicky, tell me about what you're doing because I find it really, really interesting. The focus that you all have. Yes. So the capital Chronicle launched in June. We are part of a national non-profit group called states newsroom. And they came together back in 2017 to specifically address the lessening of coverage of state government state policy. I can give you example. I worked at the Fort Wayne journal Gazette for more than 20 years covering the legislature. When I first arrived at the legislature in 1999, there were at least two dozen newspapers, TVs, who had their own reporter based at the State House covering government all day, every day. We might have ten. Now. Much of the cities have had to close their bureaus and things like that. So that's the gap that we're trying to fill. So we have a pretty specific focus on the State House, state policies, government. We're in the middle of session right now, which is a very busy time. We have 33 reporters plus mi 0. And we heard an IU intern for the summers pretty excited about that. And we're just trying to use this new model which is non-profits. So we're online, we are no paywall, no ads. But if anyone wants to donate, please do. And trying to use this new model and see what we can bring Indiana. Another thing that's significant about states newsroom and the capital Chronicle is we have what's called a Creative Commons license. And so what that means is that all of our stuff can be republished for free by other newspapers, other radio stations, other TV stations. And so that's helping a lot of smaller newspapers and rural Indiana put things out for their citizens who need to know. Maybe they can't afford Associated Press anymore. So that helps educate Hoosiers in general about what's going on at the state house, what they're up to and how it impacts you on a daily basis. Really, those sorts of things. I think we realize how important it is because typically the news was supposed to be a watchdog for the government, right? That's what he calls the fourth estate. And that just kinda changed for lots of different reasons. Some of them not so great, some of them embarrassing, I think to news organizations. I'm going to start with asking you about what you were proud of. You you talked to me about a couple of pieces and I'll kind of go down the line. What is a story that stood out for you and perhaps surprised people that you, that you did, you felt like this had an impact. This did the thing that we wanted it to. We want this to be about 0, so many. We just turned, we just turned a year. And so I've had the pleasure. Just look back at all the stories we've published and this is all of this sort of fresh in my mind. So I would say I would start with our coverage of the Jackson water crisis and Mississippi. We have a rural issues reporter on our national team, but she's from Mississippi. She lives in DC now, but she went back home and she covered the crisis from the black neighborhoods perspective. And the best part about that story was that about a quarter or third of the traffic of history came from Jackson. Now mind you, this is a story that has been covered nationally. Right-click on it. And us, that was a real signal that people were coming to capital B because we were offering perspective that just wasn't in the mainstream. I think that there are going back to that service animals and piece that I talked about when Governor camp in Georgia had announced the COVID relief in people's tax returns. There was a lot of confusion about how people can access it. So our state and local politics reporter did a piece on how do I get a tax break. It's Atlanta's number one piece. It has been at the top, stayed there for a very long time. And that, again is just sort of proof of that lake. As journalists, we have to, I'll just say, and as we talk, you will learn that I'm more radical about these things than most. But I think that a lot of the journalism that people really need is not, is not just the stuff that is like winning pulsars, right? Like that work is the kind of work that is like award-winning or the kind of work that Prize, judges Prize is like. But it's not, it's, it's slow. It's often things that have an impact, but it takes a really long time. And I think that, that metric for what is successful peace is not the most important thing that we need to be focused on him and machinery. Now, people need to feel informed and people need to feel empowered with the information that they have. People need to feel equipped to make decisions about what is happening in their lives. And that kind of stuff can have immediate impact on people's lives. Like we talk about trust in the industry all the time. I think that if you I'd worked for a gun violence outlet for years and cover the NRA for a long time. Did a lot of great work around that organization, had a lot of impact. Don't know if kids who are living in cities with high gun violence could really feel the impact of that piece. Not sure. But maybe if you are revealing to people like what does your city offer to survivors of gun violence? And what are resources there that they can use and tap into. Maybe that has more of an immediate impact. So just really thinking about what people actually need to know and writing and doing reporting for that I think is really, really important. George ProPublica has. I don't think there's a subject you guys have not done some sort of investigation on widely whether it'd be immigration. I think that's the first time I really noticed ProPublica. But you have done on so many things. Is there something specific that you felt particularly proud of or that you felt like had a, an impact, made it made a change. I'll preface this by saying I've only been at ProPublica. A little over a year. So we can, we can also go back. We go back to previous. I will say that there's one story that was just in its beginning stages that I helped help lead to over the finish line the last year. And it was called the price kids pay. And it was based in Illinois. And sort of a classic, I think, piece of journalism. And that was something that was going on every day in schools, every day in sort of these obscure administrative buildings and municipal halls. And involving students, involving a question of equity, a question of fairness in which students were being ticketed for their behavior in school. So you get caught with a vape pen. You have a fight over a snack and the lunch room, and you end up in a shoving match. You even for truancy, you will end up with getting the police involved in some of these schools, not all schools, but many, many schools are reporters found your fines and there were fines. There you go. Exactly. So. Rather than the school and the typical thing, I have a son and he gets his detention for punching the kid in the playground the other day. But he doesn't get a ticket. In these schools, you would get a ticket and potentially then you go to these administrative hearings where you have no representation, you show up. It's basically the same type of hearing that you would have if you were like, had a had a speeding ticket or you had maybe you're a lawn had gotten unruly and you'd had violated in municipal municipal code. They're set up for to quickly find people quickly punish adults. Instead, these students were being funneled in there. They were basically missing school oftentimes because they are being sent there. And they were subjected basically you will lose. It's basically in essence, it's not a innocent until proven guilty system. It's a guilty until proven innocent type system. You get generally come away with fines and administrative hearing fees. And if you don't pay the fines, they can then send debt collectors after you do. This was happening. This has been happening across Illinois for years and years, despite the fact that there is a law on the books, that students should not be fine for truancy. There was a law on the books that schools could not find students for misbehavior. The schools were saying, Well, we were not doing it. The police are doing it. But they were the ones we're handing over the kids to the police. This was a story that got immediate reaction. The Board of Ed in Illinois sent out expressed its desire for this to change. Unfortunately, they don't have a lot of power in that respect. However, it does appear I'm just wondering the suite that the legislature is taking this up so we could get additional laws on the books, were beginning to go back and survey the school districts across the state and they're finding that many have backed off this. The second largest district in Illinois that backed off finding and ticketing students and the controller's office in Illinois side, it will no longer assist in municipalities and collecting these fines. And finally, we did write a follow-up story about racial inequities in this type of ticketing. And the Attorney General's Office in Illinois looking at that. So that to me is sort of maybe classic ProPublica, classic accountability journalism that you really end up feeling good about because you feel like you've, hopefully I'm going to make a difference in the long run. You and accuser had very different stories, both very impactful. I mean, something that people, especially when you hit people's pocketbooks, especially now with the way things are going in the economy. Alright? Nikki, story that you enjoyed thought did something for society. Well, where less than a year old, but I will say we kinda got thrown in. We were launching the end of June and normally that would be the summer slow time in the State House. The session isn't normally until January, but we suddenly had a special session that was going to pop up like three weeks after we launched. And so looking back, it was the greatest thing because it allowed us to really show people what we could do quickly. And it was originally called it for a quick little rebate to the taxpayers because we had some extra money and our surplus. But instead it became an abortion session because of the DOPS case. So they were doing a two to three weeks session on banning abortion. So an example of a story that I think made a big impact is a couple of weeks before this session started, we had one of our reporters who does a lot of our sort of social services health care stuff. And she really looked at the number of babies that would be brought into the into Indiana. And would not have services. She looked at a bunch of programs that were underfunded, had waiting lists for children for mothers. And later they added a second bill that specifically put, I think in the end they decided like 40 to 50 million toward these programs that I consider to be was a recognition that, well, if we're going to force people to give birth, then we're going to have to provide some services to them that we're not living up to now. So I think that was the first indication that I could see. We could we could make some headway there. I'm going to open this up because I'll talk to you all day and just like it's my own living room. Is there anyone if you have questions, yell them out and I'll repeat them. If you don't have questions, I will continue chewing their ear. Are there any questions out there for any one of these panelists? Way in the back? Nikki, when I see you shaking your head, no. I mean, because we are newer and this is the whole non-profit journalism thing is pretty new to Indianapolis. I definitely have a lot of people asking questions and they want to understand how it works and what the catches. So I'm talking to them a lot about just how it works. There's no catch. It's funny. I am great friends with a number of Indianapolis Star reporters and I know that they have one State House reporter and we have three. And she's constantly feeling a little behind the mark because she can't get to everything nor, nor should Ci Xi is one person. We're getting a little bit of that. Not, not in a bad way it, although I think everyone's pretty supportive of seeing some additional new, new ways to approach journalism that might be sustainable we hope for the future. Yeah, I mean, I'd say that one of the things that's really great about non-profit news, one is that there's, I don't even know if it's right to call the wave, but non-profit news and emerging models are very much a part of conversations people are having about where the industry needs to go. Secondly, the, I think one of the best parts of this work is that collaboration is really at the core of how it works. The notions of competition on the non-profit side are just very different than the notions of competition on the for-profit side. And so what you find is that often traditional media understands that we want to be collaborative. We have a great working relationship with the Atlanta Journal Constitution. And I think that there might be some skeptics here and there, but overall, I think the industry is released starting time to understand that some of the work that we can do on our side because of our structure is really valuable to share with their audiences. Yeah, I think there's, there's definitely been an evolution. Previous position was at the Chicago Tribune as the investigation is editor. And I can tell you that if it was maybe ten years ago, there was a lot of resistance to working with a ProPublica or a non-profit. I was, I knew people in the industry and I always felt like a great idea is a great idea and that sort of the gold that you're sifting for every day. And then if somebody were to come to me with a great idea, why would I turn it down? Or if somebody were to come to me with really skilled reporter whom I can work with, why would I turn that down? That was not necessarily the view and other quarters of the newsroom it because it was a lot of people that had grown up including myself with the idea that it's competition, Right? Right. These are the people at that other place, no matter whether it's a for profit and non-profit, whatever it is. I'm there to beat them. They're there to beat me and make me look bad. And so there was a lot of resistance over the years as I tried to force those relationships. I was able to do that from time to time. And now in my new role and with the new editor of The Chicago Tribune, there's no problem making those connections. I think everybody has realize the advantages of collaboration. And I'll just say from, because I'm in the mainstream, from my perspective, I'm just jealous, like to be honest. Sometimes I see on social media tends to be pretty negative. Well, some of it, like Twitters for haters, we know this but, um, but I'm on it, so I guess I'm also here. But what I noticed is usually the criticism is that's not going to work like this. That's not going to work. So we have a pension to be negative. We are taught to look for the negative, look for the problem, look for the right. And so sometimes I think that's when you do get pushed back. It's usually either were jealous and just put that right out there or it's this negative thing that we do. It's like, oh, that's not going to last. So people are reticent to like jump into it even though when they hear what you're doing there, like it sounds too good to be true. Or, you know what I mean? It's, it's that kind of mentality, I think a little bit. Does anyone else have anything? Oh, lots of questions. I'm going to repeat for those of you in the back that might not be able to hear. She said, How do you navigate this world we live in where we are, we're all taught initially the big J journalism was to give both sides a chance to say their piece and give equal weight to both sides. But if one side is the sum of this is politics with some of these other things. If one side is lying or is hateful or is putting false information out there on the other side isn't. How do you deal with balancing all of that? Do you give equal weight? Um, no, I knew that what you're going to say, Sito, capital B in many newsrooms, hat we have a point of view, right? I don't know, racism, bed, democracy, good. But those are things we're not shy about. Those are things that are just taken for granted in our work, in our reporting. And so I don't actually think that those models of objectivity have served us very well. Actually. I think that if you talked to a lot of black journalists who had been wanting to, before Trump, during Obama, wanting to write specific stories about the racial animus that was sort of bubbling up to the surface and the pushback, be God. You'll see there that it doesn't it did not help us in any way to not have those, to have those stories Mfold, right? And so I think that taking a having a position, I don't think it's, I don't think it's controversial to say that like, we want people to feel free and safe and to be able to live freely. Not something that you need to remove from your reporting. I mean, I think I speak for all of us like me. The work that we do is so that people can just have a more equitable society and a better future. I just wanted to say on this one, we have this issue a lot because just this week we've had two major bills that target transgender youth. And so when you've got a four-hour hearing and you're listening to either the pro testimony or the or the opposition testimony. I mean I mean, first of all, we automatically just ignore anything we know to be false. We're just not going to print anything false, then I think we still have an obligation whether we agree or not, to get somewhat of the opposite side of them. But we definitely take an opportunity to point out studies to refute things with data, with other, other positions like that. So you'll see that in us a lot to will, you know, if there's something on the edge, It's not inaccurate but it's maybe a little misleading. We'll try to at least try to put some context in there for it. To me, it's always remained. The goal is to do the work. So you can write with authority and you can feel comfortable telling things are the way they are. And we've had to deal a lot with election denialism in this country and in the Midwest Bureau, we've spent a lot of time writing about it in Wisconsin. And what I really appreciate about our reporter there is that she she treats it like she would anything else that she's done throughout her career and she listens to the lawyers for some of these groups and the activists and really tries to go to ground on it and understand what their arguments are. And then if there are untrue, we can say there are untrue and y. So to me, the gold standard would be not to just say, somebody said this and it's a lie or it's untrue, it's like why why is it? I'd rather, I'd rather, he invoked I'd rather invoke probably share of show rather than tell. Yeah. In the lovely colorful shirt. Just so everyone is aware and make sure I get this right from the queer or people of color perspective. The assertion is that there's not enough representation in newsrooms. And why is that basically, and what needs to, needs to happen to make that a part of a newsroom, a normal, regular part of a new newsrooms society. It's been eye-opening for me to go, to come to ProPublica, see how the process works for hiring. And I'm not I can't cite the numbers at the top of my head and I know that nobody is completely happy with with our numbers, but I know that they're transparent with the numbers. I know that there's a process. There's a talent coordinator that I have a job opening currently. I'm working very closely with. And it gives me a sense of sort of lake comfort and hope that we can have that there is a process. I mean, I think one of the probably not too secret, dirty secrets about newsrooms of the past is that they were not necessarily well run that the traditional, You're a great report or with killer instincts and you wrote a bunch of great storage and become editor-in-chief doesn't mean you can manage a newsroom. And so I always say that I learned from the worst oftentimes during my career. And that usually was not about the journalism on the management. And so I feel like there's a real effort in with my current employer. And actually as a Buzzfeed before that, I think there was enough for there to really sort of right the ship and to do the right thing going forward. I think part of that goes back to how do we get good journalism. It's a good process. How do we get good hiring? It's a good process, it's an open process, even something as simple as salaries now ProPublica is putting, here's the salary range. Here's what we pay people. That was always a secret. I mean, it was always kept EBI in some black box. So that to me is some way forward, at least. I know you you asked about not just the hiring side, but also the story side. And I It's thinking about that and I really think it's hard to untangle them. And I think really what it comes down to is as newsroom leaders or as people who are in position to make things happen, you have to believe that you cannot do your work unless your museum is diverse. You have to really believe that. Not like I have a quote, I have to fill as many diversity survey surveys coming up and I don't want our newsroom to be embarrassed, like not that's those are not the proxies, right? Like we can't cover LG and LGBTQ issues if we don't have the representation in our newsroom, I can't cover anything without having people who are from those communities or have access to those experiences doing that work. And that is something that you actually have to carry. And I found that the leaders who do that make that diversity happened somehow. All of a sudden, there's, you know, you can, you can, these mysterious black and LGBTQ reporters that you cannot find anywhere, suddenly people are getting hired because it's just, you just have to be bullish about that and just know that you can't actually do your work without making strides in that area. Yeah, I know I learned that. You have to take that extra step. I mean, this is what it comes down to. We've got a lot of applications for our openings. Almost all were women. There was no one of color, there was no one know Hispanics. There were several queer candidates, interviewed a lot, but I also had to start reaching out on my own to people and to organizations to see if I can find some more candidates that would fill out the diversity. But I think in the past, people just see what comes to them. Kinda pick the best of it. I definitely had to take extra steps to try to make sure we had different people in the mix. I just wanted to give a quick example of why. There's been a lot of discussion about diversity thesis days. And it's, it's fraught sometimes with the way that people pit, pit people against each other. But we've had scenarios when we're talking in our newsroom and most of us have a morning meeting or an editorial meeting at some time in the day, sometimes. Many of them. Maybe too many meetings. Have you been there? Many. Journalists typically don't like meetings so much. We'd just like to dig. Talk to other people. But there were a couple of instances that I can recall in newsrooms where we had discussions and because there was there did happen to be usually one sometimes just me, person who was from a different community that did not experience the same things with someone who had saved. We had no idea that black folks were getting treated like this by the police until now because now we have video. And I being me and with the big mouth, I said, well, you might not have had an idea, but everybody in the community knew, right. And so those are the conversations that you have to, But you also cannot. I always tell people this one person cannot be the representative of an entire community. It's ridiculous. We wouldn't say that for folks who are white or black, who are from the LGBTQ community, who are from the native Amir, I mean, this notion that one person is going to solve that issue is a real problem because there's diversity and diversity. And so I think having people from different socioeconomic backgrounds as well is really, really important. And that's, I think one of the places that we really struggle. Because TV news early on is cheap, sorry, but they don't pay. And I know newspaper early on. It's hard to make a living. I mean, it's minimum wage at best. And so that's something I think we really need to work on. Any other questions? Yes. Hi. I remember from lecture anyway, the reporting process. Any impact? I mean, always an impact, but she said, How is social media? I couldn't go impacted, say a bit about ProPublica and let you take it. But I think that there's been, I think ProPublica is an example of a news organization that is really done a lot to propel what we're now calling engagement journalism, propelled it forward. And using social to really drive important work. I think the founding engagement editor, Terry parish is his name. He was, I think he predated, but he's someone who just lay the groundwork for like, how do you really get people to talk to you about some of the things that they're going through. One of probable cause is like really early investigations around like veterans and that they might have been exposed to some harmful substances. All of that was sourced through social media. And I think that they are a model for, if you're not following them, they are a model for how people are using social media in really interesting ways. For us, we are just one-year-old and we're not like we're not yet doing what I think most people would call investigative journalism as we conceive of it. But we are using social media to ask people questions about like what do you need to know that you don't know? How can we fill that need? And I think often that work can become the groundwork for some more accountability enterprise investigative journalism. But I think that's true. They, the, the audience team calls it. The engagement team calls them call-outs. And you probably can go on ProPublica website right now and find, find a call out for some subject. And obviously those same things go out over social media. It's funny because in the earlier panel that are sort of, um, mainly negatives on social media and I don't think we're trying to ignore the negatives of social media. We know they're there, but it really can help you engage with your audience. And even something as simple as I worked a little bit with this group in Detroit called outlier media. And their whole, their whole approach is again, to engage with the community, to try to write things that matter, try to inform the community kind of similar team about layers. I do too. Yeah, We worked with them and their whole model is built around texting. And they worked again, that's local reporting network that ProPublica has made an outlier, made a pitch about utility shutoff. During COVID, they were able to get their hands on some data that hadn't been published before involving Detroit shut offs. And what was key to that behind the data was finding people and getting their experiences. And Sarah Alvarez over an outlier, is able to do that through they're texting system. That's cool. Yeah. I mean, Reporting wise, you still have to stick to the basics and nail down the stories. It does help a lot from my perspective to find real people. That's the phrase we use a lot. People to illustrate a story. So I keep, I keep track on who comments on things on Twitter. Who comments on Facebook? Usually that means someone has an interest in a topic and you might be able to go back to them six months from now and say, Hey, we've looked into this and we found a lot of great sources that way. I will generally engage with anyone on Twitter or Facebook as long as it's respectful. And I find that it often works a lot in our favor. Gentlemen here, I don't want to ask since new formats that are maybe not as institutionalized as other ones are. Organizations or ideals that you guys kinda wanted to write, that you are trying to take inspiration from somewhere where you can point us to look at as well. We're not looking for something to follow except for you guys. I'm going to quickly just so everyone the question is basically, being new organizations who are doing things differently. Are there guidelines? Are their ideals that are being followed or are there organizations that you emulate or want to emulate? Love this question. In part because I think one of the reasons why we built capital B is sort of keep the things, the traditional things about journalism that we all value, all, everyone in this room values and sort of get rid of the stuff that is not working for us, right? So we've actually posted our, when we launched, we did post our operating principles, something that we share with everyone we hire and it's public and I can share the link somehow and I'll share it all with you. But I think one of the things, you go online and read it, but one of the things, one of the principles is that we are really being mindful about. Balanced. Like this work can be very consuming. As journalists, we're all basically trying to understand the forces of American life and symptoms. Sometimes those forces are really evil. Sometimes it's, sometimes it's sad, sometimes it's very heavy. And you also have to do your job, but then I'll have to go home. And so one of our guiding principles is that our colleagues prioritize the health of their physical and mental health of themselves and their family, right? Startups often have this leg. We're a family ethos and whatever, and we reject that we are not a family, a capital B. We are 18 people. You have your own family. You need to they need you to be there for them. And in order to do that, you need to be proactive about what you need when you're covering this work. And so I think the good news is, I think you guys will agree, is that I think you are coming into an industry that is way more cognizant of that than it was when we all started, right. And so I feel happy about that and I feel really good about being a part of that change. There's such a great line. I mean, the whole thing about it being a family seems it's a trick. Yes, Right? It seems great, right? Because you love your family and they embrace you or they drive you crazy. So maybe that doesn't mean I gotta give credit to my co-founder. Okay, but, but yeah, it presents this thing that you should have undying loyalty and you should give up your kidney or the equivalent of whatever whim to that organization. And that setup people for these really sort of unbalanced lives. So the fact that your team, I love that, I just think I'm going to steal that if you stole it, That's okay. Yeah. I do think that there has been a change in that way to newsrooms. It ProPublica. There's a new policy for for new parents where you get paid leave for several months. And I'm just thinking back to when I first had kids and how that would have really been a lifesaver for my family. And it's just as fair and it just makes a lot of sense. At BuzzFeed, there were there was definitely because I was there in 2020 when everything was happening, there was definitely a acknowledgement that people needed to take personal time, that people were being personally affected by these things. So I think that there has been a lot of positive change. I would also just say just as far as things that I admire beyond that. Such a fan of local journalism. And I love the idea that you're going into Gary, a place that needs coverage. That the Tribune in Chicago only would occasionally when we had a huge staff, but only still occasionally cover that. The post Tribune covered welfare pretty well for a long time, but now it's been fairly well decimated. I love that idea. And again, my experience with outlet in Detroit I think is, is has been really eye-opening and I admire a lot of what they're doing because again, they're really trying to connect to the community and figure out what people need in their lives and connect their journalism to those needs. Just remember that all of the new things like I get very excited when I see a new organization show up that is trying to do good work. Whether it'd be non-profit or whatever. These are jobs that exist for journalists. And the more the better as far as I'm concerned, especially because of what's happened to local news in particular. So donate because that's another we'll talk about fundraising in a bit. Yeah. Did you want to add something? On that note? We keep talking about outliers. I just wanted to say follow outlier media for sure. To answer your specific question. Follows City bureau in Chicago. What I'm getting at is there is a, a very large movement happening right now. Rethinking the shape of our industry, right? Rethinking who were doing this work for, rethinking how we're going to fund it so that it is sustainable so that we can stop shuttering local newspapers all across the country. And outliers specifically has been part of pioneering that new thinking as well as city bureau thinking about how we make journalism more participatory, right? That it's not just us in this room who can do digging and share information, but what this is, act that everyone can participate in and how do we, as journalists open that door to let more people come in and be a part of the news making, the information sharing practice. And so I think if you're looking for inspiration, those are at least two organizations that I would really follow closely. You've all worked in traditional and you've now worked, you're now working in non-profit? I do. I am curious about funding and how that works Because obviously, you need to be paid so that you can live your life as well. What are the differences? Is there something that really stands out to you from one to the next? Well, the biggest difference I've seen so far is on, we actually have a commentary page which some non-profits do, some non-profits don't. And so we have to be a little careful. We cannot endorse candidates. We can't. Likewise say don't vote for this candidate. We have a weekly columnist. She's pretty progressive and I had to back him down a number of times during the election season so that we didn't lose our non-profit status. That's the biggest difference I've seen. I get a lot of what's the catch and how are you funded and we're part of a national outlet. You can look online. We put our biggest vendors there were trying to be very transparent, but I also just tell people, look, give me a month, sign up, sign up to our newsletter, read some stories, give me a month. You decide what you want to put toward us as a monthly. Like basically you pick your subscription price, what you think we're giving you. And that's working really well so far we have a lot of monthly recurring supporters. Some people prefer to give one big chunk, some people prefer a little bit every month. And so, um, it's, it's a lot of education for a brand new thing here in Indiana, but it's, it's going really well. People are being very accepting towards one, or I love non-profit news. I, I'm an evangelists of it. I think that one of the, one of the best parts of it is that you get to slow down a little bit. If you work for for profit that is really chasing traffic to drive those ad dollars. You know, it's, it's you you're probably putting out a lot of work that is not getting that may or not. May or may not be getting read widely. Putting out work that's burning you out. I'm putting out work that you might not be proud of and a lot of non-profits, you can really sort of state step back and take that time that you need to do slower burn stories. And again, going back to collaboration, I also think that's just a feature of non-profit news that is really great. We, you had mentioned the Creative Commons. You can just hop on their site. If I wanted to just publish anything I wanted, I could go to her site, follow her rules in publishing on my site. And I think that's a really great thing for information sharing. And I also think that we need, we need new models. For profit model, isn't it? It has not worked. So I think it is important that we have folks in the non-profit world, in the for-profit world rather trying to figure out how to make it work like we can't, we can't just say to hell with all of that, but that is important. But I also think that combining that with emergent models for funding this work is important. So we do have, we were able to raise before we launched $9 million from foundations. And we also have a membership program that we hope to continue to build. We're also going to, you know, generate corporate sponsorship money. And so really that sort of combined revenue, diverse revenue stream is really how we're approaching this work to make sure that we can find it in the long term. So I was at the Chicago Tribune right after college and was there for more than three decades. And perhaps sum up, the last 1012 years of my time there, which was when the industry had the most upheaval is when I look back on that time, probably the most the best time, the ideal time during that period was the one we're in bankruptcy. So bankruptcy was actually better than being run by Michael Pharaoh or Sam Zell or all then, because there was some sort of control over what was going on and things were frozen. That when I went from the Tribune to BuzzFeed News, You would think, Oh my God, what a huge change that would be. In some ways it was, but in many ways it wasn't. In one way that was very similar was that it was a for-profit model. And it was a for-profit model that was under intense pressure. You can go check the BuzzFeed stock at some point later and see where it's at. You can go see what happened about a year ago to the investigative team. And you will see that even some place like that, which had, pardon the pun or not pond, they had a ton of buzz at one point. It's still struggled with the for-profit model. So I feel I'm not saying that there can't be money issues at a non-profit. Obviously, there are people who need to find the funders and we need people, perhaps some people on this audience to donate to some of these wonderful non-profits. But when I joined, ProPublica was clear I was joining a place that had already gone through a period of growth and has a team and it has people who are very expert at doing that kind of work. I think they're very proud of the fact that more recently, even when there was a funding stream that kind of dried up, they were gonna be no layoffs because of that. They were very proud of that fact that we will find a way to make this work. Even though I believe it was about some three to $4 million with no water, we're going to be available to us. Hello. This isn't just this gentleman here has a question, excellent. As non for profits. You do have, you, do you make your, your news available? First of all, there's no paywall. Do you make it available to all of the other media outlets? As an example, Nikki, in your case, the IV, J, the star, the radio and television stations FYI, Or they all willing to use it and give you credit for that information? Yeah. I mean, obviously since we're still in her first year, I went through and tried to email every newspaper in the state, every TV station trying to introduce them to explain their model. Some newspapers are caught right on and the IV J uses our stuff constantly. The star has not quite yet. They say they're fine with it, but they haven't yet done it. And I'm not sure if that's still a little bit of the competition thing. But a lot of them are catching on and using our stuff and getting it out to people. So that's going incredibly well. And when states nerves are originally launched, I don't think they really thought the republishing part would be as big as it was. But so many people are so desperate and want to help their citizens. And like I said, you have newspapers who can afford reporters. They can't afford a P anymore. So most of them are been very accepting. And I think it helped. I think if someone maybe who wasn't from Indiana and no one had existing relationships with, it might've taken a little longer, but because I've lived here so long and And knew a lot of these people already has helped, I think, get our acceptance up pretty quickly. Gentleman in the green shirt, he asked, how are these organizations able to deal with things like attacks, spyware attacks? I think all organizations in any business is worried about this issue in a big way. If you had any issues, anyone coming for you? I mean, sorry, we've got out there. We've just started and we've actually put in place measures to protect our software, protect our hardware, protect put in place practices so that our journalists protect the work that they're doing online. But it is difficult. I think. I think we all in the industry are really trying to prioritize the man figuring out solutions for it. But it's definitely an ongoing conversation. I think in all three news organizations, there's always been training on how to avoid fishing and things along those lines and I know it ProPublica again, there's an IT team that's really dedicated to keeping us safe, but I can't say we aren't immune. Sure it's possible. Yeah. We also have a national IT team and we have to do the fishing training and they'll try to catch it and send you an email and see if you'll click on it so you have to be real careful, but we have at least knock on wood not have any issues so far. In the pink. This is a really good question. I think one that I certainly struggled with in my career. She asked whether or not there were some parameters put in place in your organizations when dealing with very difficult stories because there's a perception, sometimes it's a fair perception that reporters are showing up and they don't care. They're just trying to get their story and they don't care that, you know, how they get it, even if it leaves a family suffering or re-traumatize. Um, do you have parameters that you've set up incase of that? I think we're somewhat fortunate and that we're not chasing the Daily News as much. So we were not in the same position as somebody who will be sent out to cover the shooting that happened overnight. But we do we deal with a lot of people who have been traumatized and I think there has been newsroom training about how to deal with that in a way that is sensitive and tried to avoid sort of re traumatizing people and making sure that they, that your approach is one that gives them the option to not participate, but also, especially if they do participate, that it ends up being something that doesn't turn into turned into another trauma. And so there's some there's some both outside training that we've received, but also just reporters talking among themselves about this internally. I think it's an ongoing issue because obviously a lot of what we deal with is tragedy, whether we're doing investigative work or breaking news. Yeah. Yeah. I mean, I think the benefit of having a model that allows us to have local newsrooms and work on stories where our journalists living, where they're from. Is that part of what you're identifying is a problem with parachuting in what we'll call it an industry. We're like reporter who's from New York. We'll go to Minneapolis and cover shooting and then just leave. And that is the part that I think is in part adds to the trauma. Right. So when you and the other thing is that when those reporters are going in to cover the story, they're covering it for a broader audience. They're not covering it for the people who are dealing with the actual issue, right? So when you live in a place and can stay in a place and people know your work and your sourced up and you can deliver on sharing information with the people who are being affected by the thing that you're covering, it changes the entire relationship. I think that's one of the ways that capital B were set up in a way that allows us to really, to really do that. Yeah, a slightly different spin on that is obviously, I think it's an ongoing education of how to treat. Sources and people you're dealing with so that they feel like they had a good experience. But also one thing we've discovered being part of this national group. I think we're in 34 states now. And so we've just this week that a memo today saying Look, a lot of our reporters are covering some really heavy stuff right now. From abortion to critical race theory to LGBTQ plus bills. And you have to sit in that building and listen to these terrible stories hour upon hour upon hour. And so we also want to make sure our reporters are being taken care of and we have some counseling resources available. I've talked to by reporters about if they're ever uncomfortable covering something. Luckily for us we have four of us so we can move stuff around if they feel like that they can't do that in an unbiased way. Or if they just need a mental health break. You guys were talking about something and I just want to go back to it. There has been a lot of complaints from us old people about millennials and Gen Z and they don't want to work the hours we worked good for you. Like, honestly, don't let us change you because we we were outrageous and I'm still there. So I'm talking to me with our work ethic to the, to the detriment of our families, our society, our mental health are on and on and on. And I actually, I was quite happy to see this new wave of people saying, Hey, I'm not working 16 h a day. Like no, no, I'm going home. I need to take care of I'm taking vacation. I'm I'm learning from you all about how to say no, which I was really good at when I was two and somehow it went away. So you should be proud of sort of working towards something that's way more balanced because it's actually better for journalists to be balanced and have a life. So you can see how people live and don't just go and do your story, it makes you a more balanced citizen. I think we're coming to a note. We've got one more. We got one more. Go ahead. Okay. I just add one more thing about about balance. Yes, please. Because again, look back at my own life and in some ways, despite the problems with the industry, I think it probably would be better starting out now as far as having balanced. But there also is somewhat selfish side to balance in that you're going to probably have a longer-term relationship with that person. That talented person that you've worked with, you will keep for a longer period of time and you will develop trust and you'll develop a relationship. And I remember telling her report or one of the reporters I worked with on the street and ticketing project that's here. I said, I will consider myself a failure if you do not take your vacation at the end of this year, we have to use up your vacation. You need to take it off. And I just feel like it's, it's like here's the human thing to do. But in the long run, we're all better off because then they're not going to flee the industry, right? They're going to feel better about where they work and you're going to end, they're going to trust you. They're going to know that you care about more than just one thing. We've got to I'm going to start here and then I'll go to you in the red jacket discussion. What is your advice for journalists starting out working in the for profit? How do you balance? So sorry. For those stories are really important to investigate further with our burnout. I'll just quickly answer that. I'm still in the for profit world, not well, she asked how do you balance the stories that you want to do deeper dives on that you really, really care about versus the ones that you have to do because they need content, you need to kick more stories out. How do you balance out without working 16 h a day? And I say not Well, because you have to fight all the time and that's exhausting. You have to fight for the time. You have to fight for it. It takes time to do investigations. And so it's a constant sort of battle. Like I really can't do this story if you want me to keep looking at this and I said, Well, how long is it going to take you? So it's a constant fight over time and convincing your editors, your bosses that it's going to be worth it in the end when they're thinking, Well, what have you done for me lately? So it's hard. It's not an easy thing. They're going to say Come to non-profit, I can guarantee you. Well, I mean, not necessarily. I mean, obviously we do a lot of daily stories, but we also have enterprise stories were working on to try to encourage my reporters to do at least an hour a day on a longer-term project. That doesn't sound like a lot, but it'll build up. You do a couple of interviews, couple of Goya's. Spent an hour going through some documents that builds up over time. So that's one thing I've done. Yeah. And I would yes, you're right, sir. Come on over the side, but also, I think I think you're hitting on something that I think is absolutely true for everyone in this room that like this is, you're all learning the trade of investigative journalism and all that work is important. Like getting your reps in is so, so important. Like in the earlier panel, I think there were some questions about how do you balance your time and how do you make sure you got your thinking about different points of view? And like so many of those questions in this profession is worked out through the delivering of a byline. Now, that might sound like That's contradicting what I was saying about like don't work yourself to death. But I do think what you should do is find an organization. And if you have, if you have desires to go to a big for-profit place, maybe don't start there. Maybe not start at the big place where you're going to have to be turning out a bunch of stuff lot, but go to a mid-size place, either a non-profit newsroom. If you can land a gig at a regional paper or anywhere digital site, that's gonna give you like, I would say ideal pace would be like weekly or twice a week. It just gives you the opportunity to produce, but also like not at breakneck speed. And build up that capacity for writing, build up that skill. And then you can go to a place where you might have a little more room to say, you know, I'm not gonna be doing clickbait pieces eight times a week. I don't know if this directly answers your question, but one thing that I'll tell young journalists who come to me to ask a similar question, which is how do I get, get to convince my editor to do a project or investigation while I'm doing all these other things, as I say, don't ever pitched them a project or an investigation. Because they will immediately say, I'm going to lose you for the next six weeks or six months. You may never emerge who knows what it'll be, it'll be too long, it'll be a big hassle. So air, but every editor wants a good story. So I would just say, think of it, maybe this is how you're describing an enterprise. I have a great enterprise story. I just have a great idea for a story or an interesting idea. I've done a little bit of work already and I found this little tidbit that nobody else has found. And and if I could just get an, a couple of hours a week to start doing more on it. I'd love that. And then as that builds up, maybe then you get your three weeks or three months or whatever it is. But it is a little bit of a game of how you pitch and how you sort of put yourself in your editor shoes and think about what their needs and wants and fears are, their fears losing you for six months and you don't want them. So don't say the big P word project. Last thing I'll say real quick is that you should do your research to, right? Like you you were touching on this, but, you know, I'm I'm I'm an older millennial, but I still had a lot of those old habits around just like working myself to the bone. But journalists are on Twitter talking about their workplaces a lot, the good and the bad. So do some journalistic work and figure out what organizations are treating their folks well, what organizations will give you the space you need to write whatever cadence is good for you, and use that as a resource. The gentleman in the red high-school teacher brought students with them high. Well, I will say it's a lot different than when I was in school because we couldn't we didn't have blogs. I mean, there are a lot of outlets that you have then just like the school newspaper that the principal controls, right? Can you could maybe work with local entities. You can host your own blog. They can't stop you from printing stuff there as long as it's accurate and true. So I think there are a lot more options out there than there used to be for high-school journalists. At least. I'm gonna jump, jump on that. Because I love the idea. I mean, look, every news organization, especially the for-profits one, sorry, but are trying to understand what young people think. Literally every single one. You guys are in a prime position to explain what's going on with your group of friends, with your group, how you guys are seeing some of the policies that are coming down. How it's affecting you, what it feels like in school when people are screaming at each other school board meeting. What it feels like with the teachers, what it feels like to do a drill every other week. That is, maybe there's a school shooter. I mean, you guys are in a prime position to tell us what it's like to be you. So, like you said, blogging, come, come together. You have a school newspaper, form your own. For a blog. You, and get somebody who is, there are plenty of us who would volunteer to look over copy. You know what I mean? To make sure? Because there are some legal things you do not want to libel someone or defame someone. There are things that you want to avoid, but you have a voice that's very different now because it can be widely read compared to the whole yearbook newspaper or the or the announcements? I think I did announcements once. I wasn't good at it anyway. But yeah, there's a lot of, I think your voices can play a really important role because you know things we can't know. I don't know half the acronyms you've got, you guys are gonna have to explain some of these acronyms on social media because sometimes I'm like, what does that mean? But you guys know things we can't possibly know what's happening amongst yourselves. Oh, wait, one more thing. Because I'd be remiss I joined this organization because of this young lady behind me. And I have to tell you the conversations that we get to have and the people that I get to talk to and work with. I am a little bit of a crazy person and I don't take my own advice, so I work insane hours, but there are real resource. The R-naught center is a real resource. The people that are on the board, many of them have done a lot of different jobs in journalism. And so use them, talk about them. Go look at what's on the website. Go look at what some of the students are doing. And lastly, not to bring the room down. But I do want to recognize that there is a death of a journalist and Orlando, it so happens that he is part of a group that one of my friends runs. And I just found that out today and not punched me in the gut. 24-year-old Dylan Lyons was shot and killed, covering shooting. A nine-year-old was also shot and killed in that same spray. Her name was Tiana major and his photographer is in critical condition. Jesse Walden is incredible condition right now. So please understand that this job is dangerous in this country. It's dangerous in a lot of different countries. And this is like my worst nightmare to be covering something and then you're gone or your colleagues hurt. Just be mindful that there's a lot of journalists out there that are, that are really upset over this. Thank you for that, Sarah, we opened our session today is talking about those people who got hurt and killed. Where's the high school group? You guys are the luckiest high school in America because Sarah side and are from CNN just volunteered to read your blog. Read and edit. I still can't spell by the way. So you're going to have to have someone else do that. Thank you guys. That was great. I really appreciate it. So a couple of things we're going to clear the hall because we have to redo this for Paulus beach. We had a table and everything. So we'll come back here at 05:00. I hope you'll join us. Paul olivine is is really one of the top reporters in the country. Investigative. Iu bookstore is also selling her book outside. So if you'd like to buy her book, I'm sure she'd signed up for you later, but please rejoin us at 05:00. And don't forget about the mixer later on after the session, after falls and speaking, you can meet all of these journalists up close and personal. Thank you. Oh. Morning. I would tell her. Yeah. And we said what looks like. So I just pulled some job and there's iron three-plus every application. And there are obviously a large number of them. Well, I know it doesn't mean that. Hi. Hello. Hello. Hi. That's it. Okay. Good. Yeah. Hi. Okay. All right. All right. Hi. Mr. You guys ready? Hello, can everybody take a seat? All right. Welcome back. If you're just joining us, welcome to the Arnold centers annual symposium. We have our final speaker tonight. Paula Levine from ESPN. I'm Paula was covering the Me Too movement before it was called that she's a sort of ahead of her time here. She's a champion of women in particular, who have been abused in their sports or by athletes. She uncovered the Baylor football sex scandal and even wrote a book which is available outside, put in a plug for either Paula. And while others broke the nasser gymnastic story. My friends at USA Today or Indianapolis Star, I'm sorry. Paula, broken wide-open by pounding Michigan and Michigan State officials to release the documents and showing us just how widespread that scandal was. But I'm also a fan. You can read all about Paula's career in our booklet or online, but I don't want to just tell you. I'm also a fan of Paula because she gives so much journalism. She's always at all of our investigative conferences. Ire. She's always a speaker in demand. And so we're really thrilled she could come to us today. She is from Nebraska, so don't hold it against are you guys? But one of the reasons I love Paul. Paula is in her work is that, you know, she just has the right take on our business in journalism. Listened to this gem of a tweet from Paul, unclassified Docs when that whole episode was exploded about Trump and Biden and pencil having classified docs, this is what policy. If the same people who processed federal foia request were in charge of classified documents, we wouldn't have this problem. Their masters and making sure information doesn't get out. And Paula has really been a champion of foyer. So without further ado, I'm going to introduce you to Paul, a loving. And can I just say one other thing? So Paul is going to give her speed, is going to talk for several minutes and then we're gonna try this. We haven't succeeded in any class in any session yet, but we're going to have some questions. Could you go to the mics? We're mixing both sides, so we're going to try this this time and see if that works. Thanks, Paula. Thank you for everyone who put this symposium together and thank you for Kathleen for this surprising opportunity. I do appreciate the warm welcome because the last time I was here, I wasn't what you would really call welcomed my colleague. Really Weizenbaum and I, we're here doing a story about some IU athletes who had complained about their medical care. And Kevin Wilson and Indiana had already parted ways, but people were still pretty touchy about the whole thing. So we were at the university rowing doc. I don't even know. You guys know where that is, but it's a ways from him. And I'm trying to battle the wind and the noise and do this. Stand up. And I'm thinking, okay, one of two things is going to happen. Some university PR person is going to come here and hassle me, or some dude on a jet ski is going to blow by and douse me as I'm standing next to this lake. But fortunately, neither one of those things happened. But I was prepared because it would not be the first time I would have to stand up for myself in a situation like that. As Kathleen mentioned, I did go to the University of Nebraska. And what I'm going to tell you now may cause me to lose all credibility with you because you will think that I'm a total fraud and that I am lying. But you can Google Meet and you can fact check me. Because there was a point in time when the Nebraska corn Huskers were the best football team in the nation. I know it sounds like crazy talk today and it's hard for me to remember, but it's true when I was in college. Nebraska one, not one, not two, but three national championships. And the coach of the time was a guy named Tom Osborne. And Tom Osborne, much like Bobby Knight here, Tom Osborne was, God, the man could do no wrong. He was the state of Nebraska. He was at the identity to everything. At the time. Of course, with this is September 1995. And as often happens with successful programs, TO is player has gotten trouble. There was a player who was currently charged with attempted murder that Tom Osborne allowed to practice with the team while this was happening. And the other was former NFL running back to Lawrence Philips, who was being talked about as getting money from an agent. And that would actually end up being the least of Lawrence Phillips is problems. But I worked for the daily Nebraskan at the time, which was a student newspaper. And the daily Nebraskan did a couple of editorial cartoons about these two football players and their various run-ins. And Tom Osborne did not like that. He didn't like it so much that he announced that the daily Nebraska and reporters would be banned from covering Husker football practices. And again, being the top team in the nation. This was a big deal, right? Word gets out and the national media jump on the news of Tom Osborne, ban. Abc, ESPN, The New York Times, the LA Times, The Associated Press, the Chicago Tribune wrote this scathing editorial. This was, this was a huge national story. The daily Nebraskan ran a story about the ban. On that same day. My colleague at the time and classmate, Jeff felony, sends me to cover the Huskers practice. I was not a sports reporter. He does not did not send any of the sports reporters. He looked at me. And felonies version of the story is that he looked around the daily Nebraskan newsroom and tried to pick up the one person who he thought was least likely to get kicked out in Memorial Stadium by Tom Osborne. And I'm sure that I was probably sitting in some corner of the room toiling away on some opus on student government wins. Eleni caught my eye. I need to put this in a bit of context to where I was in my life at the time. I grew up a painfully shy kid. And by the time I got to high school, I had developed the sense of righteous indignation, but I did not know what to do with it. When I landed in a journalism class, I realized that this was my n, because reporting gave me cover. It gave me an excuse to approach people, to ask probing questions that I would be afraid to ask otherwise. But even in college with this sort of newfound ability, yet. What Zealand he was asking me to do that day in September 95 was exceptional. So I had never been I mean, I've been doing Memorial Stadium but I'd never been to a Huskers practice. I literally did not know what door to go into. As I strode across campus with my little reporters notebook in hand, I kept rehearsing in my head what I was going to say. Memorial Stadium is this massive, cavernous like this shrine. And when it's empty, the glare from the concrete seeds and everything just makes it seem almost ethereal. And as I'm approaching this, I'm thinking, okay, I have no idea. Like once I get in here, I have no idea how this is going to go down. I knew that there would be other reporters. They're probably some TV cameras. I was so worried that I would do something embarrassing. But I found the right entrance to the stadium. And I walked through that door. As I made my way to the practice field and toward Thomas born, I was really sweating it because I knew that whatever I did or said that this was not just the Lincoln thing. This was now a national story. But as I got into position to ask my question, I got over the fact that Tom Osborne is really, really tall and much taller than I thought he was. I started feeling really empowered because I thought, you know, it's wrong of him to do this. Like we have a right to be here. It's wrong of him to ban us from practice. And so nervous as I am as I'm getting ready to ask my question, I am pretty fired up. I don't remember exactly what I said, but I know it was along the lines of well, I'm here. I'm from The Daily Nebraskan. What are you gonna do about it? I recall a bit of astonishment and resignation from Osborne. He's rather mild mannered man. And he responded by just trying to blow me off. He said and I quoted him at the time, your reporters can do what they want, but I have to go to a radio show and he walked off the field. Nevertheless, a few hours later, he lifted the ban and our reporters were allowed to cover practice again. And you never explained why? Maybe he realized that the eyes of the nation Ron him, I have no idea. But we won. And we were all better for it. I'm glad I went and I'm glad that Jelani sent me. If any of you follow politics, you will know that Z Melanie is today the chief national affairs correspondent for CNN, where he's confronting a lot more powerful people than football coach tom Osborne. Although we did get a second shot at Osborn and Osborn, because he is Tom Osborne got elected to Congress and serve some time there, as in Nebraska wrote. So that day ended well, but I have to admit my first reaction when Zell and he asked me was extreme discomfort. I was really uncomfortable going into an environment that was totally foreign to me to challenge someone who was essentially God. But being uncomfortable was what made it worthwhile. And it's frankly what drove me to do it. I've been uncomfortable a lot in this business. I was a 20-year-old newspaper intern in New Orleans when I got called to cover my first fatal car accident. And I simply walked right in there with the firefighters until the New Orleans police public information officer signal me over and literally started screaming at me in front of a press Scrum because he said that I had contaminated his crime scene. I remember the first time I walked through the doors of a federal courthouse in Houston to cover a major civil trial. I remember knocking on doors in East Baltimore to cover a crime spree. I still have one of the empty tear gas canisters from when I helped cover the World Trade Organization protests in Seattle. When our editors basically handed us gas masks and dropped us off downtown and said, go find what's going on. Then there were all those times when someone told me no, you can't have that record or the countless pushback from agencies telling me that's a lot of numbers. I'm not sure you'll be able to figure that out. Young lady. There is a saying about journalism. And it goes like this. The role of the newspaper is to comfort the afflicted and afflict the comfortable. But maybe it should start with your own discomfort. Being uncomfortable isn't just about putting yourself into physical places and times. It is about stepping into new worlds and new basis of knowledge. It's about going into those worlds and admitting what you don't know. And that's really uncomfortable. I spent in college a semester in Ireland, and I did freelance work for a publication called The Sunday Business post. And one day, one of the editors asked me to write a lengthy profile on Republican presidential candidate Pat Buchanan. The thinking was your, the American here. So you're in the best position to do this. And I was really hoping that it would be, hey, Pearl Jam is in town there from the states you're the American, like maybe you should go cover them or interview them. That is not the case. Pat Buchanan. Now, as much as I follow politics, this was not in my wheelhouse. I admitted that to the editor. I remember he said in a mix of incredulity and matter-of-factness, instructing me to find out and write what I learned. And I appreciated the faith that he had an MI. But more so than that, I appreciated the fact that he essentially just shoved me off the diving board. So I did the research, the reading, and the work, and I made it happen. And by God, they liked it. They ran it like the newspaper at the time was this massive broad leaf paper and really bright colors for the photos. And I remember they just ran this huge thing that I had written in this newspaper in this major global city. And as I'm walking around Dublin, seeing it on these new stanzas like, oh my god, like this. This is really pretty cool. I did this and I was still in college. So that was a big feet. And going to college, I knew that I wanted to major in journalism. But what sealed it for me at the time was that journalism, Lisa and Brassica was one of the few majors that did not require any math. And I did not want to do math, having come off a final semester in high school with a cheerleading coach as my trigonometry teacher. But it had a classmate who was getting into data journalism, which at the time we called Computer Assisted Reporting, which sounds so archaic now. And I saw how awesome it was, what he was doing. And I thought, no longer did you have to rely on the anecdotes. And the, he said, she said of a story, you could actually go to the numbers and simply get an answer, yes, no. And if you're lucky, maybe even why? Using data in your stories made them bulletproof. So it wasn't until after college, I dove into all those numbers. Attending workshops, living on the data journalism listserv, and banging my head against the wall when I would write the same script over and over again, it would make the same error. Just still do. But I'm glad I did it because it became a cornerstone of my career. And today I preached the value of using data, statistics and numbers in your reporting. And getting out of that comfort zone for me with math really paid off. Because in 2007, I was at the Des Moines Register, part of a group of data journalists for Egonet. And I was delving into stories on biofuels and organic food fraud. When I got a call from Dwayne Bray, the former editor at the Dallas Morning former Metro Editor at the Dallas Morning News, where Duane and I had both worked. And Duane was then working at ESPN and he was putting together an investigative unit and he wanted someone with data journalism skills. I had never worked in sports and I had never worked as a TV reporter. Here is Duane asking me, Do you want to come to ESPN and be a sports television reporter? And I knew that beyond this door of opportunity was a path that would take me away from newspapers forever. But I had a chance to do investigative and data journalism on a national, even global scale with incredible resources. So despite the unfamiliarity with sports and television, I said Absolutely, I'll do it. And I've never regretted my colleagues and I have done some tremendous work. And I'd like to think that we've rock the boat enough to make at least some difference. We've exposed liters at major universities, either hiding or lying about sexual assaults. We've uncovered athletes running fraudulent charities. We found high-stakes gambling on grade school kids playing football. We've held law enforcement agencies to account for failures and investigations, including a murder of a college football player. Reviews data to show that athletes are indeed more likely than non-athletes students to be the respondent in a sexual assault complaint. We've routed out wrongdoing in government, universities, companies, and the professional leagues. In some cases, our stories lead to people being sued, fired, or all three. We have, as the saying goes, afflicted the comfortable. And afflicting the comfortable means to hold people and institutions and power to account. It is to be a watchdog. Now let's talk about the other part of the saying, comfort the afflicted because that one can get distorted. I feel that saying that you should give a voice to people who don't have it on their own or who feel powerless. You should investigate the claims of whistleblowers, victims, people who might be oppressed. But even as you do this, remember, you are still beholden to the full set of facts. Comfort the afflicted does not mean your to be an advocate. Sometimes you still have to ask the tough questions of the people who come forward to speak out against those who have wronged them. It essentially means you have to vet the victims. And that too can be uncomfortable, maybe even more so than than confronting the alleged wrongdoers. There may be no more sensitive of victim than someone who has reported that she's been raped. And I've listened to many of them. And I've had those hard conversations because they needed to be had to substantiate the story. I've had to confront a survivor about inconsistencies in what she told me and what was in a Title Nine report. And I told her that we had to have that conversation now and be forthcoming about it. Instead of putting it out in a story without explanation and giving people the ability to poke holes in it and essentially invalidate everything she said. And I want to make clear here that it is not uncommon for there to be inconsistencies in what a victim reports and does not mean that she's lying, but it was something we needed to address. When my colleague, Mark Slaybaugh and I were writing our book violated about the sexual assault scandal at Baylor. Weird one survivor who asked us not to use certain details from her police report because they were embarrassing to her. One of them we did agree to withhold because it really didn't have a lot of bearing on the case. And it was a very physical description of part of her rape. But on the other one, I told her we have to put it in the book. Even if it was embarrassing to her for a couple of reasons. It was part of the alleged perpetrators defense and it was a salient and important issue to address. And it was this it was that she had consensual sex with him a day after day or so after the incident that she reported as a rape? It was an uncomfortable thing to tell her, but it was the right thing to do. Because what she did is something that other rape victims do. And to understand why she did, it is important to understand the complexity of these cases. I know sometimes the mere act of my calling a woman who has reported being raped can be difficult for her, even traumatic. And I recognize that, but I still have to do this work. I think it's a disservice if you make the assumption that the person isn't going to want to hear from you. Because it has surprised me over the years, how many times I will finish that conversation. And the woman or man, I want to know what to leave that out would say. I am so glad you called. I never thought anyone would care. And you know who else I call? I call the rapists or the people who had been accused. And I include some of their story and some of the facts I get from them. I know some people take issue with that, saying that it's promoting a false narrative or piling onto victim-blaming. But I know it deserves to be in the story because in order for anyone to believe in anything I've written, I need to show them that they are getting the full picture. And I also believe that hearing that perspective has value because if you don't know how someone gets to that point or what influences him or her to do something like that, you have no idea how to address that behavior or that circumstance moving forward and you need to. And that holds true for sexual assault stories, just as it does in any case Re of one party or group of people who are speaking out against a perpetrator or power. There is a strong sentiment in journalism right now. Pushing people away from the idea of objectivity. Assuming that objectivity simply means giving both sides of an issue regardless of how unsubstantiated one of those sides may be. That true objectivity is impossible because we all have bias based on our own life, experience and environment. And that even the choice of stories to report on is influenced by that bias. But here's what you do to address that. You take an issue, report, all the voices that are speaking out on it, what they say, who they are, what their motivations might be. And you fill that out with facts from other sources, documents, data, public records requests from your own observations. The goal isn't to tell a balanced story in the sense of sides, is to tell a complete story. And there is another saying about journalism, which is this. If someone says It's raining and another person says it's dry, it's not your job to quote them both. Your job is to open the window and look. It is tempting in this line of work to get drawn in by the outrage and stories you report on and feel that you need to do more. But remember that your role and the reason your words will be trusted. If you're going to have a functioning democracy, you have to have a place you can go where you can trust that someone is reflecting the society for what it is, not for what we want it to be. Someone has to play that role. That's what journalism is. I am not an advocate and I cannot be. The best thing you can do is report and uncover what is wrong. There are plenty of other people who can take the ball from there. But you can't be one of them. You can't be donated to campaigns, putting up yard signs, splashing your political views all over social media. You have to tell your friends know, sometimes that can be the most uncomfortable of all. Again, that's okay. Regardless their intentions, people will always try to sway you. When powerful people, agency's leaders and anyone with an impressive sounding title says No, it's easy to accept that. It's sometimes uncomfortable to challenge authority. But do. Because powerful people, agency's leaders and people with impressive sounding titles can often be wrong, either mistaken or just outright lying. They can try to keep you from the truth. I've had students, journalists, are those just starting out? Ask me what to do and some sports information director says, media may not contact athletes directly. Now the SID might try to sell this to you as a protective act to make sure it's athletes aren't distracted or subject to public pressure. But what about the athletes who believe they are being harmed by the institution? Who want to speak out but who are being controlled. What about the young male athlete who are doing? Covid told me he couldn't talk about his concerns for medical treatment at his college because the SID told him he couldn't. All the female athletes at many institutions who were told to only report their assaults to a coach or someone in the athletic department so as to keep it in house. They need you they need you to get around the gatekeepers. They deserve to have their voices heard and for people to be held accountable. So when that request comes from the SID or the PIO or the PR person, and it's a barrier. Say no. You do not work for them. You do not work for the school. The company, they do not tell you what to do. Your editors, producers, directors, they tell you what to do. But even then, you do not work for them or for any media outlet. As much as you work as a journalist. You work as the eyes and ears of the public. You work as someone with the sacred trust of viewers, readers, listeners who expect you to observe, inquire, and investigate what they cannot. You work with someone responsible for conveying the truth and relaying what has been hidden, ignored, or undiscovered. Sometimes that's ugly. Sometimes that's not popular. Sometimes the truth is something people wish wasn't true, but you still have an obligation to be true. And that can put you in a very uncomfortable situation. I have been in that uncomfortable situation many times. And I have drawn the ire of large groups of people who were not happy to read what we were reporting. Even though it was all entirely true. I've had people say they wish I wouldn't be sued, fired, even raped. I've had my face superimposed on many unflattering images. And there have been many derogatory comments about my appearance. My work has been subject to endless deflection and conflation. I had one university interim president even publicly state that we should offer an apology to an athlete who is alleged sexual assault. We reported on that athlete would plead guilty to misdemeanor assault, but will remain on the team. A couple of years later, university investigators would find him responsible for having a sexually assaulted a different woman in a separate incident. The interim president never addressed the whole topology issue after that. Allowed crowded people didn't want to hear that. And they made their displeasure known. So it comes down to this. You can either bask in the iteration of the sick of fonts or you can earn the respect of people who value integrity and who are empowered by information, even if it's information that might expose a wrongdoing tied to or about something they value or love. The trolls and gatekeepers can make your life pretty uncomfortable, but only if you let them. You can waste your time trying to reason with them. Or you can do as I do, which is simply envision them sitting in their mother's basement, watching porn, posting on fan sites and eating a hot pocket. That's my happy place. But really none of that abuse is okay. None of it's okay. Not at all. Not the trolls, not the power monger is to deny the facts, but I know what's true and I know what matters, and I know who matters. In the summer of 2020 through a series of requests and constant pestering of prosecuting attorneys. My colleague Tom Gino and I got records more than 40 years old in a rape case in Pennsylvania. They were hard copy, either handwritten or typed on a typewriter. Some of you might not know what a typewriter is. They had the names of several women who had reported being raped or attacked. One of the women was Elizabeth Betsy sailor. I knew that she'd be in her early '60s by then. I figured maybe married under a different name, maybe dead for all I knew. But I search for days. I left a lot of really confusing voicemail messages on people who weren't Betsy sailors, machines, or phones. Until I call the number in New Hampshire. I said I was looking for the Elizabeth sailor who went to Penn State in the 1970s to confirm that was her. Then I said, to make absolutely sure I'm looking for the Elizabeth sailor who made a police report regarding a crime. At that point, I would know if I had the right Elizabeth sailor. And it's at that point when I make these calls that I hold my breath. I didn't know she was going to hang up the phone. I didn't know what she was going to yell at me. No idea. There I sat fingers ready to type. When Betsy calmly and concisely said she was indeed the right Betsy sailor. And for the next 90 min, took me through step-by-step about her assault by former Penn State football player Todd hard knee. I had read her grand jury testimony from 1978 and it was almost word for word what she was telling me that day. While we talked, Betsy told me about another football player or a team mate of Todd Hayden use his name was Earth panky. After Betsy's grand jury testimony that several of the football players, including Earth, had attended. He came to her dorm room and knocked on her door. He extended his hand. He introduced himself and said, I believe you I believe every word you said and told her that she would never have to walk alone anywhere on that campus. Talking about See, I knew right at that moment that, that interaction was a thing unto itself. About a year later, Earth would again knock on Betsy's door at a studio setup that we created in State College, Pennsylvania. And the two of you reunited after 40 years. Very long story short, our story called untold, ended up giving Betsy and several other women a chance to finally tell their stories and hold a team, a coach, institution, a community to account. We made a film separately about Betsy and nerve and herbs. Incredible gesture. This is a bit of a spoiler alert. But Betsy nerve, who were both widowed, are today a couple, very much in love. When I say I know who matters, It's Betsy who matters. What this reporting meant for her and for all the other women whose lives have been cast aside. It matters to any survivor who sees herself or himself relegated to the same void in history, knowing that their story has value and that it matters that there isn't impact and sharing the facts and their experiences. This all really got going after finding just the right document. This work is not easy because there are so many forces not wanting the information to get out. And that's everything from an agency denying a public records request to someone threatening your life. Here I must mention that, as has been talked about before, and other panels we are reminded today with the news that just yesterday reported was fatally shot and a photographer injured while on assignment in Orlando. There are definite risks to doing this. You need to know to trust, and to be skeptical. If something doesn't seem right or seems incomplete, you have to confront it and give people as much information as you can clearly and concisely so they can make sound decisions and form educated opinions and keep our democratic society afloat. There is something about this industry that has stuck with me ever since I was in high school. It was my first journalism class as a sophomore and we had these textbooks. And in one of the first chapters, there was a line that said, you don't need a license to be a journalist. And that's stuck with me. Think about that. Need a license for a lot of things. You need a license to be a Dr. an engineer and attorney and massage therapists, even to sell real estate. But you do not need a license to be a part of the Fourth Estate. And as such, the industry follows certain ethics and standards and on its own, has to engender public trust. And yes, we are in an era where we are bombarded with information and people struggling to distinguish among a hot take a social media blitz, a PR campaign, talking heads, disinformation, an actual news. But journalism means you follow these standards. And as you investigate and report and you share facts and your complete and you give context, your name will come to mean something. And you will become a trusted source. And when you succeed with this, what you publish has power. And always remember that. I'm an editor at ESPN, a guy with whom I've worked for more than 20 years. And he reminded me the other day if something a former colleague of ours once said about landing a big investigative story. And this isn't the time when your story didn't actually come out until it landed in the driveway in a big fat Sunday Edition. But he said, you should never sleep well. The night you file a major story. Should be sweating it until it hits the driveway. You can take that a couple of different ways. But what he meant was you should be nervous, anxious, excited. Because you know, there's a lot at stake. Many times you are about to drop a bomb. Even if you believe all your I's are dotted and your T's are crossed and accurate and everything has been checked. You should still appreciate the gravity of what you're about to do. And that too is uncomfortable. But that type of uncomfortable means you're doing something difficult. But something very, very right. We have a real desert now in journalism. Northwestern's Middle School of Journalism do a study on this. And it showed that 70 million residents, or a fifth of the country's population either lives in an area with no local news organization or one at risk with only one local news outlet and very limited access to critical news and information that can inform their everyday decisions and sustained grassroots democracy. About 7% of the nation's counties, or 211, now have no local newspaper. Do you want to know why there's an extra tax on every meal you buy at a restaurant. Are you upset that they closed down the free health clinic in your neighborhood? When you jogged by that stream in the morning, are you wondering like, why is there this yellow film on it? Do you want to know why your legislature refuses to make changes in state laws on gambling, marijuana, or abortion rights. You won't find any of this on a cable TV news shout match. We need people who know what they're doing in those city council meetings, at those legislative hearings, in the faces of those policymakers. We need people to demand the data from police departments. We need journalists to hold accountable the pillars of our society, politics, the judiciary, elected officials, medicine, finance, housing, law enforcement, entertainment, and sports. We need real investigating and exposing hard truths. Even if that challenges established beliefs. We need journalists to feel empowered and entitled to the truth. And why? Because today's public needs reliable facts and information. Because without that, we risk allowing wrongdoing, corruption and false narratives to jeopardize our security, safety and our very democracy. We need more investigative journalist to accept that challenge. If you are feeling uncomfortable because you might get people in enraged that you might append a way of doing things that you might knock down an idle. If you're asking yourself, should I have asked that question? Should I have knocked on that door? Should I have challenged that records denial? Should I be filming this right now? If you're asking yourself, do I have a right to should I be here? Should I walk through this door? You already know the answer. Hell. Yes. That is all I have. Onward. Lights on both sides, so somebody's already getting directions to get out of here. Okay. I think working okay. So you obviously are investigating things and doing things that are going to put you in positions of, as you said, hated, not like so on and so forth. What have you done to protect yourself in situations? And how do you go about this in a way that prioritizes your safety? In terms of protecting myself in a very real sense of someone physically coming after me. Not even that, like yes to an extent, but also like you're naming your reputation. Well, I protect myself by continuing my reporting. I mean, in the example I gave about the president who is calling for the topology and the trolls and everything after that, I mean, my response to that was just to continue reporting on that story, continued unearthing issues at the university, and just keep putting out facts and proving that backing up everything that we had initially reported. And that's that's the best thing you can do. I have I rarely ever respond anymore to anyone on social media or even an e-mail who has some inflammatory thing, I'll answer people's questions if they have a legitimate question. But I'm not going to engage in any sort of back-and-forth with people who, as I, as I told you, I envision them doing their thing and they can have their opinion, but I will continue reporting and that will backup everything that we've done and that we stand by. Well, Good. Anyone else? Yes. So I, it's a different way of thinking about math. Not so much as the torture is trigonometry class, but actually more about thinking of as how you can find relationships, right? And it's like I was saying, it's a matter of taking something that's sort of an anecdote and using data to prove whether it's right or wrong. I will go back to the example we had for years. People were always sort of speculating on, well, it seems like there's a lot of athletes who are getting in the news for sexual assault, but that's just happening because they're athletes and their high-profile. So we're like, okay, well, we can sit here and debate this and go back and forth, or we can just get the numbers and find out. And that's what we did. And we found out that they were indeed three times as likely as non male athletes students to be accused of sexual misconduct. What I advise, if you're interested in this, if first of all, I, I encourage all of you to be interested in data journalism. Because as we're in this era of people not trusting the news, data work, I think is so important because you can show your math. Alright? And you can show people how you got to the findings that you got because it's all right there. It's all right there in the numbers. And the numbers can reveal things that you may not have known. They can reveal relationships. They could point you to outliers. An outlier is themselves might be a story because outliers may be evidence of wrongdoing or cheating. And I encourage you if you have the opportunity to take data journalism classes, take them. As students. You can be members of NACADA, the National Institute for Computer Assisted Reporting. There is so much information out there. There are boot camps that are in-person online, that are in virtual that you can take to learn more data skills. Look at the fact, one of the best things to do, which is what I did sort of starting out was looking at the stories that have been done with data journalism. And really gets your own mind going with, Wow, I could maybe do that in my newsroom or in my market. So is that, have I preached the, the benefits of data work? Alright. I mean, I make it a practice. Regardless of the type of reporting you do, you should do this to lock down all of your social media accounts, even though some platforms and making that little more difficult with as much sign-in security as you can so someone doesn't hack your account. And, you know, it's funny. I had a colleague of mine recently who came to me and said, I'm getting all these. This is someone else who's reporting on a different college. Athletic program saying, Oh, I'm getting all these threats and everything. Can you help me go to these websites and say, Hey, you can background anyone for whatever. And she's like, Can I get my information scraped from there? And I said Yeah, I said but that's not your problem. Your problem is that you're putting too much of this crap out on Twitter already yourself, voluntarily. So as a journalist and monitoring your own social media audience, I mean, stuff that is out there that's truly public. Don't talk about where you, I mean, it's hard when you're a student, but try not to talk about exactly where you live, your family, where you're going. You don't give people an opportunity. Don't as much as people worry about the sort of data miners and these background check companies and whatnot. I think more often than not, the information that people who are harassing you beyond social media are getting is stuff that you are voluntarily putting out there. So yeah. Okay. I'll take that in two sections. It was hard it was harder for me making the transition to ESPN with the whole not having done sports, not having done broadcasts. It was a lot harder for me to get into the broadcast aspect of it because I'd never written a script, I'd never tracked anything, I'd never done anything on camera. It was kind of an odd place to learn that on the fly. But I credit all of my amazing colleagues, including TJ coin here for helping me out with that. And just but yeah, I mean, it's it's really it was really on-the-job training, which I don't know if I would recommend that exactly, but, um, but fortunately, I had people who helped me with that. And then your second question, one of the things when I talk to college students that I mentioned, I mean beyond the data. So two things I always mentioned. One is the data journalism thing, right? The second thing is that as you go into this industry, I do not think of it as your do not think of it as I'm going to go into one particular medium. Because anymore you need to be able to do all of this, right? You should come out knowing how to write a short story right along in a feature story, um, do something on camera, do a podcast, you know how to put together a social media campaign for your story. All of these things, right? I mean, I mentioned the piece that we did on Todd hardening and the Penn State rapes. And when that story came out, I mean, we have this ridiculously long Online story. We had the film that the Betsy and her film, Tom and I did a podcast episode on it. There was a TikTok video. We did not do it, thankfully, somebody else did. And then there was an Instagram story. So you need to know how to do all of these things. So as you're thinking, oh, I just wanted to do, I just want to be on TV or I just want to write, or I just want to do podcasts like that's not the way the industry is anymore. So keep in mind that when you're here and you have the opportunity to do it, take advantage of all the possible training for all the possible media that you can get your hands on. Anyone else. Sarah here are Sarah's. So we have a little tradition with all our keynote speakers, we adopt you, you become a Hoosier and you've been complaining all day, it's cold, So we're hoping some of this helps you. So we have a lot of our Indiana, so I know she said she was from Nebraska, but we have a better color of red here. So pretty much. You have a lot of art swag. Thank you so much for doing that. Thank you. Alright, so what we're gonna do now, and I really appreciate it. One of the things that Paul talked about was converting from print to broadcast. I also was a convert from print to broadcast. And so as Professor Jerry Illinois Kahoo's here. And none of us could have done it without our colleagues. And I think that's one of the things that's great about our business. Everybody is a fraternity. Once you're in it, you're always in it. And that's also why we've all asked you to keep Dylan lions only 24 and his photographer and the two other victims in your thoughts and prayers today because attack against one journalist is attack against all of us. And what happened last yesterday is just sickening. But on a lighter note, Paula is we're going to try to turn this one more time. I want to thank all the speakers for coming. You talk about a fraternity. I called some of them late. Hello, Paula said, could you do this for us this year? And every one of them said yes. And there here, whether Paula got stuck in omaha, had to fly to DC to get here yesterday. Sara Sidner landed in Indian. Her and CNN said, We need you in Ohio. So she flew early this morning to get here. In all of our other speakers. I really appreciate all of you coming. I want to thank one more time our sponsors, Scripps Howard Foundation, Lumina Foundation, the Indiana citizen, SPJ indie, indie, Indianapolis, sorry. Great TV. Who's your State Press Association Foundation, Indiana Broadcasters Association, Hutton honors college in Indiana, local news initiative and all our partners who can see them on your program. We're going to have, we think it's important that the reason we have this symposium is to make investigative journalism accessible to everyone. We also want our journalists to be accessible. So we're going to convene to the commons area right here. And I think there's some refreshments and cookies or something like that. But you also have a chance to meet our board members. All of them are we're in have been working journalists at some point, meet our board members and meet our speakers. And we also have Paul I told you as an author, so we also have a book out there. If you'd like to buy her book, I'm sure she would sign up for you. And thank you again. We appreciate everybody coming today. Thank you.
Nationally renowned investigative journalists shared their wisdom with students and the community Thursday at the Arnolt Center for Investigative Journalism Symposium. 
The annual symposium provides journalism students with a glimpse into the investigative reporting side of news by inviting professional journalists to speak on panels and talk about their experiences in the field.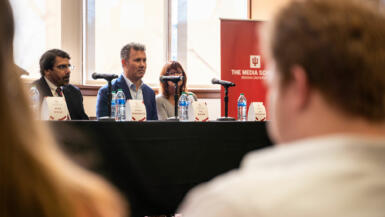 "The overriding purpose is to make investigative journalism accessible to all," said Arnolt Center Director Kathleen Johnston. "We're an investigative reporting center, and we're training the next generation of investigative journalists. Part of that is to let them see what people in the field do and how they think."  
The two panels, Investigative Journalism in Sports Reporting and Emerging Models of Investigative Journalism, offered students a chance to learn more about sports journalism and nonprofit news models from industry professionals.  
Investigative Journalism in Sports Reporting featured Gray Television senior investigative producer Jill Riepenhoff, USA Today reporter Steve Berkowitz, and ESPN investigative reporter T.J. Quinn. Media School Lecturer Mike Wells moderated the panel.  
Emerging Models of Investigative Journalism featured ProPublica editor George Papajohn, Capital B co-founder and chief audience officer Akoto Ofori-Atta, and Indiana Capital Chronicle editor-in-chief Niki Kelly. CNN national correspondent and anchor Sara Sidner moderated the panel.  
The symposium concluded with a keynote address from ESPN investigative reporter Paula Lavigne. Lavigne is a part of ESPN's enterprise unit, in which she has investigated transgressions such as sexual assault in professional and college athletics, bribery in college basketball, gambling on youth sports, fraudulent pro-athlete charities, and many other topics in sports.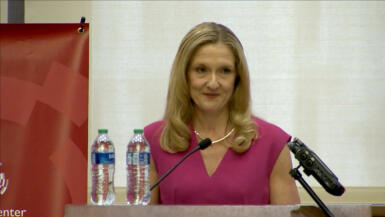 Lavigne spoke about the role of a journalist in society and her experience as an investigative reporter. She highlighted both the good and bad sides of being an investigative reporter. The job can come with a lot of discomfort, she said, as journalists often interview victims of crimes or alleged assailants.  
"Being uncomfortable is what makes it worthwhile," Lavigne said, as she advised that a good story starts with a reporter's discomfort.  
Lavigne has covered sexual assault many times — she broke the Baylor sexual assault scandal story and has chronicled the case in her book, "Violated." But she warned student journalists not to confuse reporting on sexual assault with advocacy. Objective journalism requires the reporter to speak to the accused person in order to report a full story, she said.
While she is not an advocate, Lavigne said sexual assault victims have told her, "I'm so glad you called. I never thought anyone would care."  
Lavigne preached traditional notions of journalistic objectivity, even as those conventions are increasingly challenged. 
"The goal is to tell a complete story," Lavigne said. "The best thing you can do is report and cover what's wrong."  
At the end of her address, Lavigne said it's a journalist's job to hold accountable the pillars of our society. She stressed that journalists must follow standards, report, and give context. If this is done successfully, then what they publish will have power, she said.