IDS, Arbutus take top ICPA honors, plus 83 other awards
The Indiana Daily Student and Arbutus yearbook took top honors in the Indiana Collegiate Press Association's annual competition this week.
The IDS was named Division I Newspaper of the Year, Advertising Publication of the Year and Online Publication of the Year. The Arbutus was named Yearbook of the Year.
The publications also won 83 individual awards.
Online
Best Animation/Interactive Graphic, first place: Annie Aguiar, Colin Kulpa and Jacob deCastro, "What's Tom Allen Worth?"
Best Animation/Interactive Graphic, second place: Vivek Rao, Jacob deCastro and Anna Brown, "How IU does its laundry"
Best Breaking News Reporting Online, first place: Annie Aguiar, "'It was ours': Monroe County residents struggle with loss in tornado's aftermath"
Best Breaking News Reporting Online, second place: Caroline Anders, "Barge Resigns as Monroe County commissioner amid harassment accusations"
Best Facebook Page, third place: staff
Best News Feature Reporting Online, second place: Annie Aguiar, "A little less than kind"
Best Overall Website, first place: staff
Best Overall Website Design, second place: staff
Best Slideshow, third place: photo staff, "Cutters win Little 500"
Best Special Presentation, first place: staff, "2019 Little 500 Guide"
Newspaper Division 1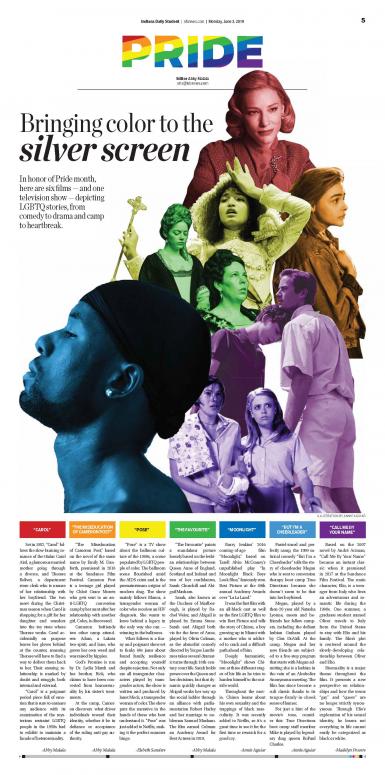 Best Breaking News Reporting, first place: Emily Isaacman, "Parents charged for abusing, starving 12-year-old son to death in Bloomington"
Best Continuous Coverage of a Single Story, first place: Ellen Hine, Lydia Gerike and Annie Aguiar, "Schooner Creek Farm"
Best Editorial Cartoon, first place: Madelyn Powers, "Trump and the Giant Impeach"
Best Editorial Cartoon, third place: Madelyn Powers, "Send her back"
Best Entertainment Column, second place: senior Abby Malala, "Think about representation for Asian American and Pacific Islander Heritage Month"
Best Entertainment Story, first place: Emily Miles, "The role models: Drag Queen Story Hour shapes a new normal"
Best Feature Page, first place: Annie Aguiar, "Bringing color to the silver screen"
Best Feature Page, third place: Annie Aguiar, "Globetrotting through the Hoosier state"
Best Feature Photo, second place: junior Sam House, "Lotus Fest dance"
Best Feature Story, second place: Madi Smalstig, "The last case: Court appointed special advocate retires after 25 years"
Best Feature Story, third place: Mel Fronczek, "The toll it took"
Best Front Page, second place: Annie Aguiar
Best Illustration, first place: Annie Aguiar, "Game of Thrones"
Best Illustration, second place: Kendra Wilson, "Legalize Marijuana"
Best In-Depth Story, second place: Lydia Gerike, "Open secret"
Best Informational Graphic, first place: Annie Aguiar and Colin Kulpa, "How much is Tom Allen Worth?"
Best Informational Graphic, third place: Annie Aguiar, "Class of 2023"
Best News Photo, third place: Izzy Myzak, "Invest in me"
Best Non-Deadline News Story, second place: Christine Stephenson, "'Thank god we are here': Bloomington clinic provides care to immigrant community"
Best Non-Deadline News Story, third place: Lilly St. Angelo, "Workers return after GM strike: 'We didn't lose, but we didn't gain anything'"
Best Opinion Column, third place: Tom Sweeney, "Deliberate or otherwise, IU meal plans appear harmful"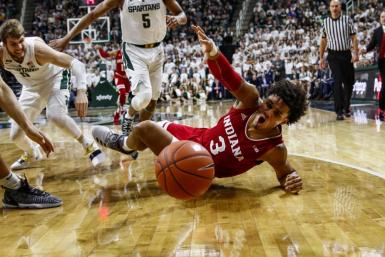 Best Overall Design, second place: staff
Best Overall Design, third place: staff
Best Photo Essay/Picture Story, first place: photo staff, "Little 500"
Best Photo Essay/Picture Story, third place: Matt Begala and Alex Deryn, "The global climate strike comes to Bloomington"
Best Pull-Out/Wrap Section, first place: staff, "Little 500 Guide"
Best Pull-Out/Wrap Section, second place: staff, "Basketball Guide"
Best Review, second place: Annie Aguiar, "'Shrill' is everything I have ever wanted in a television show"
Best Review, third place: Kevin Chrisco, "I wanted Yandhi"
Best Single Issue, first place: staff
Best Single Issue, third place: staff
Best Special Section Front/Cover, third place: Annie Aguiar, "Housing Guide Fall 2019"
Best Sports Column, first place: Jared Kelly, "Dawn of a new era"
Best Sports Feature Story, first place: Phillip Steinmetz, "Matt Cooper almost didn't live to race in the Little 500"
Best Sports News Story, third place: Phillip Steinmetz, "Cutters win second straight men's Little 500 title"
Best Sports Page, second place: Tristan Jackson
Best Sports Page, third place: Kendra Wilson, "Black Key Bulls"
Best Sports Photo, first place: Anna Tiplick, "IU v. MSU"
Best Staff Editorial, third place: editorial staff, "Indiana needs to create concise, effective hate crimes legislation"
Best Themed Issue, first place: staff, "Source"
Best Themed Issue, third place: staff, "Homecoming"
Yearbook
Best Academics Spread, first place: Ellen Hine and Andrew Williams, "Square pegs, round hole: New center helps veterans navigate IU"
Best Academics Spread, second place: Andrew Williams and Molly Cunningham, "Welcome home, Hoosier"
Best Album/Portrait Section, first place: staff
Best Cover, first place: Andrew Williams
Best Feature Photography, second place: Andrew Williams, "Pridefest"
Best News Photography, first place: Ty Vinson, "Kookout's canceled"
Best News Photography, second place: Ty Vinson, "Obama and Donnelly hug"
Best Organizations Spread, first place: Andrew Williams, "Just strolling through: Black greeks celebrate Homecoming"
Best Organizations Spread, second place: Peter Talbot and Ty Vinson, "Operation Walnut: Club saves IU's squirrels one nut at a time"
Best Overall Design, first place: Andrew Williams, staff
Best Special Section, first place: Katie Franke, Matt Begala and Andrew Williams, "Homecoming"
Best Sports Photography, first place: Sam House, "Field Hockey"
Best Sports Photography, third place: Anna Tiplick, "IU v. Purdue"
Best Sports Spread, first place: Dylan Wallace, "Remembering George Taliaferro"
Best Sports Spread, third place: Phillip Steinmetz and Bobby Goodin, "Big Kick Energy"
Best Student Life Spread, first place: Christine Stephenson and Alex Deryn, "Searching for Sisterhood"
Best Student Life Spread, third place: Andrew Williams, "IUnity celebrates MLK Day"
Advertising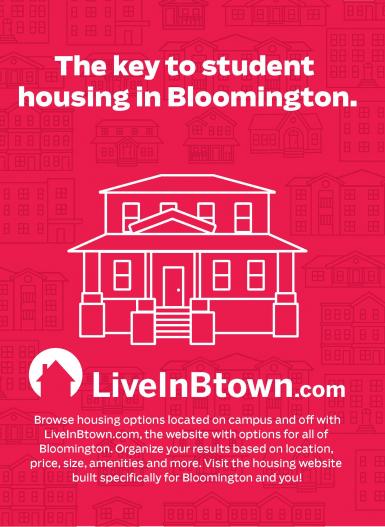 Best Ad Design in a Special Section, first place: Cassia Chryssovergis and Carly Graham, "Live in Btown"
Best Ad Layout, first place: Cassia Chryssovergis, Sarah Keesling and Brooke Sturgeon, "Breast Cancer Awareness Walk"
Best Ad Layout, second place: Cassia Chryssovergis, Carly Graham and Lauren Koultourides, "Housing Fair Fall 2019"
Best Black and White Display Ad, first place: Carly Graham, "Bicycle Garage Inc. — Courage"
Best Black and White Display Ad, second place: Brooke Sturgeon, "Little 500 Coverage"
Best Display Ad, first place: Sarah Keesling, "Eyes Playing Tricks?"
Best Electronic Display Ad, first place: Carly Graham, "Elkins Apartments — Big Places, Low Prices"
Best Electronic House Ad, first place: Gregory Van Dyke, "Housing Fair Fall 2019"
Best Full Color Display Ad, third place: Carly Graham, "Mays Greenhouse Spring Open House"
Best Full Color House Ad, first place: Cassia Chryssovergis, "Email Headlines"
Best General Media Kit/Marketing Package, first place: staff, "IDS Marketing Packages"
Best House Ad, first place: Cassia Chryssovergis, "Football Email Headlines"
Best House Ad, second place: Cassia Chryssovergis, Carly Graham and Lauren Koultourides, "Housing Fair Fall 2019"
Best Rate Card, first place: staff, "Indiana University Student Media Kit"
Best Self-Promotional Campaign (three or more pieces), first place: Cassia Chryssovergis, Carly Graham and Lauren Koultourides, "Housing Fair Fall 2019"