Empty offices, extended mics: COVID-19 alters the summer internship experience
When Sami Sharfin reported for her first day at her summer internship, she couldn't shake her boss's hand.
As the coronavirus pandemic sent states into lockdown, many students' internships were canceled or transitioned to remote work. But Sharfin and other Media School students proceeded — cautiously — with their summer plans.
But things are different this summer.
Sharfin, a junior in The Media School interning in public relations at menstrual products company Aunt Flow, arrived at her internship to a nearly empty office. The entire company, save for her boss and one other person, were working remotely. Slowly, through a back-to-work-safely initiative, other team members returned.
At Aunt Flow, that means liberal usage of hand sanitizer, careful workspace cleaning and maintaining safe distance between workers. Sharfin, who's accustomed to passing her laptop back and forth with supervisors to get feedback on works in progress, found the precautions to be a difficult adjustment. Despite sharing an office with her boss, the company's CEO, they email documents back and forth to avoid touching the same things and speaking in close quarters.
"It's like another dimension," Sharfin said. "It's a really odd thing to come to terms with."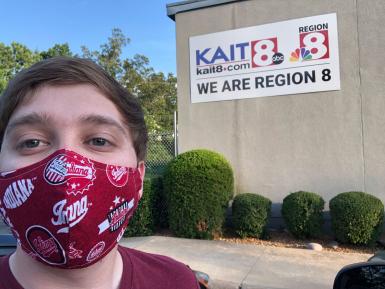 Master's student Jackson Hicks, an associate producer at KAIT-TV in Jonesboro, Arkansas, had a similar experience. When he started his position there at the end of May, the station was manned by essential personnel only, with other staff working remotely. The newsroom is empty, tape lines mark six-feet-apart workspaces and all employees have their temperatures checked every morning when they arrive. Anyone whose temperature is over 100 degrees is sent away to be tested for the virus and quarantined if necessary.
"It's a weird experience, and I think everyone is aware that it's a weird experience," he said.
For reporters at the station, reporting during the pandemic means conducting many interviews virtually: by Zoom, phone, Skype, FaceTime and other tools. They also interview outdoors using extended microphones for socially distanced interviews.
Junior Matt Cohen traveled to Portland, Oregon, to intern for The Oregonian's sports desk, even though organized sports were canceled and the publication's newsroom was closed.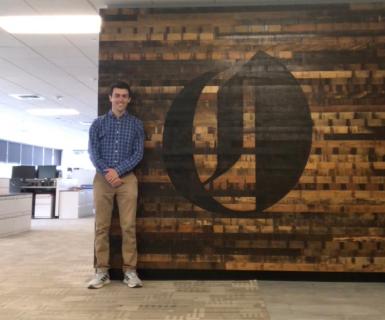 He's reported on the state of sports in the midst of a pandemic and mass protests for racial justice, all from a rolling table in the Airbnb he shares with two other Media School student interns. The only outside reporting he's done, he said, was to cover a protest advocating for the resumption of youth sports. Soon, he'll cover a basketball game.
"Actual real, live sports is going to be interesting," he said. "I haven't done that since March."
In the midst of following social distancing requirements, wearing a mask and sanitizing constantly, though, Hicks has found plenty of room to broaden his horizons as a reporter. He said the weirdness of the moment helped him overcome some of the initial awkwardness and get straight to learning.
As an associate producer, he works on stories and helps produce the 6 and 10 p.m. newscasts, writing the script and stacking the stories. He's helped with some investigative work on the side.
At Aunt Flow, Sharfin has helped with campaigns for Work Flow, a subsidiary of the company that supplies personal protective equipment in bulk. It's given her a behind-the-scenes look at the pandemic from her company's point of view.
"Really being in the ring in a sense has been really interesting," she said "Learning all of the FDA regulations and doing all this research and really empowering all of these organizations to keep moving, keep going and maintain safety as they're bringing employees back to the office."
The downside to that, though, is being more acutely aware of the virus, the threats it poses and the country's unpreparedness for how to handle it, she said.
She thinks of the virus' spread like a domino effect: One person's infection can move through interconnected social circles in the same way that dominoes placed too closely together can topple one another in rapid succession. To account for that, she keeps her social circles small and wears a mask at work.
Cohen and his Airbnb-mates wear masks and social distance when they leave the apartment, but they've also not let the pandemic completely hinder them as tourists. They've hit some of the city's outdoor restaurants and even got tickets to the Oregon Zoo to see the pandas.
For Cohen and his roommates, working during a pandemic has required lots of adaptation⁠, sometimes uncomfortable. Sharing an Airbnb with two other reporting interns means lots of phone interviews and a need for quiet space, without much square footage to achieve that ⁠— but it also hasn't failed any of them yet.
"I think I've done one interview here in the bathroom so far," he said.