Black Film Center/Archive adds Josef Gugler collection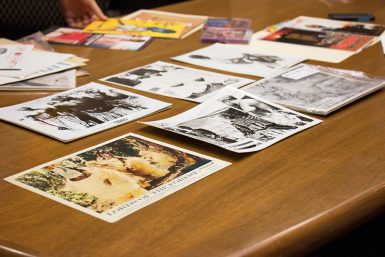 The Black Film Center/Archive recently acquired a collection of African films and ephemera from Josef Gugler, professor emeritus of sociology at the University of Connecticut and scholar of African and Arab film.
The collection consists of 40 16mm films, more than 300 DVDs and VHS tapes, and more than a thousand of posters, press kits and related movie memorabilia.
"This collection is so rich you can reach a hand into any box, and what you'd pull out would be astonishing," said Brian Graney, the senior archivist with the BFC/A.
Gugler collected films and related research materials that represent several countries across Africa and span several decades from the 1950s to contemporary films. While his initial research focused on sub-Saharan Africa, after 9/11, Gugler began collecting films produced in North Africa and the Middle East, which also are included in the collection.[GBP1]
Gugler had a previous connection with IU: Two of his books, African Film: Re-Imagining a Continent (2003) and Ten Arab Filmmakers: Political Dissent and Social Critique (2014), were published by Indiana University Press.
"This gentleman is an important scholar of African cinema and also is a collector," said Michael Martin, the director of the BFC/A. "He cast a wide net, especially after 9/11."
Martin said Gugler decided to donate his extensive collection to Indiana University because he was familiar with the strength of existing BFC/A collections related to African cinema, in particular its holdings regarding the annual Panafrican Film and Television Festival of Ouagadougou.
Martin and Graney flew to Connecticut over the summer and met Gugler at his home to arrange transporting the collection back to Bloomington.
"He's a pack rat," Martin said. "And I mean that in the most positive sense."
Martin said Gugler's entire house, including the bathroom, was filled with items he'd collected over the years. Graney said that everything was in excellent condition, but Gugler said his own inventories covered only part of the collection. Graney said that not knowing what they'd find was half the fun.
"The most tantalizing thing he mentioned was that, in his later years, his collecting activity outpaced his ability to process new materials. He turned over many packages that were never opened since he received them from dealers and auction houses," Graney said. "So that gave us a Christmas morning feeling."
One item that's been discovered in the collection is a rare film called Sambizana (1972), which is set during the Angolan War of Independence in 1961. Having the film and the press content in one place is an asset.
"The value is that it's all in one place," Graney said.
Martin said BFC/A archivist Ronda Sewald has just started documenting the 40 boxes that make up the collection. Students and faculty from multiple departments will benefit from having access to African films in both colonial and local languages, and to an international array of promotional materials including posters, pressbooks and programs.
"It's an incredible resource for teaching," Martin said. "And it will attract professionals and media scholars."
Martin said he expected the collection to be fully documented and open for research by next year.