Award-winning filmmaker Sissako to visit for week of screenings, talks
Award-winning filmmaker Abderrahmane Sissako will visit campus next week for a series of talks and screenings of his work, including the Oscar-nominated Timbuktu.
Events for "Abderrahmane Sissako: Transnational Poetic Cinema" include six film screenings and on-stage interviews and discussions. Sissako also will give the Jorgensen Guest Filmmaker Lecture and will participate in a screenwriting workshop at the Black Film Center/Archive.
"I have been following Sissako's work since first being introduced to him onscreen in 2002 with Waiting for Happiness," said Jon Vickers, IU Cinema director. "His films bring humanistic stories and cultures to international audiences that we do not see enough onscreen."
Earlier this year, Sissako's Timbuktu was nominated for the Oscar for Best Foreign Language Film; won seven of France's Cesar awards, including best picture and director honors; won Lumiere awards for best picture and director; and won two awards at the Cannes Film Festival.
The IU event stemmed from history professor Marissa Moorman's invitation to Sissako last year. Moorman said she admires Sissako's work and has used his films in her classes on conflict and culture in Africa.
"Many of us who work in African film think of him as an important and key filmmaker, so he was somebody we've been thinking about for a while before his recent acclaim," Moorman said. "What I really like with a lot of his films is how he often blurs the distinction between documentary and feature film in a very interesting way."
Vickers said the week of events will show filmgoers Sissako's process and the vision, motivation and techniques that make him the filmmaker he is.
"Sissako's films address the challenges of modernity in societies layered in tradition, which make them relevant," Vickers said. "His mastery as a filmmaker comes through in his delicate use of often stunningly beautiful images to symbolize complex and painful situations. I am anxious to understand some of the choices that he makes, whether they are instinctual or meticulously planned."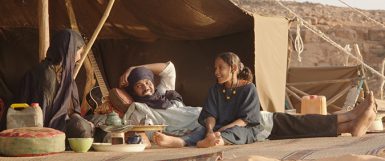 He and other attendees will have the chance to do just that. The Jorgensen Guest Filmmaker Lecture will be set up as of an on-stage interview and discussion, led by associate professor Akin Adesokan and fellow filmmaker Joseph Gai Ramaka, and followed by audience Q&A.
All events and screenings are free and open to the public. Attendees will need tickets, which are available at IU Auditorium during business hours.
"We are greatly honored and thrilled to have such an important filmmaker here at a very high moment in his career," Moorman said. "The opportunity to spend many days with somebody and get to see them speak about their films and answer questions about their films from student and faculty is an amazing opportunity for everybody."
Sissako's appearance is sponsored by the College Arts and Humanities Institute, African Studies Program, the Black Film Center/ Archive, the Department of Comparative Literature, the Department of History, Film and Media Studies, The Media School and the IU Cinema.
The schedule:
The Jorgensen Guest Filmmaker Lecture is at 3 p.m. April 17 at IU Cinema.
Screenings:
6:30 p.m. April 12: Waiting for Happiness
6:30 p.m. April 16: Timbuktu
9:30 p.m. April 16: Short Films of Abderrahmane Sissako
6:30 p.m. April 17: Bamako
9:30 p.m. April 17: Rostov-Luanda
3 p.m. April 19: Life on Earth
More: