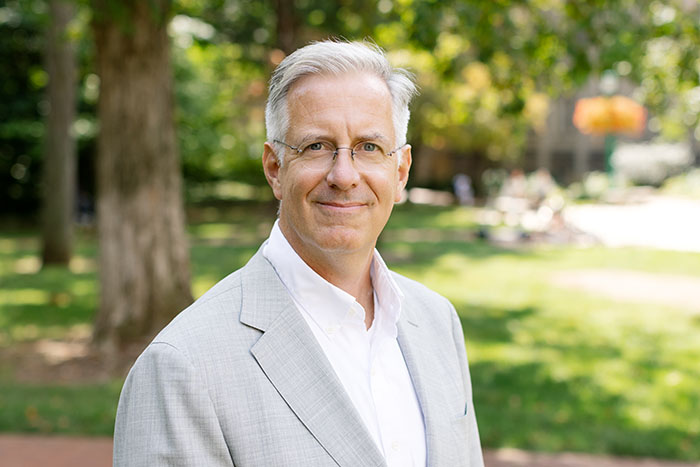 Joe Glennon
Senior Lecturer
Pronouns:

He/Him/His
Contact Information
Research and Creative Interests
Advertising

Branding

Creative Strategy
Biography
Joe joins The Media School and IU after 13 years as an Associate Professor of Instruction in the Department of Advertising and Public Relations at Temple University in Philadelphia, PA. The last four years of his time in Philly, Joe served as department chair working with 23 full time faculty members and approximately 60 adjunct instructors in Temple's Klein College of Media and Communication's largest department.
Over the years, Joe taught courses on Copywriting, Concept Development, Creative Strategy, Radio/TV/Video writing, Campaign Development, Portfolio Construction, and Storytelling. He also served as the faculty director of Temple's student-run advertising agency and mentored the National Student Advertising Competition Team.
Joe has been a visiting professor for various programs in Dublin, Tokyo, Chicago and New York.
Prior to starting his second act as an educator, Joe was an independent copywriter and creative director who worked with brands like adidas, Benjamin Moore Paints, Coca-Cola, Fidelity Investments and Microsoft. He has experience in the agency framework and as a full-time freelancer and brings both perspectives when he advises students. He has been sued by Darth Vader and made the #1 tennis player in the world cry—all part of a rich life in advertising.
Joe began his professional writing career as a screenwriter in Los Angeles, where he worked with the producers of some of the nation's favorite TV comedies in the early 1990s, including Cheers, Frasier and Home Improvement. He is a graduate of the University of Massachusetts-Boston, holds an MFA in Creative Writing from Temple, and is a product of the legendary Harvard Square Script Writers group.