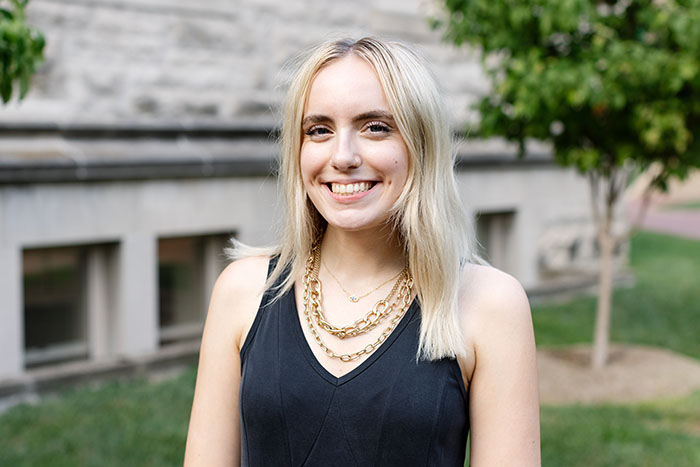 Grace Romine
Pronouns:

she/her/hers
Major: Journalism
Graduation Year: 2026
Hometown: Columbia City, Indiana
Contact Information
Biography
Hi there! 
My name is Grace Romine and I am from Columbia City, Indiana – a small town about 30 minutes outside of Fort Wayne. I am a second year student studying Journalism with a concentration in News Reporting & Editing. I am particularly interested in the Fashion Media pathway which the Media School has to offer. 
While I have been a student at Indiana University, I was an intern with Professor Dr. Mike Conway in the development of his website – the Indiana Broadcast History Archive (Spring 2023), an Arts Columnist for the Indiana Daily Student (Fall 2023), and a part of Media School Professor Dr. Lenoir's Fashion Media research team through the Center Excellence for Women & Technology Emerging Scholars program (Fall 2023- Spring 2024). 
My freshman year I volunteered at the Bloomington community radio station WFHB as a News Correspondent and this last summer (2023) I was an intern at CBS WANE15's lifestyle show "Living Local 15." My specialties are in fashion, beauty, and lifestyle reporting, as well as media and fashion theory research. 
Outside of school, I play intramural tennis, love to watch 90s television, and host friends over at my house on the weekends! 
If you are interested in learning more about my experience as a Media School student, please reach out at gmromine@iu.edu !!!