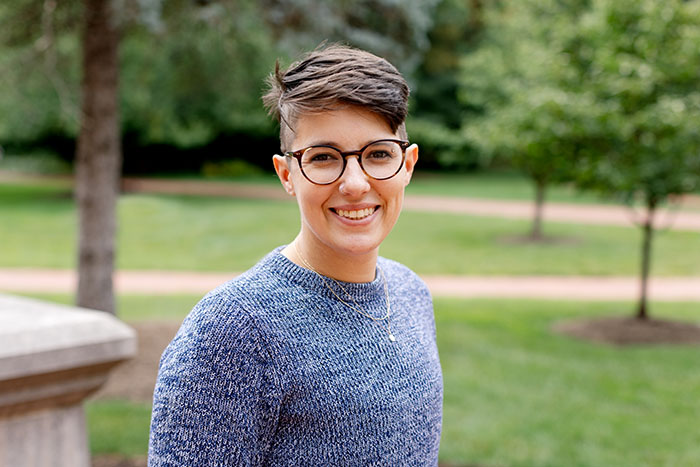 Caro Reed-Ferrara
PhD Student
Pronouns:

They/Them/Theirs
Contact Information
Research and Creative Interests
cinema

cinema & media theory and criticism

Postcolonial Media

Diasporic and emigre cinematic formations

Iranian Cinema

Third Cinema
Biography
Caro is a first year PhD student at the Media School with an focus on Media & Cinema Studies. They completed their MA in Middle Eastern Languages and Cultures from the University of Washington in 2023 with a focus on Persian and Arabic (Modern Standard).
They are interested in leftist cinema movements in the Middle East, specifically in Iran. Their final project for their MA was entitled "Is There a Sinemayeh Sevom?: A Look at the Relationship between the Third Cinema Movement and Iranian Cinematic History." Additional research interests include: Post-Colonial Cinema, Iranian Diaspora Cinema, Translation Politics, and the relationship between cinema and Iranian political history.
Prior to this, Caro was a filmmaker and an MS graduate of the Media School in Film Production and Design, whose work focused on 16mm production and post-production. Their capstone project involved installation pieces during a live dance performance from the local Echo Dance Company. Their work for the show, entitled "Age of Beauty," unpacked the cultural significance of Brigid/St. Bridget/Maman Brigitte and looked at the relationship between gender, race, and coming-of-age in a post-colonial context.
Guest Lectures

"Reading Film: Mise-en-Scene in Asghar Farhadi's A Separation," The University of Washington. Course: "Iran Beyond the Headlines." 2023.
Teaching & Research Assignments
Student Academic Appointee, Indiana University, 2023
– "The Journal of Pop Culture."
Assistant Instructor, University of Washington, 2023
– "Afghanistan Beyond the Headlines"
Research Assistant, University of Washington, 2022
– Research Assistant to Dr. Melike Yücel Koç for the project "Turkey in Seattle"
Assistant Instructor, Indiana University, 2016-2018
– "Introduction to Design and Production"
– "Communications Law"
– "Three by Serling: 21st Century Twilight Zone"
– "Production Management"
Professional Experience
Video and Post-Production. The Ohio State University. 2018-2021.
Video and Post-Production. The African American Arts Institute. Indiana University. 2017-2018.
Video and Post-Production. Indiana University. 2015-2017.